10 Great Father's Day Gifts to Celebrate Every Kind of Dad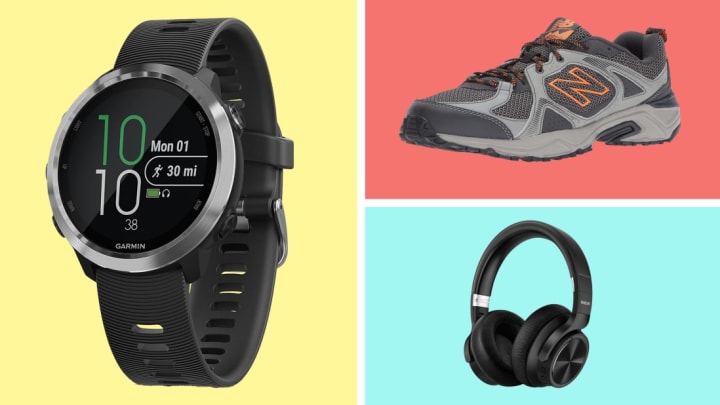 Amazon / Amazon
This article contains affiliate links to products selected by our editors. Mental Floss may receive a commission for purchases made through these links.
The very first Father's Day was celebrated in Washington State on June 19, 1910, and from there, the holiday slowly spread across the country as a regional event. While presidents recognized it on and off, there was never an official, permanent proclamation about the holiday's future until 1972, when President Richard Nixon declared that the federal government would recognize Father's Day on the third Sunday in June from there on out (though it's still not technically a federal holiday.) Initially established as a response to Mother's Day, and skirting a movement that sought to combine both holidays into a single "Parents' Day," Father's Day has become a day to be celebrated all on its own.
Fathers, grandfathers, and uncles all deserve to be honored on this special day, and that's why we've put together a list of thoughtful gifts to help you say "thank you" to every dad in your life. Whether he's a grill master, a tech wizard, or a lover of the great outdoors, your dad will love any one of these gifts.
1. Beard Care Kit; $27
FULLLIGHT TECH/Amazon
This beard care kit will keep your dad looking—and feeling—fresh all year long. This set features beard shampoo for cleansing and conditioning, balm for moisturizing and styling, and oil for softening and nourishing. The kit also comes with a comb, brush, scissors, and an eBook on beard care so he can style and maintain his signature look to his heart's content.
Buy it: Amazon
2. Cuisinart Deluxe Grill Set; $44
Cuisinart/Amazon
Let dad embrace his inner barbecue master with this 14-piece grill set from Cuisinart. Including a chef's spatula, grill tongs, basting brush, and more, he'll never have to stress about flipping a burger or cooking the perfect steak ever again. And since the spatula touts a built-in bottle opener, he can enjoy a much-deserved cold one while he gets dinner ready. All the tools fit neatly inside a sturdy carrying case, allowing your dad to bring his tools on the go and be heralded as the king of outdoor cooking wherever he travels.
Buy it: Amazon
3. Wireless Charging Station; $28
Seneo/Amazon
Tech dads will rejoice with this wireless charging station designed to charge iPhones, Apple Watches, and Airpods all at the same time. The dock can get all three devices to 100 percent in only three hours, and the phone stand and Apple Watch/Airpods dock can be connected or kept separate for a more streamlined look. The dock can even charge through most cases.
Buy it: Amazon
4. Garmin Running Watch; $230
Garmin/Amazon
This unique running watch from Garmin will help your dad stay fit, track his miles, and train for that 5K he's always dreamed of. The watch uses a wrist-based heart monitor to track not just miles, but also stride length, ground contact, balance, and more. And with the built-in, contactless payment chip, your dad can buy a water bottle or protein shake on the road and leave credit cards at home. He can even sync the watch with his phone to receive and respond to text messages, emails, and social media updates while he's (literally) on the run.
Buy it: Amazon
5. Growlerwerks Growler Keg; $99
GrowlerWerks/Amazon
If you've got a craft beer lover in the family, look no further than this portable growler keg. This growler can store 64 ounces of beer (or kombucha, hard cider, and soda), and all it needs to keep the suds from going flat is a CO2 charger (sold separately). Your dad simply has to fill the growler at his favorite local brewery; select high or low carbonation, depending on what he's drinking; and pull the tap to pour the perfect pint. The keg will keep beverages cold for seven to nine hours, so whether he's going for a hike or a long day at the golf course, he'll be able to serve up brewery-fresh beverages all day long.
Buy it: Amazon
6. Constitution Tie; $30
Museum Artifacts/Amazon
History buffs will love this stylish tie inspired by one of the United States's most important documents: the Constitution. Featuring a screen print of the nation's founding document with "We the People" featured front and center, this tie will help your dad start up conversations about his favorite Founding Father at social gatherings, rather than going through his well-worn joke book yet again. Each tie is printed on imported silk and hand-finished to give him that personalized touch that he deserves.
Buy it: Amazon
7. Outdoor Tumbler; $30
Otterbox
For dads who love nothing more than a morning walk—whether that's around the block or on a hike at the state park—this outdoor tumbler will help him stay hydrated and feeling good until he's back home. Made with an internal copper lining to keep hot and cold beverages at a consistent temperature, this to-go drinkware will quickly become one of his favorite accessories. It fits most cup holders, so it can travel easily from his favorite lawn chair to the car and back again.
Buy it: Otterbox
8. National Geographic Parks Guide; $19
National Geographic/Amazon
Fathers with a sense of adventure will be ready for a road trip by the time they're through with this travel guide from National Geographic. Containing "5000 ideas for the ultimate vacation," this book includes a comprehensive overview of both the United States and Canada's best national parks. Including travel tips, planning advice, maps, activity options, and fun facts about wildlife, this book will help your dad embark upon the journey of a lifetime (or simply envision one from the comfort of his back porch).
Buy it: Amazon
9. RCA Wireless Noise-Canceling Headphones; $44
RCA/Amazon
Capable of 30 hours of Bluetooth playtime in a single charge, these wireless RCA headphones will let your dad listen to his favorite podcasts, oldies bands, and TV shows all while staying hands-free. With the ability to easily turn the noise-canceling mode on and off, adjust the volume, skip tracks, and answer calls directly from the right ear cup, these headphones make for a great (and easy) listening experience. And at only $44, they're a fraction of what other wireless headphones cost—but he doesn't have to know that.
Buy it: Amazon
10. New Balance Trail Running Shoes; Price Varies
New Balance/Amazon
New Balance sneakers are a signature look for many dads—and for good reason! This 481V3 Trail Running Shoe is designed for both smooth tracks and rough trails, making it a great choice for gym rats and cross-country runners alike. Made from 100-percent leather and textile with cushioned rubber soles, it's built to pad your dad's heels while also offering the stability he needs to do the things he does best. With five different colors to choose from, he'll be able to show off his acute fashion sense for many Father's Days to come.
Buy it: Amazon
At Mental Floss, we only write about the products we love and want to share with our readers, so all products are chosen independently by our editors. Mental Floss has affiliate relationships with certain retailers and may receive a percentage of any sale made from the links on this page. Prices and availability are accurate as of the time of publication.