Broadway's Biggest Stars Want to Say Hello, Teach You to Sing, and More on Broadway Plus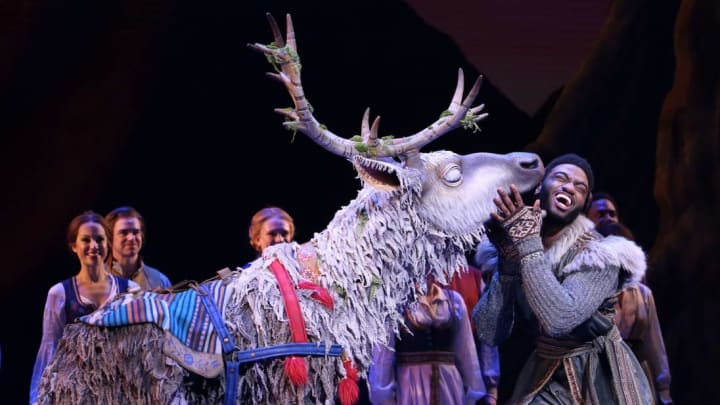 You could ask the stars of Frozen what it's like to compete for the spotlight with a giant, shaggy reindeer. / Walter McBride/Getty Images
It's a long-standing tradition for Broadway performers to sign programs and snap selfies with audience members gathered outside the stage door after a show. And for some fans, this chance to connect with their idols off-stage is nearly as thrilling as the performance itself.
Productions may be canceled through the summer, but that doesn't mean you can't live out all your stage-door dreams another way: Broadway Plus is offering virtual meet-and-greets, video messages, concerts, and even private lessons featuring talented stars from all of Broadway's biggest shows.
You could, for example, ask Eva Noblezada—a two-time Tony nominee for her starring roles in 2017's Miss Saigon revival and 2019's Best New Musical Hadestown—to record a "Happy Birthday" song for your best friend; or chat with Christopher Fitzgerald about what it was like to share the stage with Kristin Chenoweth and Idina Menzel in the original Broadway production of Wicked.
Eva Noblezada and Reeve Carney in Hadestown in 2019. / Walter McBride/Getty Images
For those who hope to grace the stage themselves one day, it's a great opportunity to pick the brains of seasoned Broadway professionals. Hour-long training sessions cover everything from singing lessons to audition prep, or you can craft a custom lesson that incorporates your specific goals.
Considering the length of this list of participating stars, there's probably at least one person from your favorite musical. Disney lovers will be delighted to find performers from Aladdin, Frozen, Mary Poppins, and The Lion King, while traditionalists might opt to connect with someone from The Phantom of the Opera, West Side Story, or Chicago.
And, of course, the list wouldn't be complete without at least one representative from Hamilton. This one has 13 of them, including Thayne Jasperson, who played loyalist Samuel Seabury as part of the original cast.
"Doing Broadway Plus has been a wonderful way to keep engaging with the fans and those who appreciate the art and/or want to do it themselves," Jasperson tells Mental Floss.
Thayne Jasperson at the Tony Awards after-party in 2016. / Kris Connor/Getty Images
Jasperson also shared a little wisdom he learned from his Hamilton experience: to "remember that this show could be your last."
"So when you're tired from doing 8 shows a week, give it your all! You never know what tomorrow brings."
What tomorrow could bring is a video chat session with Jasperson or another Broadway star—find out more about booking a virtual event on Broadway Plus here.