12 of the Most Popular Portable Bluetooth Speakers on Amazon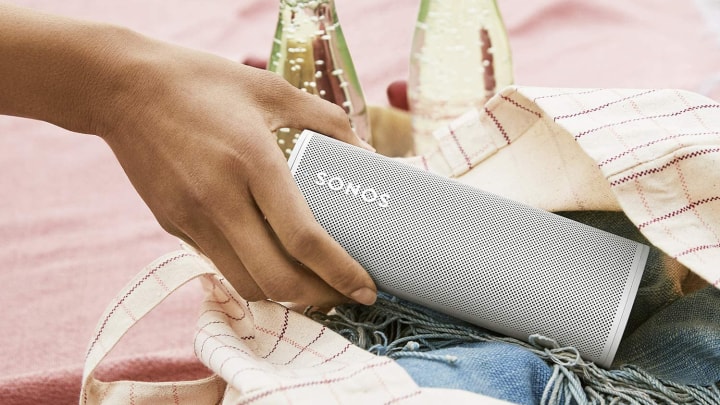 Enjoy easy listening with these popular portable speakers on Amazon. / Sonos/Amazon
This article contains affiliate links to products selected by our editors. Mental Floss may receive a commission for purchases made through these links.
As convenient as smartphones and tablets are, they don't necessarily offer the best sound quality. But a well-built portable Bluetooth speaker can fill that need. And whether you're looking for a speaker to use in the shower or a device to take on a long camping trip, these bestselling models from brands like Sonos, Anker, and others have you covered, and are all available on Amazon.
1. OontZ Angle 3 Bluetooth Portable Speaker; From $24
OontZ Angle 3 / Cambridge Soundworks/Amazon
Of the 172,000-plus reviews that users have left for this speaker on Amazon, many of them are five stars. So it should come as no surprise that this is currently one of the most popular portable Bluetooth speakers on the site. It comes in seven different colors and can play for up to 14 hours straight after a full charge. Plus, it's splash-proof, making it a perfect speaker for the shower, beach, or pool.
Buy it: Amazon
2. JBL Charge 3 Waterproof Portable Bluetooth Speaker; $95
JBL Charge 3 / JBL/Amazon
This nifty speaker can connect with up to three devices at one time, so you and your friends can take turns sharing your favorite music. Its built-in battery can play music for up to 20 hours, and it can even charge smartphones and tablets via USB.
Buy it: Amazon
3. Anker Soundcore Bluetooth Speaker; From $26
Anker Soundcore / Anker/Amazon
This speaker boasts 24-hour battery life and a strong Bluetooth connection within a 66-foot radius. It also comes with a built-in microphone so you can easily take calls over speakerphone.
Buy it: Amazon
4. Bose SoundLink Color II Bluetooth Speaker; $99
Bose SoundLink Color II / Bose/Amazon
Bose is well known for building user-friendly products that offer excellent sound quality. This portable speaker lets you connect to the Bose app, which makes it easier to switch between devices and personalize your settings. It's also water-resistant, making it durable enough to handle a day at the pool or beach.
Buy it: Amazon
5. DOSS Soundbox Touch Portable Wireless Bluetooth Speaker; From $34
DOSS Soundbox Touch / DOSS/Amazon
This portable speaker features an elegant system of touch controls that lets you easily switch between three methods of playing audio—Bluetooth, Micro SD, or auxiliary input. It can play for up to 20 hours after a full charge.
Buy it: Amazon
6. Altec Lansing Mini Wireless Bluetooth Speaker; From $20
Altec Lansing Mini / Altec Lansing/Amazon
This lightweight speaker is built for the outdoors. With its certified IP67 rating—meaning that it's fully waterproof, shockproof, and dust-proof—it's durable enough to withstand harsh environments. Plus, it comes with a carabiner that can attach to a backpack or belt loop.
Buy it: Amazon
7. Tribit XSound Go Bluetooth Speaker; From $37
The Tribit XSound Go / Tribit/Amazon
Tribit's portable Bluetooth speaker weighs less than a pound and is fully waterproof and resistant to scratches and drops. It also comes with a tear-resistant strap for easy transportation, and the rechargeable battery can handle up to 24 hours of continuous use after a full charge.
Buy it: Amazon
8. Ultimate Ears Wonderboom 2 Wireless Bluetooth Speaker; From $84
Ultimate Ears Wonderboom 2 / Ultimate Ears/Amazon
If you're searching for a portable wireless Bluetooth speaker that's built for roughing it in the great outdoors, the Ultimate Ears Wonderboom 2 is a go-to choice. Designed to deliver 360-degree sound, this pick has 13 hours of battery life and an "Outdoor Boost" functionality, which enhances the sound clarity specifically for outside settings. The brand claims the hardened exterior is drop-proof and resistant to dirt and dust; it also has an IP67 rating, meaning it's waterproof, and supposedly will float if dunked into the water, making it a fun choice for pool parties. 
Buy it: Amazon
9. W-King Super Loud Portable Bluetooth Stereo Speaker; $79
W-King Super Loud / W-King/Amazon
This portable speaker is certified to handle deep waters and harsh weather, making it perfect for your next big adventure. You can even pair two of these speakers together to create the ultimate portable sound system. It can play for up to 24 hours on a full charge, has a built-in power bank, and offers a stable Bluetooth connection within a 100-foot radius.
Buy it: Amazon
10. XLEADER SoundAngel Touch Bluetooth Speaker; From $19
XLEADER SoundAngel Touch / XLEADER/Amazon
This stylish device is available in black, silver, gold, and rose gold. Plus, it's equipped with Bluetooth 5.0, a more powerful technology that can pair with devices up to 800 feet away. The SoundAngel speaker itself isn't water-resistant, but it comes with a waterproof case for protection in less-than-ideal conditions.
Buy it: Amazon
11. Sony SRS-XB33 Wireless Bluetooth Speaker; From $127
Sony SRS-XB33 / Sony/Amazon
This mid-range option from Sony offers louder volume than some of the other items in this roundup (like the Ultimate Ears Wonderboom 2), and could be a solid investment if you don't want to skimp on battery life, as it offers up to 24 hours of playback time, according to the brand. This IP67-rated, waterproof wireless speaker also doubles as the perfect party accessory: When you download the Fiestable app, you'll be able to sync it to the device and control the built-in multicolor lights and use the Party Connect function to sync it with up to 100 different speakers.
Buy it: Amazon
12. Sonos Roam; $179
Sonos Roam / Sonos/Amazon
As a brand, Sonos products typically don't come cheap, but you can get one of the brand's most affordable portable speakers, the Roam, for well under $200. This durable option works over Wi-Fi and is compatible with voice assistants like Alexa and Google Assistant. You can sync it to the Sonos app, allowing you to control the tunes in your space even when you're on the go. Thanks to a built-in tuning feature, audio plays back in a crisp, clear way, and the device offers up to 10 hours of battery life. Better still, it has an IP67 dust- and water-resistance rating, and could be a great choice if you already have other Sonos models. 
Buy it: Amazon
This article was originally published in 2020; it has been updated for 2022.