MISCONCEPTIONS
Common Misconceptions About Colonial America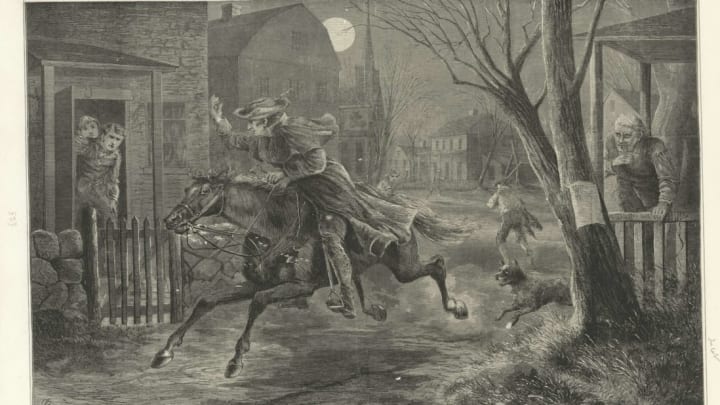 Paul Revere's midnight ride didn't exactly go down like this. / Charles Green Bush, Wikimedia Commons // Public Domain
Every July 4, we pull out all the stops to commemorate the day the colonies first declared independence from Great Britain.
Or so you might have thought.
In fact, the Second Continental Congress had signed off on Thomas Jefferson's famed Declaration of Independence a full two days earlier, on July 2, 1776. Afterward, John Adams even wrote an exuberant letter to his wife Abigail, predicting that the second day of July 1776 would be the "most memorable Epocha ... in the History of America." So, why do we save our sparklers and barbecues for the Fourth of July?
In this episode of Misconceptions, Mental Floss's Justin Dodd is setting the record straight on that historical moment, plus several other well-known stories from early U.S. history that don't ring quite as true as the Liberty Bell once did. From George Washington's purported wooden teeth to Paul Revere's midnight ride, here are the actual facts on everything you thought you already knew about colonial America.
For more videos like this one, subscribe to the Mental Floss YouTube channel here.