10 Facts About Sagamore Hill, Theodore Roosevelt's Home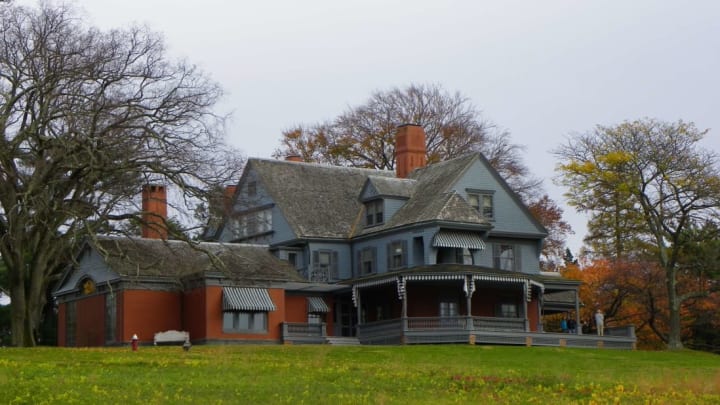 Theodore Roosevelt's Long Island home has 23 rooms and more books than you can count. / J. Stephen Conn, Flickr // CC by NC 2.0
Fleeing Manhattan for the country is a tradition that wealthy New Yorkers have partaken in for centuries—and our 26th president, Theodore Roosevelt, was no exception. Starting when he was a teen, TR and his family would retreat to Long Island for the summer, and as an adult, he built his own home there: Sagamore Hill, which became his permanent home after his presidency. In honor of what would be TR's 162nd birthday, here are 10 facts about Sagamore Hill, of which Roosevelt once wrote, "there isn't any place in the world like home—like Sagamore Hill."
1. Sagamore Hill was built near where Theodore Roosevelt spent his childhood summers.
Oyster Bay on Long Island, New York, first served as a refuge for a sickly TR in his youth. He'd hike, ride horses, row, and swim—generally engaging in the "strenuous life" and beginning his lifelong love affair with nature. The family home was known as Tranquility, and was situated two miles southwest from the future Sagamore Hill mansion.
2. Theodore Roosevelt bought the land for Sagamore Hill in 1880.
The same year he married his first wife, Alice Hathaway Lee, Roosevelt purchased 155 acres on the north shore of Long Island for $30,000 to build a home. Situated on Long Island Sound, the site is home to a wide variety of habitats, from woodlands to salt marshes, as well as plenty of ecological diversity, thus giving Roosevelt much to observe and document.
3. Sagamore Hill wasn't supposed to go by that name.
The home that would become Sagamore Hill was originally going to be named Leeholm, after Roosevelt's wife Alice. However, following her tragic death shortly after giving birth to their daughter, the property was renamed Sagamore—according to Roosevelt, after Sagamore Mohannis (today more commonly known as Sachem Mohannes), who was chief of a tribe in the area over 200 years earlier. Sagamore is an Algonquian word for "chieftain."
4. Theodore Roosevelt had very specific ideas for the layout of Sagamore Hill.
Among his "perfectly definite views" for the home, he would later recall, were "a library with a shallow bay window opening south, the parlor or drawing-room occupying all the western end of the lower floor; as broad a hall as our space would permit; big fireplaces for logs; on the top floor a gun room occupying the western end so that north and west it [looks] over the Sound and Bay." Long Island builder John A. Wood began work on the Queen Anne-style mansion (designed by New York architecture firm Lamb and Rich), on March 1, 1884. It was completed in 1885, with Roosevelt's sister, Anna, taking care of the house (and new baby Alice) while Roosevelt was out west in the Dakota Badlands, nursing his grieving heart.
5. Theodore Roosevelt delivered campaign speeches from the porches of Sagamore Hill.
Theodore Roosevelt addresses a crowd of 500 suffragettes from the porch of his Sagamore Hill home around 1905. / Hulton Archive/Getty Images
It was one of Roosevelt's greatest wishes for the Sagamore Hill home to possess "a very big piazza ... where we could sit in rocking chairs and look at the sunset," and so wide porches were built on the south and west sides of the house. Roosevelt would use the piazza to deliver speeches to the public, and it was here that he was notified of his nominations as governor of New York (1898), vice president (1900) and president (1904).
6. Sagamore Hill was Theodore Roosevelt's "Summer White House."
Roosevelt became the first president to bring his work home with him, spending each of his summers as president at Sagamore Hill. He even had a phone installed so he could conduct business from the house. But by 1905, Edith had had enough of TR usurping the drawing room—which was supposed to be her office—to hold his visitors [PDF], and of his gaming trophies and other treasures taking up space. So the Roosevelts constructed what would become the North Room. "The North Room cost as much as the entire house had," Susan Sarna, curator at Sagamore Hill, told Cowboys & Indians magazine in 2016. "It is grandiose." Measuring 40 feet by 20 feet, with ceilings 20 feet high, it was constructed of mahogany brought in from the Philippines. The addition brought the total number of rooms at Sagamore Hill from 22 to 23.
7. Theodore Roosevelt met with foreign leaders at Sagamore Hill.
Roosevelt stands between Russian and Japanese dignitaries in Portsmouth, New Hampshire, in 1905. On September 5, they signed the Treaty of Portsmouth, ending the Russo-Japanese War and earning Roosevelt the 1906 Nobel Peace Prize; he was the first American to win a Nobel Prize of any kind. / Photos.com/iStock via Getty Images
In September 1905, Roosevelt brokered peace talks between Russian and Japanese dignitaries, which led to end of the Russo-Japanese War. But before the peace talks (which took place on a yacht in the Navy yard at Portsmouth, New Hampshire), Roosevelt met the negotiators—from Japan, Takahira Kogorō, ambassador to the U.S., and diplomat Jutaro Komura; and from Russia, diplomat Baron Roman Romanovich von Rosen and Sergei Iluievich Witte—at Sagamore Hill. TR earned a Nobel Peace Prize for his efforts.
8. Sagamore Hill has a pet cemetery.
Roosevelt's love of animals was passed down to his six children, who adopted a veritable menagerie, including cats, dogs, horses, guinea pigs, a bear, and a badger. A number of those beloved companions ended up in Sagamore Hill's pet cemetery; among them is Little Texas, the horse TR rode on his charge up Kettle Hill during the Spanish-American War.
9. Life at Sagamore Hill was lively.
The atmosphere at Sagamore Hill was a boisterous one. According to the National Park Service, Massachusetts Senator Henry Cabot Lodge complained about how late they stayed up, how loud they talked, and how early they woke up. Eleanor Roosevelt, Roosevelt's favorite niece, too, recalled a constant barrage of activity during her visits. The children partook in all manner of outdoor activities, and Roosevelt was known for abruptly ending his appointments in order to join them.
10. Theodore Roosevelt died at Sagamore Hill.
Roosevelt passed away on January 6, 1919 at Sagamore Hill. Edith died there on September 30, 1948, and five years later, Sagamore Hill was opened to the public. In 2015, a $10 million renovation of the house was completed; 99 percent of what can be seen at the home today is original—including thousands of books, extensive artwork, and yes, 36 pieces of taxidermy.
Shortly before Roosevelt died, he asked Edith, "I wonder if you will ever know how I love Sagamore Hill?" and thanks to the extensive work done to restore his home, we all can.