30 Amazing Holiday Gifts to Get Fans of The Office
This article contains affiliate links to products selected by our editors. Mental Floss may receive a commission for purchases made through these links.
Even though The Office stopped filming new episodes in 2013, that doesn't mean the love for the show has died. In fact, we are still learning interesting facts about the show years later. If you are a hardcore fan of the employees at Dunder Mifflin, then these gifts will be right up your alley. Alternatively, if you have a friend that is practically Michael Scott, then make sure to check out these gift ideas any Regional Manger would love to have.
1. 
World's Best Boss Mug; $15
If you ever hope to be Regional Manager, you'll need the right equipment.
Amazon Top Review:
"I got this for my girlfriend as a Valentine's Day present, and she LOVED IT! I loved it too, so I got one for myself."
Buy it: Amazon
2. 
The Office: A Day at Dunder Mifflin Elementary by Robb Pearlman and Melanie Demmer; $11
Share the joy and fun of Dunder Mifflin with kids as the employees enter an elementary school environment.
Amazon Top Review:
"[The] [i]llustrations are wonderful.[The] [s]tory is about Michael Scott, the line leader at Dunder Mifflin Elementary, and the challenges he faces. IT IS KID-FRIENDLY. No snarky sarcasm or mean attitudes. [I'd] [r]recommend [this book] for [The] Office fans (tons of Easter Eggs to find!) and any child in general."
Buy it: Amazon
3. Dunder Mifflin Ugly Christmas Sweater; $65
Ring in the holiday season with this ugly Christmas sweater that is bound to bring some smiles to humbug faces.
Amazon Top Review:
"Great quality sweater!!! My son loved this for his [Christmas] sweater party!!"
Buy it: Amazon
4. The Office Sign; $8
Just in case people don't know where your home office is or if they didn't realize you are obsessed with The Office, now they'll know.
Amazon Top Review:
"Unlike most of the other offerings for The Office door signs, this is a proper, thick, clear plastic sign with the lettering beneath the protective plastic, just like an actual office sign would be."
Buy it: Amazon
5. The Office Trivia Game; $20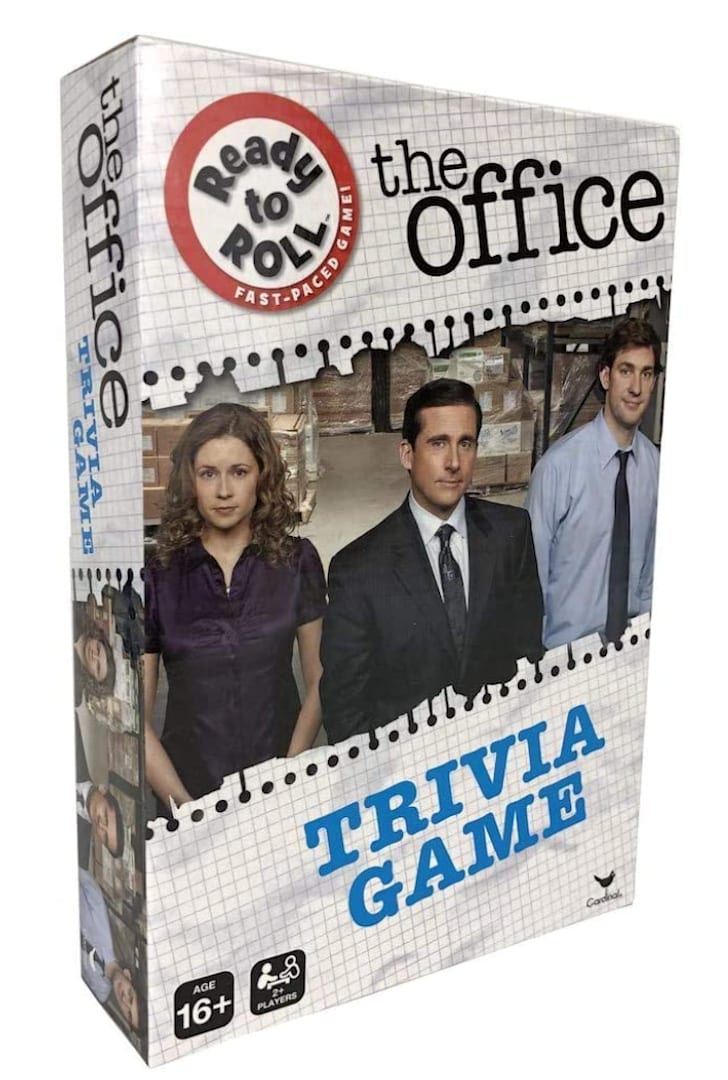 Test your friends on their knowledge of your favorite show. If they don't pass, maybe you'll need to reconsider your relationship with them.
Amazon Top Review:
"...I was nervous this game would have questions that were 'too easy' but I was wrong. It's full of various questions that are both easy, hard, fun, and a great way to learn new fun facts about our favorite show. Would highly recommend!"
Buy it: Amazon
6. "Well, Happy Birthday, Jesus" Ugly Christmas Sweatshirt; $25
Celebrate Jesus's birthday the Michael Scott way.
Amazon Top Review: 
"I love this [sweatshirt] and it exceeded my expectations! Every time I wear it, I hear 'I love your sweatshirt!' It is definitely a great conversation piece and it truly makes me happy to put on."
Buy it: Amazon
7. That's What She Said Easy Button; $17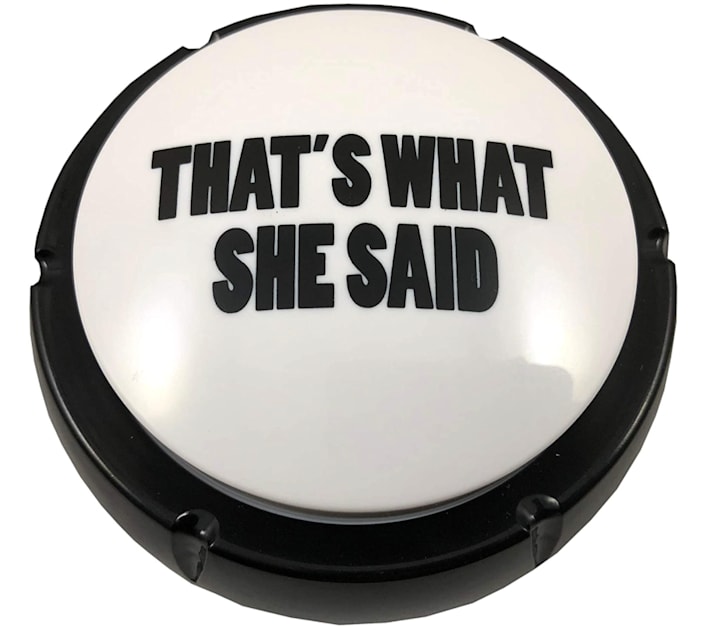 If you ever wish you had a real-life Michael Scott next to you calling out "That's What She Said," this button will solve that missing piece.
Amazon Top Review:
"My friend absolutely loved this! She makes these jokes all the time and now carries the button with her everywhere! Complete hit for her birthday."
Buy it: Amazon
8. The Office-Themed Stickers (Set of 100); $9
Show off your love for The Office on your laptop, water bottle, passport, car, or notebook with these stickers full of inside jokes.
Amazon Top Review: 
"These are great! It comes with all the stickers that are in the picture. I put them on my laptop and I'm [going to] save some for when the school year rolls around..."
Buy it: Amazon
9. Dundie Award Trophy; $16
Get ready to flaunt your new award around the office when we all return post-pandemic.
Amazon Top Review:
"Perfect gift for my husband's birthday to go along with his Dwight Schrute birthday card. He even dropped it when he was taking a picture with it and it survived the fall with not even a scratch on it."
Buy it: Amazon
10. The Office Mash-Up Sherpa Blanket; $70
Cozy up under this blanket filled with inside jokes, funny memories, and classic items from The Office.
Amazon Top Review:
"Great product."
Buy it: Amazon
11. Prison Mike Seamless Face Mask; $14

Show your tough side while fighting the pandemic and the dementors. 
Amazon Top Review:
"...[this mask is] perfect for all lovers of The Office!! Nice and snug, breathable fabric! Great for fighting off the dementors!"
Buy it: Amazon
12. The Office: The Official Party Planning Guide to Planning Parties; $27
Join Dunder Mifflin's Party Planning Committee and learn all their tricks to hosting a great event.
Amazon Top Review:
"A need for any Office fan that is a party planner..regardless of theme or season. Great ideas and very detailed!"
Buy it: Amazon
13. The Office Planning Committee Party Tableware Set (60 Pieces); $30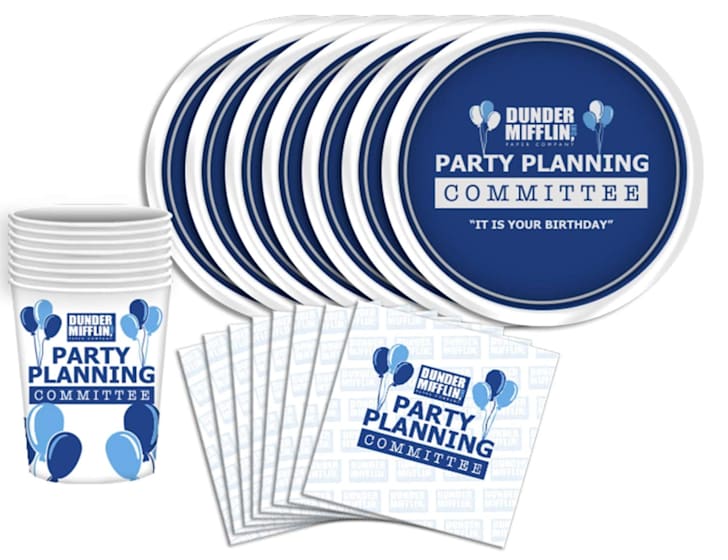 Be the ultimate member of the Dunder Mifflin Party Planning Committee with party decorations based on the committee.
Amazon Top Review:
"BEST PARTY SUPPLIES EVER!!! Please do yourself or whoever the birthday girl or boy is a favor and buy this!!! Everyone loved it!!! Amazing!
So so fun!"
Buy it: Amazon
14. The Office Coloring Book: Dunder Mifflin Coloring Book for Fans by Steve Schur; $7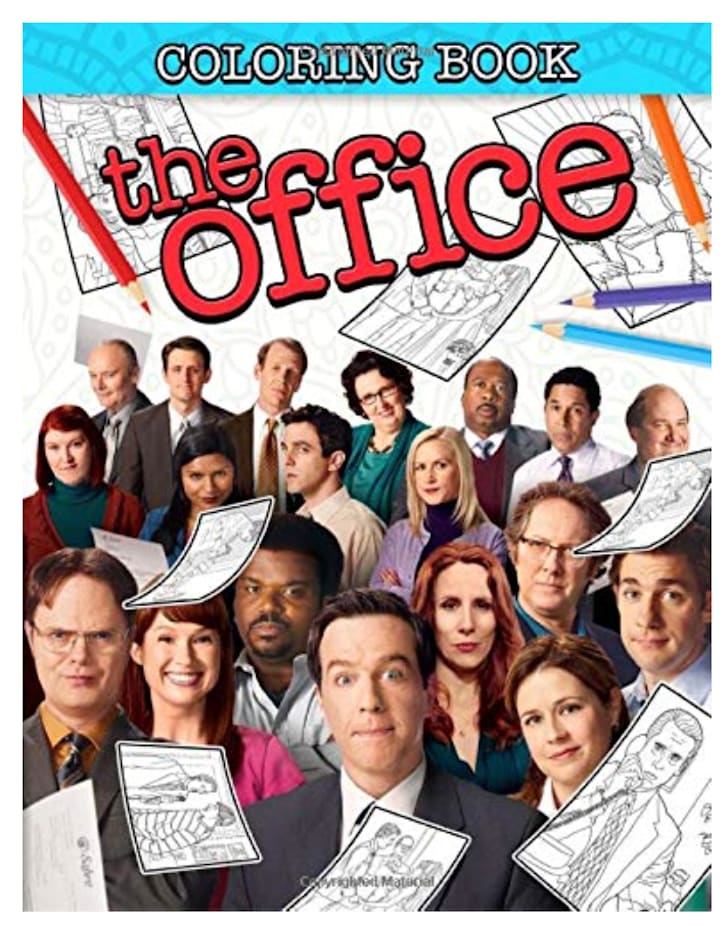 Destress by using this coloring book to bring the show to life before your very eyes.
Amazon Top Review:
"I got this for my 13-year-old granddaughter who is obsessed with The Office. She's going to love it! I also got The Office colored pencils, which look very nice."
Buy it: Amazon
15. The Office-Themed Colored Pencils (Set of 12); $17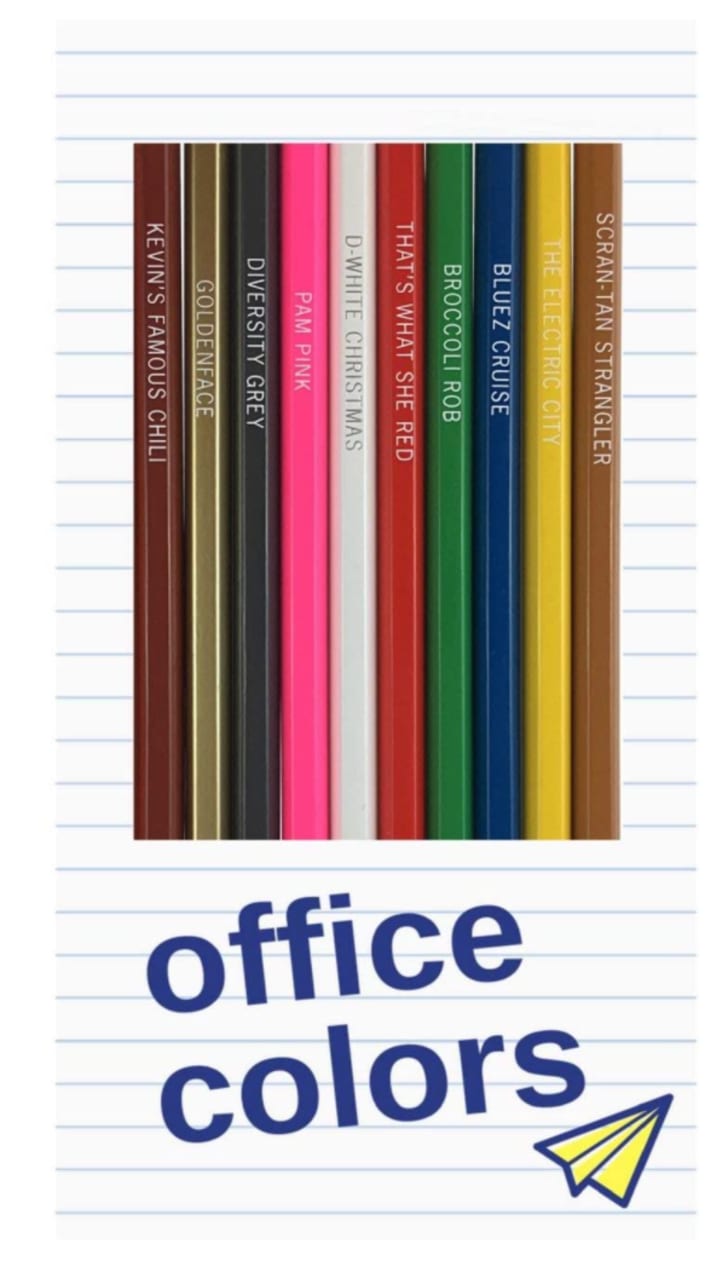 Now that you have your coloring book filled with The Office scenes and characters, you might as well get the colored pencils to match.
Amazon Top Review:
"These were a gift added to one of The Office notebooks. Basic colors, but they are labeled as colors pertaining to The Office. Funny. Great as gift or collection."
Buy it: Amazon
16. The Office: The Untold Story of the Greatest Sitcom of the 2000s: An Oral History by Andy Greene; $14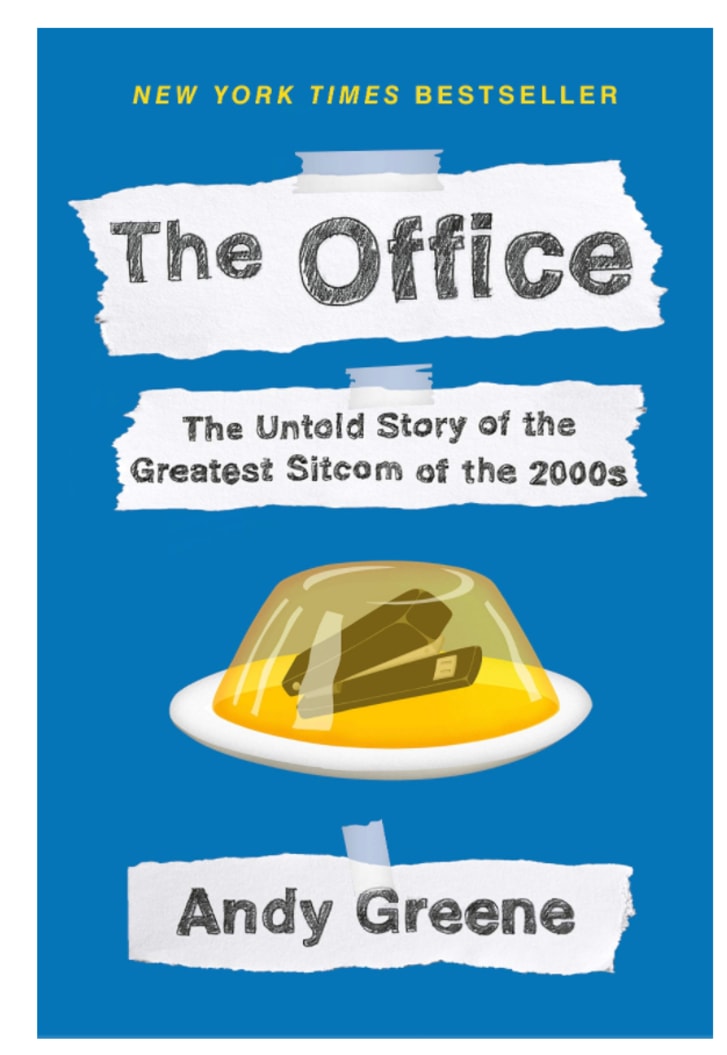 Get all the behind-the-scenes details about your favorite show to give you a whole new experience. 
Amazon Top Review:
"...this book is a true gift for any fan of the show. Along with the 'Office Ladies' podcast, it provides an insiders view that is extremely entertaining..."
Buy it: Amazon
17. Jim and Pam Roof Date T-Shirt; $23
Fans of Jim and Pam's relationship will surely swoon over this T-shirt of their first date.
Amazon Top Review:
"My wife loves this shirt. Based of one of her favorite scenes from The Office. She says the shirt is super comfy."
Buy it: Amazon
18. 2021 Wall Calendar; $14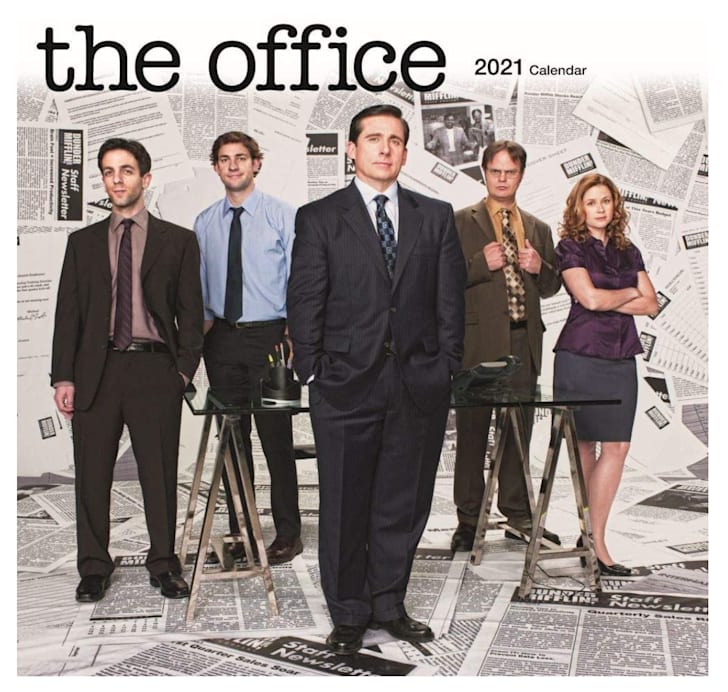 Get ready for the new year with this 2021 wall calendar.
Amazon Top Review:
"This calendar looks great and my Office-obsessed granddaughter just loves it."
Buy it: Amazon
19. "You Miss 100% Of The Shots You Don't Take" Michael Scott Quote Poster; $20
No self-respecting fan of The Office could forget Michael's iconic quote of Wayne Gretzky's quote.
Amazon Top Review:
"This poster is AWESOME. I love the artistic effect on Michael Scott...I read this poster every day as I walk out of my room. 10/10 can't wait to see more like this."
Buy it: Amazon
20. Schrute Buck Birthday Card with Sticker (Set of Five); $10
Any fan will be so happy to open this card and find they've earned a Schrute Buck. Now all you need is 9999 more to get one American dollar.
Amazon Top Review:
"Hilarious product but most importantly a well-made high quality one as well."
Buy it: Amazon
21. Schrute Farms Beets Socks; $20
Keep your feet warm with these Schrute Farms socks that would make any beet fan blush.
Amazon Top Review:
"Love them! They are good quality!"
Buy it: Amazon
22. UNO: The Office Edition; $6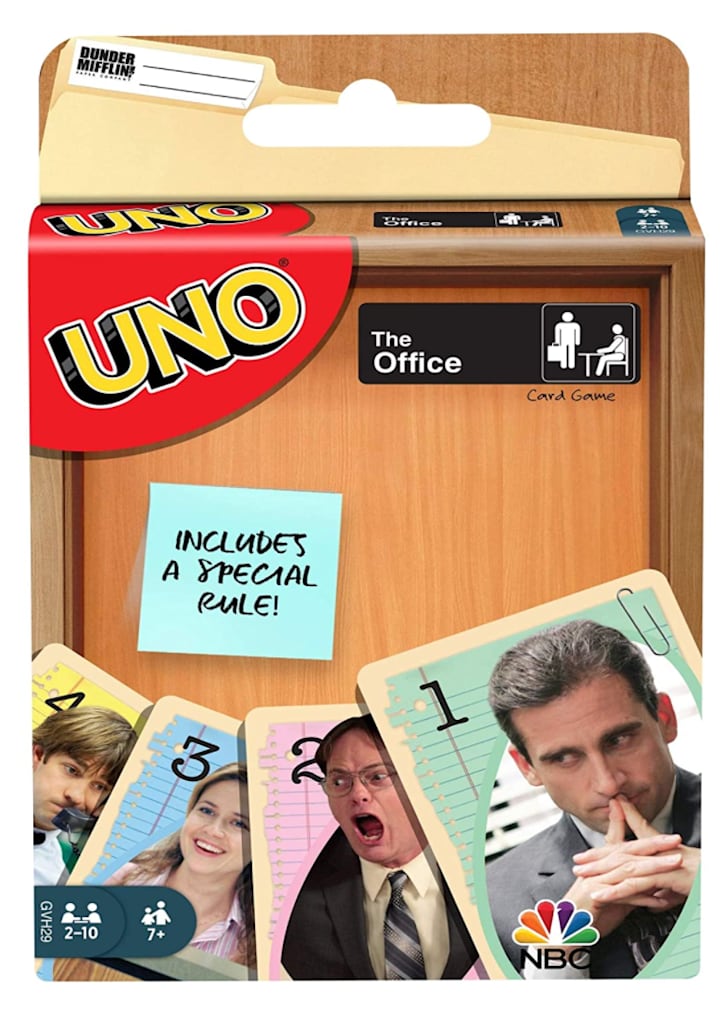 Play UNO like you've never played it before with cards based on the show.
Amazon Top Review: 
"This is a great version of UNO! If you are a fan of The Office then this is a must-have! The Kevin card makes all the difference! Get this! So much fun!"
Buy it: Amazon
23. Dwight with Gelatin Stapler Funko Pop!; $20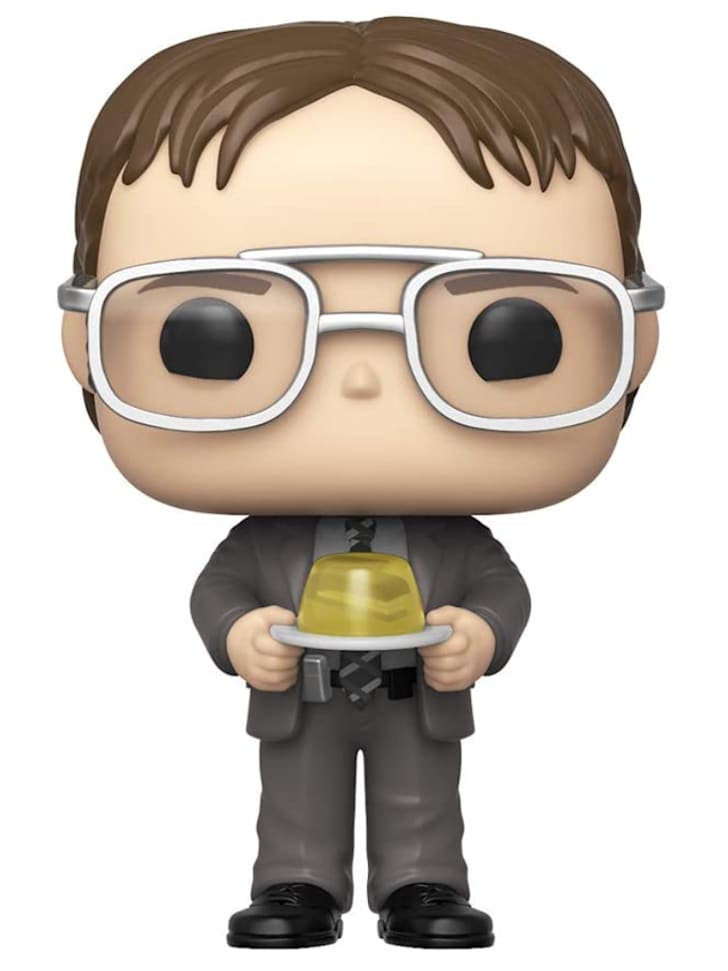 Based on one of the most iconic pranks Jim plays on Dwight, this Funko Pop! figurine shows Dwight with his stapler incased in gelatin.
Amazon Top Review:
"...I'm a new fan of The Office, and I am binge-watching it again. Once I saw this gem on Amazon, [I] knew I had to have it! It came a few days early which is even better than on time!"
Buy it: Amazon
24. Shot Glasses Gift Set (Set of Three); $28
Based on three iconic moments from the show, these shot glasses will make any drinking game a special event.
Amazon Top Review:
"My brother loved these as his gift. The picture quality was good and the glass is very sturdy."
Buy it: Amazon
25. Assistant to the Regional Manager Tote Bag; $8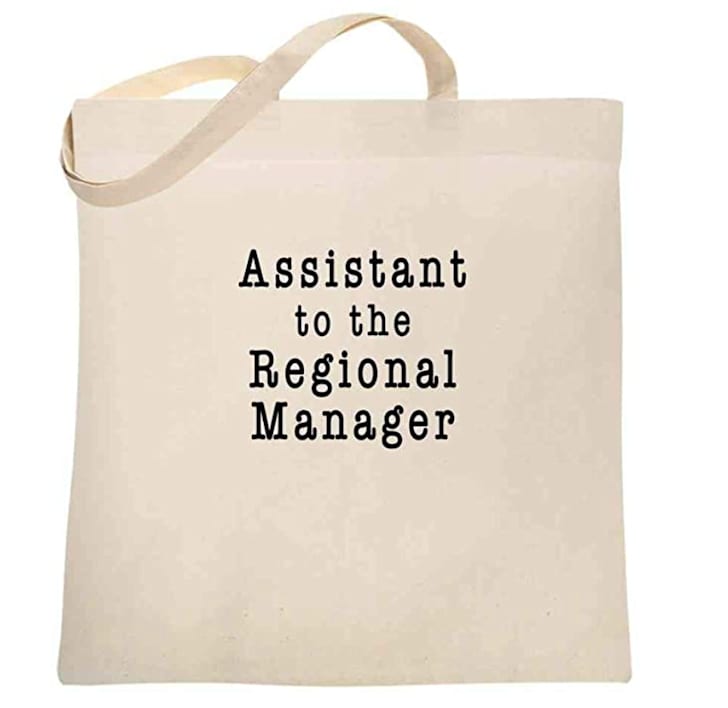 Show off to your co-workers that you're the real assistant to the Regional Manager. 
Amazon Top Review: 
"I love this bag! It's smaller than I expected, but I didn't need it to carry much. I love it and it's super great quality!"
Buy it: Amazon
26. Kevin's Famous Chili Keychain; $12
This keychain will remind you of how bad you felt for Kevin when his famous chili fell out of his hands.
Amazon Top Review:
"I bought this as a gift and got a good laugh when it arrived. The gift recipient adored it."
Buy it: Amazon
27. Bears, Beets, Battlestar Galactica Throw Pillow Case; $10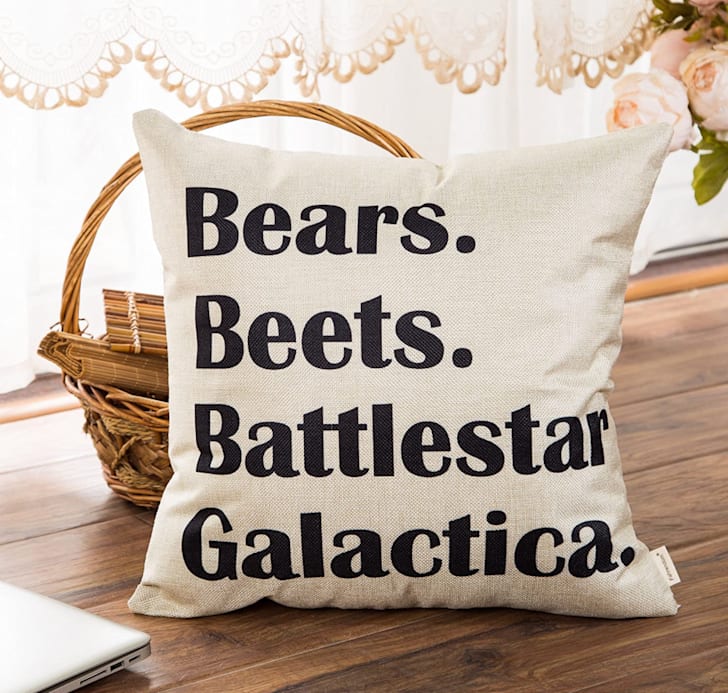 If you don't agree that Jim's impression of Dwight was spot-on then maybe this pillow will remind you of the best line in the scene.
Amazon Top Review:
"My adult son lost his mind when he opened this on Christmas morning! The Office is his favorite show & he was so excited to have his first throw pillow!"
Buy it: Amazon
28. The Office Sunday Afternoon Poster; $27
Pretend you are spending the day at a fancy art museum, but with a comedic twist. 
Amazon Top Review:
"[This was a] birthday gift and it made my granddaughter very [happy]."
Buy it: Amazon
29. Clue: The Office Edition; $104
Figure out who committed a murder at the Dunder Mifflin Scranton offices before they strike again.
Amazon Top Review:
"If you love [The] [O]ffice you'll love this version of [C]lue. Definitely worth buying. The extra features like the intrigue cards are an awesome bonus."
Buy it: Amazon
30. The Office: The Complete Series; $61
This is the perfect gift for any fan of the show that is sad it will be leaving Netflix, but doesn't want to get Peacock.
Amazon Top Review:
"...I thought [i]t would be a great idea to own all of The Office on DVD...I did not lose any content! It comes with so many extras, not to mention it looks so cool. If you're a huge [The] [O]ffice fan I guarantee you won't regret this."
Buy it: Amazon
Sign Up Today: Get exclusive deals, product news, reviews, and more with the Mental Floss Smart Shopping newsletter!