The 20 Best Barbecue Cities in America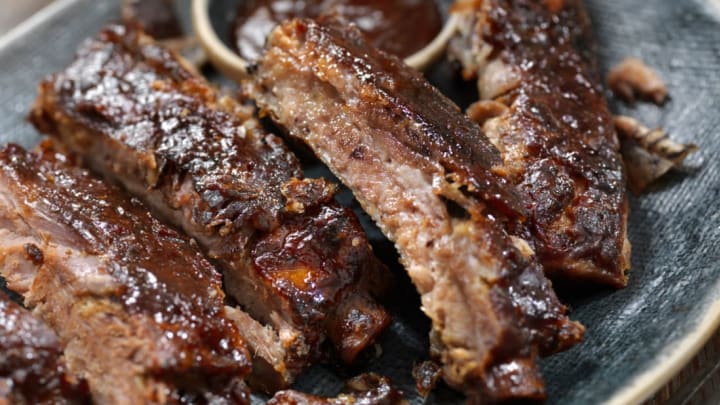 Do you want your baby-back-baby-back-baby-back ribs? / LauriPatterson/iStock via Getty Images Plus
While you can probably find pretty good grilled meat no matter where you are, some cities have a reputation for quality barbecue that goes a little beyond a trusty steakhouse or two.
According to a new survey from lawn care company LawnStarter, Kansas City, Missouri, is the barbecue epicenter of the country. The ranking system is based on 14 weighted factors, including the number of barbecue and smokehouse restaurants, number of top-rated barbecue and smokehouse restaurants, number of barbecue festivals and competitions, consumer restaurant ratings, number of top-ranked cooking teams, and more. The cities were awarded points in each category, and those values were added up for an overall score out of 100. Kansas City earned about 60 points, nearly 14 points ahead of runner-up Chicago.
If you assumed most of the top performers would be located in the South and Midwest, you were right. Houston, Cincinnati, and Memphis rounded out the top five, and the majority of the top 20 are in those regions, too. But the list is not without surprises. New York and Los Angeles, in eighth and 14th place, respectively, have clearly benefited from being massive hubs for chefs and foodies alike. Los Angeles has the most top-rated barbecue restaurants of all 199 cities included in the study; and New York is right behind it (tied with Honolulu, Hawaii).
When it comes to celebrating the art of barbecue—and the fun of eating it—Cincinnati is unparalleled, boasting more barbecue festivals than any other city. And champion pitmasters often hail from Missouri: Kansas City and St. Louis took first and second place on the list of cities with the most cooking teams ranked in the top 25 percent at open contests for the World Series of Barbecue.
If you don't see your city on the list below, you can see where it landed on the full list of 199 cities here.
Kansas City, Missouri // 60.14
Chicago, Illinois // 46.46
Houston, Texas // 37.51
Cincinnati, Ohio // 35.88
Memphis, Tennessee // 34.08
Louisville, Kentucky // 31.47
St. Louis, Missouri // 29.86
New York, New York // 29.22
Minneapolis, Minnesota // 28.61
Overland Park, Kansas // 27.26
Washington, D.C. // 27.07
Richmond, Virginia // 26.47
Denver, Colorado // 25.33
Los Angeles, California // 25.30
Omaha, Nebraska // 25.22
Atlanta, Georgia // 25.08
Grand Rapids, Michigan // 24.64
Austin, Texas // 23.04
Elk Grove, California // 23.03
Raleigh, North Carolina // 22.87