You Can Spend the Night—and Cook Up a Storm—at Julia Child's Charming French Cottage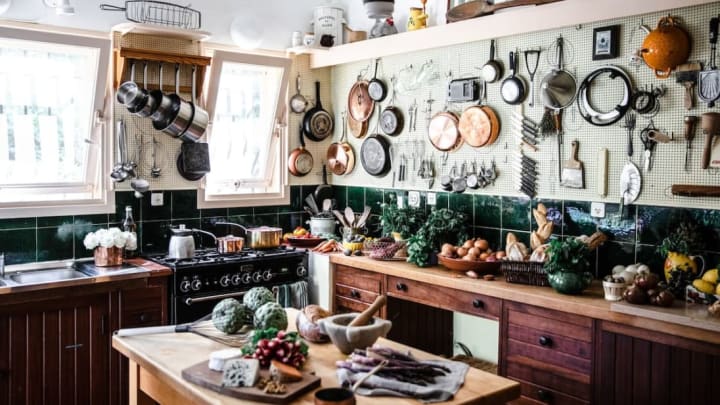 Courtesy of Airbnb / Courtesy of Airbnb
When Mastering the Art of French Cooking debuted in 1961, the recipes allowed home cooks to transport themselves to the French countryside by dinner time. Now, fans of Julia Child can get even closer to living like the cookbook author and television personality. La Pitchoune—the former home of Julia and her husband Paul—is available to rent through Airbnb.
La Pitchoune means "the little one" in Provençal, and the cottage served as the Childs' summer getaway in the South of France from the 1960s to the early '90s. The house was the site of many dinner parties, and the custom-built kitchen remains exactly as it did when Julia cooked there decades ago—right down to the iconic pegboard. Unlike Julia's American kitchen, which is on display at the Smithsonian National Museum of American History in Washington, D.C., this room is fully functional and available to use.
Courtesy of Airbnb
In addition to the historic kitchen, La Pitchoune features three bedrooms, three-and-a-half baths, a saltwater pool, and lush gardens. There's also an outdoor kitchen with a barbecue, pizza oven, and Tuscan grill for cooking on nice days. The house comfortably sleeps six adults, and dining on-site is encouraged. Guests can spend $1500 for an all-day cooking class which includes a shopping trip, wine pairing, and cooking instructions for a multi-course meal. For anyone who preferred watching Julia instead of cooking along with her, private chefs are also available for $500 per meal (ingredients and alcohol are not included in the price).
La Pitchoune hit the market for $880,000 in 2015, and since its purchase it's welcomed a steady stream of fans as a vacation rental. The entire cottage is available to book for $703 a night—though finding open dates through Airbnb may be difficult. If you can't make it to southern France to live in Julia's shoes, spending Friday night at home with a bottle of wine and her beef bourguignon is a fine substitute.
Courtesy of Airbnb