Win a Foodie Weekend at Julia Child's French Vacation Home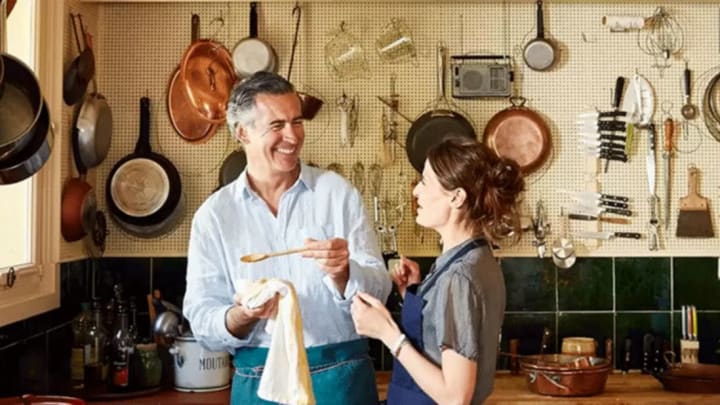 Airbnb / Airbnb
Last year, the picturesque French cottage that once served as a vacation getaway for Julia Child and her husband went up for sale. Even if you weren't able to afford the house's $880,000 price tag, your dream of living like the culinary icon is still within reach; from now until May 22, you can enter for the chance to spend a weekend in Julia's Provence home through Airbnb.
La Pitchoune, or "The Little One" in Provençal, was the site of many home-cooked meals enjoyed by the Childs and their guests from the 1960s to the early '90s. Julia's custom-built kitchen remains just as she left it, and at the end of the month, two lucky guests will use it to cook the meal of a lifetime.
The contest winners will be joined by restaurateur Erwan Heussaff and author Luke Barr, who wrote a book about the historic visitors to the Provence home. The day will be spent shopping at local farmer's markets, gathering herbs from gardens on the property, and preparing a dinner that would make Julia proud.
To enter, contestants over the age of 21 must submit a 50- to 500-character application through the house's Airbnb page. Their submission should address the following prompt: "'The only real stumbling block is fear of failure. In cooking you've got to have a what-the-hell attitude.' How would you make the most of your time living like a chef in Provence?" The winner and one guest will be invited to spend the night of May 29 at La Pitchoune.
If you're not lucky enough to win a free visit to Julia's vacation home this time around, the house will still be available for guests to rent through Airbnb. Before planning your trip, just make sure to familiarize yourself with the house rules, which include "Don't forget the wine," "Use more butter," and "Whack the hell out of that chicken."
Images courtesy of Sotheby's International Realty.