15 Great Gifts for the British History Buff On Your List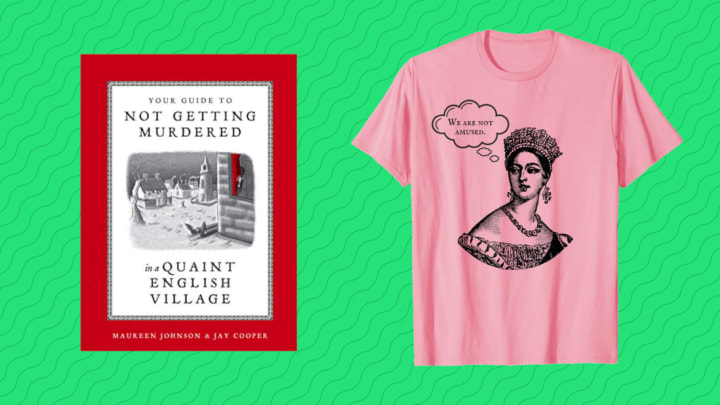 Amazon / Amazon
This article contains affiliate links to products selected by our editors. Mental Floss may receive a commission for purchases made through these links.
Whether they're homesick for Old Blighty or just fans of Bridgerton, the British history buffs on your list will appreciate these thoughtful gifts.
1. Her Majesty; $55
Amazon
TASCHEN's hefty homage to Queen Elizabeth II displays the historic events and private moments of Britain's longest-ruling monarch in stunning photos. Your giftee will see the queen in a new light through images by David Bailey, Yousuf Karsh, and other leading photographers.
Buy it: Amazon
2. Loch Ness Tea Towel; $10
Amazon
If your gift recipient has always dreamed of spotting Nessie but hasn't had the chance to visit Loch Ness, you can tide them over with this tongue-in-cheek tea towel. The 100-percent cotton towel from Samuel Lamont is made in the UK and features illustrations of Scottish Highlands scenery.
Buy it: Amazon
3. Electric Kettle; $16
Amazon
No legitimate Anglophile should be without an electric kettle. This life-changing gadget from Ovente can boil water for brewing tea in less than six minutes, saving energy compared to the stovetop method. An automatic shut-off feature prevents overboiling. It also comes in black, white, red, chartreuse, and fuchsia.
Buy it: Amazon
4. Twinings Classic Tea Collection; $22
Amazon
Twinings has been in the tea business since 1706, and has served as the official supplier to the royal family since Queen Victoria's day. The recipient of this sampler of classic Twinings teas will enjoy eight varieties, including English breakfast, Earl Grey, lemon and ginger, peppermint, and more.
Buy it: Amazon
5. Inverted umbrella; $25
Amazon
Your giftee will surely appreciate this durable, windproof brolly from MRTLLOA, built to withstand the famously drizzly British weather. A single button opens and closes the inverted umbrella automatically, which comes in handy in a rainstorm, and its cheery interior print will stand out in a crowd.
Buy it: Amazon
6. Telephone booth bookends; $14
Amazon
These cute metal bookends from Winterworm, styled on the iconic British telephone booth, will brighten your giftee's bookshelf. Each bookend has non-skid pads on its base to make sure their Jane Austen collection stays put.
Buy it: Amazon
7. Shakespeare's Britain Puzzle; $24
Amazon
When it's finished, this 1000-piece puzzle from National Geographic and the New York Puzzle Company will reveal a nearly 20-inch-by-27-inch map of Elizabethan Britain, complete with sea monsters, unicorns, and an inset map of William Shakespeare's hometown of Stratford-Upon-Avon.
Buy it: Amazon
8. Scottish Tartan Notebook; $15
Amazon
Waverly's elegant "commonplace notebooks" are covered in authentic Scottish tartan cloth, with patterns including Macduff, Royal Stewart, Douglas Ancient (pictured), and more. Inside, the cream-colored pages are lined on the right and blank on the left, and a ribbon marker keeps the writer's place.
Buy it: Amazon
9. Edinburgh Travel Poster Reproduction; $11
Amazon
A classy addition to any Anglophile's wall, this 10-inch-by-13.5-inch print from A Slice in Time reproduces a vintage London, Midland, and Scottish railway advertisement from the early 20th century. Prints of London, Cornwall, Ireland, and other global destinations are also available.
Buy it: Amazon
10. "We Are Not Amused" T-Shirt; $20
Amazon
Whether Queen Victoria really uttered her famously deadpan words is beside the point—your giftee will appreciate the monarch's DGAF attitude on this T-shirt, which features a picture of Victoria and comes in a range of colors.
Buy it: Amazon
11. Your Guide to Not Getting Murdered in a Quaint English Village; $14
Amazon
An essential guide for any fan of Agatha Christie, this surprise bestseller by Maureen Johnson and Jay Cooper includes Gorey-esque illustrations and helpful hints for avoiding death at that charming tea shop by the ivy-covered church.
Buy it: Amazon
12. Piece of UK Land; $39
Amazon
This specimen of real British soil comes with a complete guide to its origin, including a booklet of photos and GPS coordinates to the actual plot. If you know someone who's always wanted to be a British landowner, here's your chance to make their dream come true.
Buy it: Amazon
13. Anglophile Sweatshirt; $48-$55
Amazon
Wear your love of all things British on your sleeve—and everywhere else with this cozy crewneck sweatshirt decked out in all sorts of iconic English imagery. Throw on a pair of jeans for a perfectly comfy outfit for a day at the pub.
Buy it: Amazon
14. LEGO Trafalgar Square Building Kit; $80
Amazon
LEGO enthusiasts can build one of London's famous squares in brick form with this 1197-piece set. The design features the square's monuments, including Nelson's Column, its four lion sculptures, and the National Gallery. There are even a couple of black London taxis and double-decker buses for an authentic streetscape.
Buy it: Amazon
15. BritBox one-year Subscription; $70
Amazon
Your recipient can stream British TV dramas, mysteries, and documentaries to their heart's content with a one-year BritBox gift subscription (also available through Amazon Prime for $7 a month). Downton Abbey; Cranford; classic Dr. Who; Upstairs, Downstairs; Death in Paradise; and many more series are available.
Buy it: BritBox
Sign Up Today: Get exclusive deals, product news, reviews, and more with the Mental Floss Smart Shopping newsletter!