12 Surprising Facts About Netflix's Bridgerton
Within weeks of its Christmas Day 2020 premiere, Bridgerton quickly rose in the ratings to become Netflix's biggest hit ever. The lavish period drama, which is set in Regency-era England, is based on Julia Quinn's eight-book series. The debut season follows the events of The Duke and I, the first book in the series, in which the eldest Bridgerton daughter, Daphne (played by Phoebe Dynevor), sets out to find a husband in 1813.
Over the course of both the show and the book, Daphne meets Simon Basset, the Duke of Hastings (Regé-Jean Page), and they strike a deal: They pretend to be courting so that Simon can stop being pestered by eager mothers trying to marry their daughters off to an eligible duke. In return, Daphne can attract more suitors by making them jealous. What could go wrong? A lot, it turns out.
Here are some things you might not know about the historical romance-drama that currently has the world besotted.
1. Bridgerton has become netflix's biggest hit ever.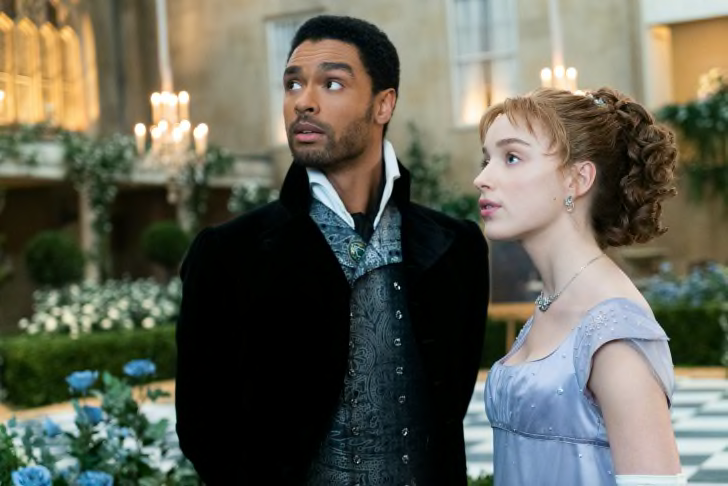 Netflix is notoriously tight-lipped about its viewing statistics. However, the streaming network was so optimistic about Bridgerton's potential for success that they publicly predicted that approximately 63 million homes would have watched Bridgerton in its first month of release. On January 27, 2021, Deadline announced that Bridgerton had already been viewed by 82 million households, making it Netflix's biggest original hit ever. (Previously, the top spot had belonged to The Witcher, which got 76 million views in its first month.) Perhaps even more impressive is that the show has held the top spot on Netflix's Top 10 in 76 different countries, according to Variety.
2. Some of the stately homes featured in Bridgerton might look familiar to viewers.
According to Condé Nast Traveller, most of the series was filmed in Bath, England, where the Royal Crescent—an architectural landmark comprised of 30 Georgian terrace houses—is prominently featured (it played a role in 2008's The Duchess, starring Keira Knightley, as well). Hatfield House, Wilton House, Castle Howard, and Lancaster House all make appearances alongside some notable gardens, including Painshill Park in Surrey.
Bridgerton isn't the only project that has filmed in these historic homes: Netflix's The Crown, Joe Wright's Pride and Prejudice (2005), and Autumn de Wilde's Emma (2020) all filmed scenes at Wilton House; Hatfield House appeared in Enola Holmes (2020) and Yorgos Lanthimos's The Favourite (2018). Lancaster House, which is located next door to Buckingham Palace, has played the role of its more famous neighbor in both The Crown and Downton Abbey.
3. More than 7500 costumes were made for Bridgerton's first season.
Ellen Mirojnick, head costume designer for Bridgerton, and her team of 238 people are behind the show's (often ostentatious) fashion sense. In an interview with Vogue, Mirojnick said they created about 7500 pieces for season 1 alone, and ended up using approximately 5000 of them. Dynevor wore 104 different costumes during the eight-episode season, and in a behind-the-scenes video released by Netflix, actress Nicola Coughlan, who plays Penelope Featherington, mentions how many of the details on each costume, like flowers and other accessories, were handmade by the team.
4. Bridgerton's Tiaras Came From Swarovski's Archives.
Since Bridgerton revolves around the upper crust during the 19th century, it was essential for there to be plenty of showstopping jewelry on display. According to Harper's BAZAAR, jewelry for the show was sourced, in part, from New York City, Italy, and England. And the tiaras worn by the series' main cast members came from Swarovski's crystal archives.
5. One Bridgerton scene had to be shot around Queen Elizabeth II's schedule.
Bridgerton creator/showrunner Chris Van Dusen revealed in a tweet that production had a very tight window to film a pivotal scene in Lancaster House, because Queen Elizabeth II needed to use the space. Today, Lancaster House is used for formal events and dinners, though it was originally constructed as a private residence for Prince Frederick, Duke of York and Albany (the second son of King George III). Over the years, it has been the site of many historical occasions, including an 1848 recital by Chopin, with Queen Victoria in attendance.
6. A few modern pop songs got a 19th-century makeover for Bridgerton.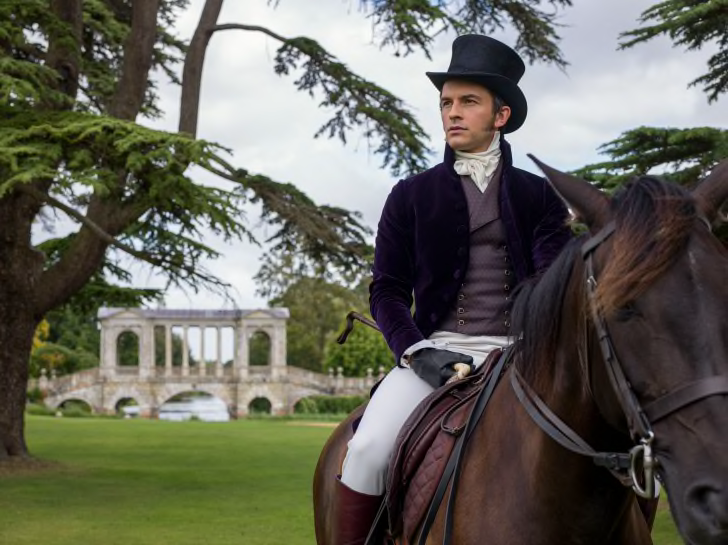 Along with music from composer Kris Bowers, producers also enlisted the Vitamin String Quartet to perform covers of famous pop songs for certain scenes, such as "thank u, next" by Ariana Grande and "In My Blood" by Shawn Mendes. The Vitamin String Quartet is known for its classical covers of famous songs.
7. Bridgerton is the first project in Shonda Rhimes's Nine-Figure Deal With Netflix.
Shonda Rhimes and her production company Shondaland signed a nine-figure deal with Netflix back in 2017. Bridgerton is the production company's first project in this new deal, and it reunited Rhimes with Van Dusen, who served as a producer on Shondaland shows like Grey's Anatomy and Scandal.
8. Princess Diana's Childhood Home Was an Inspiration for the Bridgerton House.
Van Dusen tweeted that Princess Diana's childhood home, Althorp, was the main inspiration in designing the Bridgerton family home. Though Diana was considered a commoner by some, she still lived in an elegant and refined estate in Northamptonshire.
9. Keep an Eye Out For Portraits of Bridgerton's Actors.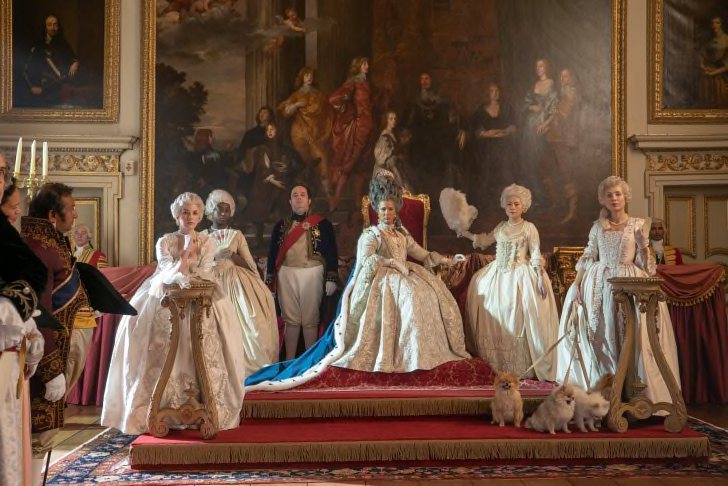 You know those portraits on the walls of the grand homes in Bridgerton? If you look closely, you'll notice that many of the figures are based on the show's stars. When matriarch Violet Bridgerton (Ruth Gemmell) is invited to Buckingham Palace to have tea with Queen Charlotte (Golda Rosheuvel), you can see that the portraits of the Queen and King George III (James Fleet) on the walls are all based on the actors themselves, rather than their real-life counterparts. Even Bridgerton House has portraits of the cast for some added authenticity.
10. A second season of Bridgerton is coming, and it will focus on Anthony Bridgerton and Lady Whistledown.
On January 21, 2021, Variety confirmed that Bridgerton will be coming back for a second season, which will focus on Anthony Bridgerton and Lady Whistledown. The plan is to go into production in the spring, barring any COVID-19 restrictions. "Obviously, we're focused on Daphne and Simon's story in season 1, but we do know there are eight Bridgerton books and eight Bridgerton siblings," Van Dusen told Esquire. "I would love to be able to explore stories and romances for all of them."
Even before a second season was confirmed, the cast was already openly sharing their ideas and hopes for future seasons and storylines. "I'd like to see Daphne get involved in Anthony's love life, since he was so involved in hers," Dynevor told Harper's BAZAAR.
Since the first season followed The Duke and I, the next season will reportedly center around the second book in the series, The Viscount Who Loved Me, which follows Anthony, the eldest Bridgerton.
11. Netflix has already ordered seasons 3 and 4 of Bridgerton.
Netflix is clearly happy to be in the Bridgerton business. On April 13, 2021, the company issued a press release confirming that it has already gone ahead and ordered both a third and fourth season of the series. "Bridgerton swept us off our feet," Bela Bajaria, Netflix's VP of global TV, stated in the press release. "The creative team, led by Shonda, knew the material and delivered a beautiful, emotional, romantic drama for our members. They have some exciting plans for the future, and we think audiences will continue to swoon for this show. We're planning to be in the Bridgerton business for a long time to come."
While there's no word on timing, you can get your Bridgerton fix elsewhere in the meantime. If you want to read ahead, the books are available to buy now on Amazon.
12. Regé-Jean Page will not be returning for a second season of Bridgerton.
While Daphne and Simon got their happily ever after in season 1 of Bridgerton, it was announced on April 2, 2021 that Regé-Jean Page—the series' breakout star—would not be returning for a second season. Initially, Page told Variety that the role was always meant to be a short-time gig, which was part of its appeal; "[I]t felt like a limited series. I get to come in, I get to contribute my bit and then the Bridgerton family rolls on," he said. Though more recent reports have suggested that creative differences might have played a part in Page's decision not to return, those rumors have not been confirmed.