13 Heartwarming Before and After Pictures of Adopted Cats
Not long ago, we wrote about how a little love can dramatically change a dog's life. And no matter what you've heard about how cats feel about people, they, too, blossom with a little affection. Thankfully for all the ailurophiles out there, BeforeNAfterAdoption doesn't just feature dogs; check out how well some of these cats are doing after they found the right home.
1. LUNA
Luna was too skinny when she was adopted. She was nervous but still fell in love with her owner immediately. Now she's gained a healthy amount of weight and is nothing short of a "majestic floof."
2 AND 3. SOLEIL AND LUNE
Soleil (above) and Lune (below) are siblings who began their lives outside, where they were found in Toronto. They were fostered for about three months before being adopted by their current owner.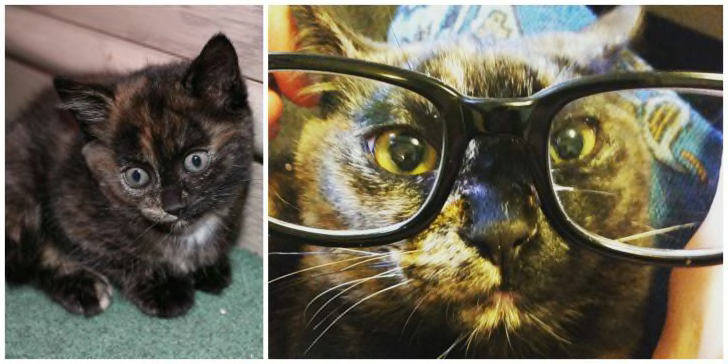 Lune experiences separation anxiety when apart from her sister, but both cats are otherwise doing great. Lune has even been known to wake her owner in order to be petted. More pictures of the dynamic duo can be found here.
4. AEON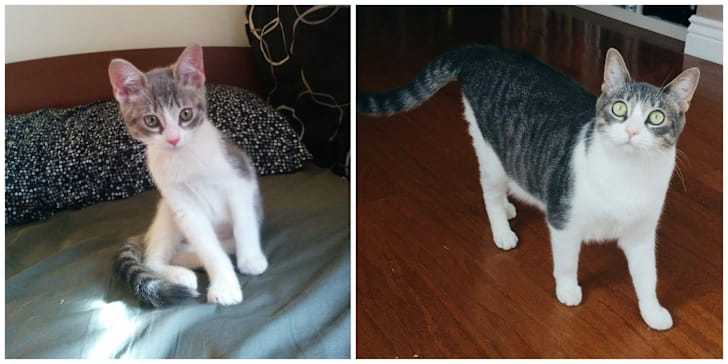 The second picture was taken to celebrate Aeon's one year "kitty-versary," in celebration of the day she was adopted. She is now 14 months old, and thanks to her "kitty eyeliner," her owner says she's always up for a party.
5. DUCKIE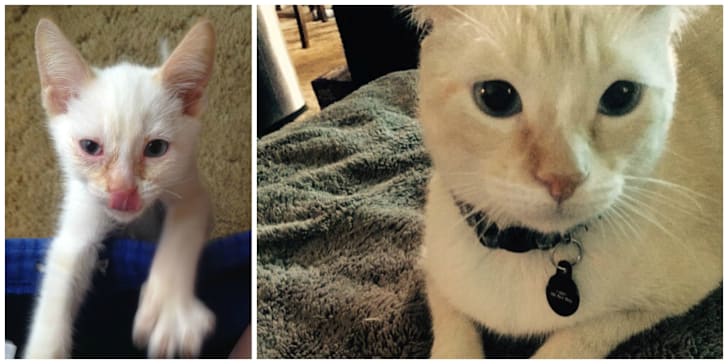 Named after the little dinosaur from The Land Before Time, Duckie was rescued from his owner's mother's house. After some medicine and time, Duckie started gaining weight and became the healthy cat you can see today.
6. POOTLE
Pootle was adopted from a shelter. While there, he had his stomach shaved because his fur was so matted. The second picture was taken three months later and shows a much happier, healthier cat.
7. JASPURR
Jaspurr was found in his owner's backyard. After a bit of a struggle to adjust (and some disagreements with his owner's other cat, Loki), he found his place in his family. You can read more about his story—with pictures!—here.
8. MATILDA
Matilda's owner said that, on the first day, she was "skinny, dirty, and infested with fleas." After a few months' time, she has bonded well with her new family and grown a lot.
9. WIKIPEDIA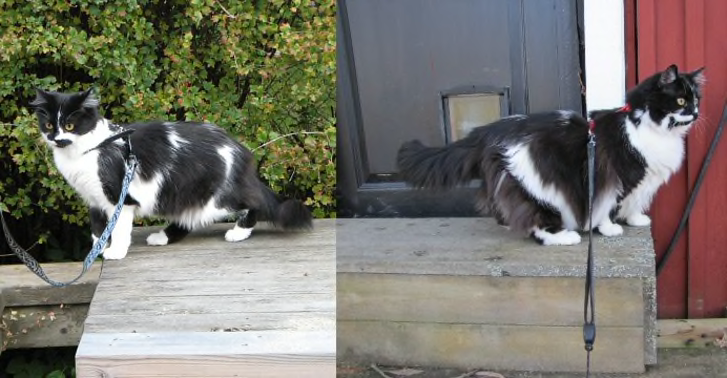 The first picture was taken the week Wikipedia was adopted and the second one was taken about a month ago. No word on whether or not she's become a know-it-all.
10. WEDNESDAY
Wednesday was rescued when she was only a few weeks old from the engine of an abandoned car. A couple baths later, she was all cleaned up, and after few months, she looks like a completely different cat.
11. LITTLE
Originally named Clyde, this kitten was one half of a bonded pair—and the other half had already been adopted. When her current owners took her in, they nicknamed her Little, and the nickname stuck. Now she's best friends with Percival, the other cat in the house (although there are some hilarious pictures of their early struggles).
12. PANCAKE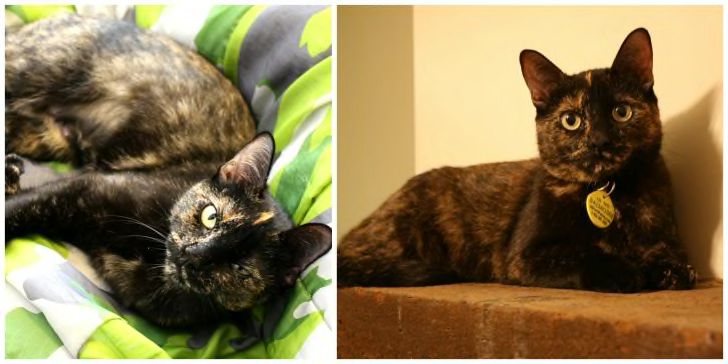 Pancake was a cat with an upper respiratory infection in a crowded shelter and was on a list to be euthanized when she reached out a polydactyl paw and touched a volunteer cleaning out litter boxes. "I was never a cat person, in fact I never liked cats much," the volunteer wrote. "But for some reason this cat stuck out to me." Unable to find any friends to take her home, the volunteer opted to foster Pancake just before she was put down and brought her home. When she got along with Penny, the dog of the house, everyone knew it was meant to be Pancake's forever home.
13. PEARL WOLFIE
You might recognize this adorable, fluffy little face from around MentalFloss.com. Executive Editor Erin McCarthy adopted Pearl Wolfie a year and a half ago from Social Tees Animal Rescue in New York City. While Pearl was initially a timid and scared little kitten, she's since gotten a lot sassier (and a lot fluffier!). These days, she spends her time meowing up a storm, staring at birds, begging for cream cheese, and hanging out with her big brother, Olly, who was rescued from a junkyard 6 years ago. You can follow their exploits on Tumblr.