10 Trippy Facts About Triops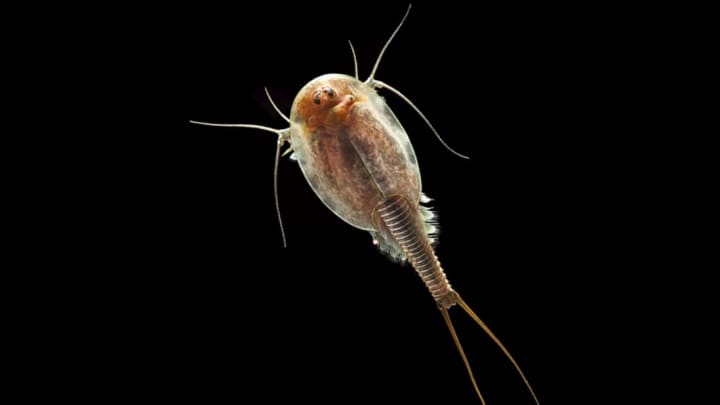 iStock / iStock
Try to picture a tiny, transparent crustacean that looks like a hybrid of a centipede and a horseshoe crab with a zillion writhing legs. While they're not likely to win any beauty contests, triops are impressive little critters. The genus Triops has been around for as long as 300 million years—that's about 200 million years older than T. Rex—making them the oldest known animals on the planet. Here are some other fun facts about these resilient creatures.
1. TRIOPS ARE OFTEN CALLED "LIVING FOSSILS," BUT THAT'S A MISNOMER.
Commonly known as tadpole shrimp, they appear to be almost identical physically to their fossilized ancestors. But appearances can be deceiving. Recent research shows that their DNA and reproductive techniques are constantly evolving.
2. THEY OFTEN HAVE A VARIETY OF WAYS TO REPRODUCE.
In addition to sexual reproduction, some eggs are capable of developing without fertilization. Other triops are hermaphrodites. This means an entire population can develop from just one egg. No wonder they've survived for so long.
3. THERE ARE MORE THAN A DOZEN TRIOPS SPECIES.
Wikimedia Commons // CC BY-SA 3.0 
They're found in seasonal ponds, pools, and puddles all over the world. Triops were around before the break-up of the last supercontinent, which helps explain why they live on every continent except Antarctica. Triops longicaudatus, a rather fancy critter with a long tail, frequents all but the colder regions of North America, while Triops newberryi prefers the milder climate of the Pacific Northwest and parts of California. Triops granarius is found throughout much of Africa, the Middle East, and parts of Asia. Triops Australiensis calls, you guessed it, Australia home. Triops cancriformis, the oldest species, hails from Europe, the Middle East, and India, and is considered endangered in the UK.  
4. TRIOPS MEANS "THREE EYES" IN GREEK.
They Might Be Giants wrote a song about this helpful feature. Sing along with the kids:
Two eyes on a face
Are usually enough
But triops has got
One that looks up
And one that looks around
And one to keep an eye
On the other pair of guys
Triops has three eyes
5. THEY CAN HAVE AS MANY AS 140 (SURPRISINGLY MULTIPURPOSE) LEGS.
What what they do with them is far more impressive than walking or swimming. Some legs act as antennae that help them find food, while others create a water current to direct food toward their mouth. Females have capsules on some of their legs to carry eggs. Some triops have lobe or leaf-like extensions on their legs that function similarly to gills, allowing them to breathe.
6.THEY EAT A LOT—INCLUDING EACH OTHER.
iStock
Triops have a varied diet, from mosquito larvae to aquatic plants and tiny invertebrates to, um, other triops. Yes, to support their rapid growth, larger triops will cannibalize smaller ones if food supplies run low. Hey, when your home is perpetually in danger of drying up, you have to eat as much as you can so you can grow and breed before it's too late.
7. THEY GROW QUICKLY—AND THAT CAN BE DEADLY.
Many reaching maturity in one to two weeks—but their exoskeletons do not. That requires them to molt regularly as they outgrow their exoskeletons. Young triops grow so quickly that molting is a daily experience, and a dangerous one: They can die if they don't successfully shed the old exoskeleton.
8. TRIOPS EGGS CAN LAY DORMANT FOR DECADES, AND THEN HATCH IN WATER.
Wikimedia Commons // Public Domain
They achieve this by laying something called cysts, or resting eggs, that are eggs with a special structure that protects the interior from extreme temperatures, drought, and even radiation. These cysts allow triops to move into new territory by hitching a ride with some pretty far-out modes of transportation, including inside migrating birds and in the feet and poop of animals that pick them up from puddles and pools.
9. THEY CAN SURVIVE IN OUTER SPACE FOR 18 MONTHS.
Tests on the International Space Station (ISS) prove this hardiness. Those findings led to a NASA high school experiment last year that sent Triops Longicaudatus back to the ISS to test whether it could be grown in space and serve as a high-protein food source for astronauts on future long-term missions.
10. CHARMED? YOU CAN HAVE YOUR OWN!
There is a wide assortment of triops starter kits out there to choose from. They're low-commitment, too: Triops only live for 1–3 months (less if they eat each other). And when one batch dies out, you can dry out the soil or sand in the tank and transfer it to fresh water. If resting eggs are in the sand, with the proper care, you'll soon have another group of triops.