15 Future Stars Who Appeared on PBS Kids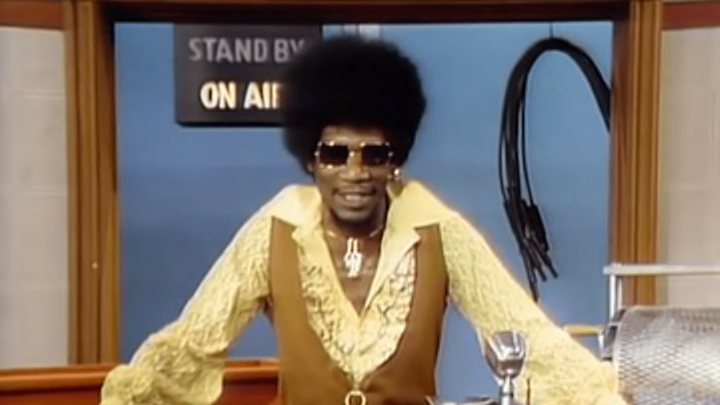 YouTube / YouTube
Over the decades, children's public television programming—namely, PBS Kids—has jumpstarted the careers of a number of soon-to-be-famous actors. Here are 15 of them.
1. BEN AFFLECK // THE VOYAGE OF THE MIMI (1984)
At the age of 12, more than a dozen years before winning his first Academy Award, Ben Affleck received his breakout role as C.T. Granville in The Voyage of the Mimi. The series was produced for middle school science classrooms and aired on PBS in 1984. It followed the crew of the Mimi, as they explored the ocean and took a census of humpback whales. Four years later, a second series—The Second Voyage of the Mimi—was produced, with Affleck reprising his role.
2. MORGAN FREEMAN // THE ELECTRIC COMPANY (1971-1977)
Morgan Freeman was a series regular on The Electric Company during its entire run from 1971 to 1977. The future Oscar winner played a number of recurring roles, including Easy Reader, Mel Mounds, and Vincent the Vegetable Vampire.
3. SARAH JESSICA PARKER // 3-2-1 CONTACT (1980)
In 1980, a year after taking on the title role in Broadway's Annie, Sarah Jessica Parker appeared as the Little Orphan on 3-2-1 Contact. It was her first credited television appearance.
4. MICHAEL KEATON // MISTER ROGERS' NEIGHBORHOOD (1975)
In 1975, future Oscar nominee Michael Keaton worked a number of odd jobs at Pittsburgh's public television station WQED, including stagehand, stage manager, and eventually background player on Mister Rogers' Neighborhood. "When you worked at QED, you kind of did everything," Keaton said during an interview on Live with Kelly and Michael. "So you would work on Fred [Rogers'] crew from time to time … [He] was one of the nicest, authentically good people you've ever met. Really good dude [with] kind of a sneaky, sly great sense of humor."
5. SAMUEL L. JACKSON // GHOSTWRITER (1992)
Although he began his acting career in the early 1970s, Samuel L. Jackson didn't gain stardom until the 1990s, after appearing in movies for directors Spike Lee and Quentin Tarantino. During that same time, Jackson appeared on the PBS Kids show Ghostwriter, where he played the father of Jamal (Sheldon Turnipseed) in the series' first mystery, "Ghost Story."
6. STOCKARD CHANNING // SESAME STREET (1972-1988)
At age 28, future Oscar nominee Stockard Channing made her first credited television appearance as the "Mad Painter's Victim" on Sesame Street in 1972. The Mad Painter was a recurring segment where a painter would draw a number on practically anything in public, namely Channing. She reprises the role in the short segments throughout the 1970s and '80s.
7. DEMI LOVATO // BARNEY & FRIENDS (2002-2004)
In 2002, nine-year-old Demi Lovato made her television debut on Barney & Friends, where she played "Angela" during the show's seventh and eighth seasons. Among Lovato's co-stars during this time was fellow singer/actress Selena Gomez.
8. SELENA GOMEZ // BARNEY & FRIENDS (2002-2004)
In 2002, the same year that Demi Lovato made her debut, Selena Gomez joined the cast of Barney & Friends as "Gianna." It was her first professional acting job, and she went on to appear in more than a dozen episodes of the series over the next two years. "I was very shy when I was little," Gomez told People. "I didn't know what 'camera right' was. I didn't know what blocking was. I learned everything from Barney."
9. YEARDLEY SMITH // SQUARE ONE TV (1987)
Two years before she began voicing Lisa Simpson on The Simpsons, Yeardley Smith appeared on PBS Kids' Square One TV. She played a gorilla handler named Jane Rice-Burroughs in four of the first season's "Mathnet" detective segments.
10. RAÚL JULIÁ // SESAME STREET (1971-1972)
While he was already a rising star on Broadway, Raúl Juliá appeared as Rafael, one of the co-founders of the Fix-It Shop with Luis (Emilio Delgado), on Sesame Street. Juliá had a short stint on the series, only appearing in four episodes throughout season three.
11. JULIA STILES // GHOSTWRITER (1993-1994)
In 1993, at the age of 12, Julia Stiles made her television debut as the computer hacking enthusiast Erica Dansby on Ghostwriter. She appeared in season two's "Who Is Max Mouse?" mystery and season three's "A Crime of Two Cities."
12. REG E. CATHEY // SQUARE ONE TV (1987-1992)
Before he starred on HBO's The Wire or Netflix's House of Cards, Reg E. Cathey was a series regular on Square One TV. He played a number of roles and characters on the educational math variety show from 1987 to 1992.
13. MING-NA WEN // MISTER ROGERS' NEIGHBORHOOD (1985)
In 1985, Ming-Na Wen appeared on Mister Rogers' Neighborhood as a Royal Trumpeter for King Friday XIII's court in the Neighborhood of Make-Believe. The role marked her television debut.
14. KEITH DAVID // MISTER ROGERS' NEIGHBORHOOD (1983-1985)
During the mid-1980s, Keith David had a recurring role on Mister Rogers' Neighborhood as Keith the Handyman. However, for one episode, David played a game coin collector who taught children to play video games. 
15. DULÉ HILL // GHOSTWRITER (1992)
In 1992, Dulé Hill appeared on Ghostwriter's first season, in the episode "To Catch a Creep: Part 1." "My first gig was when I was about 13," Hill told PopMatters. "I played 'Basketball Boy' on the show Ghostwriter. I had about two lines. That's how I got my SAG card and I did commercials, too."