15 Smart Gifts for Teacher Appreciation Week
Whether it's a friend with a teaching job, your child's teacher, or your own professor, you probably know at least one person who spends their days at a blackboard. May 6 through May 10 is National Teacher Appreciation Week 2019, so celebrate by getting the perfect gift to thank your favorite educator for all their hard work.
1. RETRO PENS; $8
From hall passes to report cards, teachers have to do a lot of writing—so help them do it in style. This set of five vintage-looking ballpoint pens come in fun retro colors and write with black ink.
Find it: Amazon
2. WOODEN ANIMAL PENCILS; $9
If your teacher prefers pencils to pens, don't worry—there are plenty of kitsch writing utensils to go around. These painted pencils look just like woodland creatures and are perfect for injecting whimsy into writing notes or completing a crossword puzzle. (For equally great writing utensils with a little less flair, check out our guide to bullet journal supplies.)
Find it: Amazon
3. NOVEL TEAS; $14
Big readers and English teachers will definitely get a kick out these novel tea bags. As the punny name suggests, each tea bag comes with a famous quote from classic literature. The English Breakfast tea will taste even better when enjoyed with the likes of Jane Austen.
Find it: Amazon
4. NATIONAL PARKS EXPLORER MAP; $40
Maps aren't just important teaching tools—they also make for excellent home decor. But instead of focusing on history or geography, this map shows all of the national parks in the United States and includes a handy key that identifies each one. The owner can use included tree stickers to mark off which parks they've visited.
Find it: UncommonGoods
5. BOOK-THEMED CANDLES; Various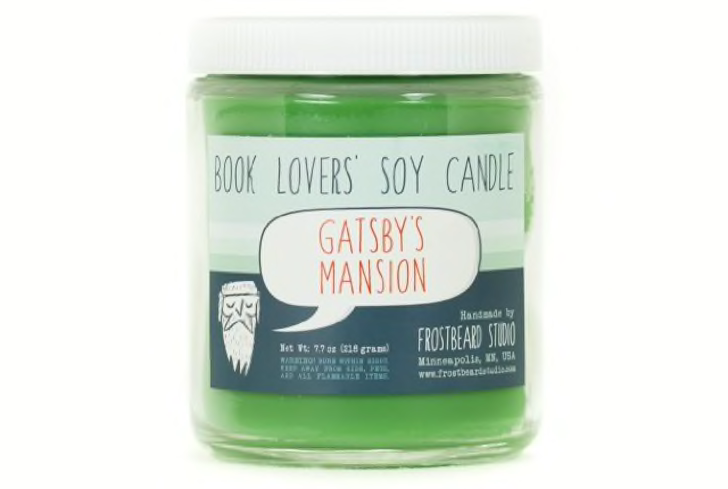 You can't go wrong with one of these amazing candles when you're shopping for librarians, English teachers, or general bibliophiles. Each scent is inspired by literature, whether it be a specific book (the Harry Potter novels) or a place (the Oxford library).
Find it: Amazon
6. BRAIN SPECIMEN COASTERS; $35
Each of these glass coasters shows a different slice of the brain; when stacked in the right order (don't worry; they're labeled to help you), they look like a full brain. The set comes with 10 coasters and will look great on an office desk.
Find it: Amazon or at one of the retailers below:
7. COMPOSITION NOTEBOOK TOTE; $20
Teachers have to haul around a lot of stuff, so give them a fun bag to use when they do it. This tote bag from Out of Print is perfect for teachers with students who still use the classic composition notebooks. (There's also a library card version.) If you're not crazy about the tote, they also have a ton of literary-inspired pouches.
Find it: Amazon
8. CHAIR SOCKS; $13
Noise-sensitive teachers sometimes put tennis balls on the bottom of chair legs to keep them from making loud, scraping noises. If the teacher you know is also aggravated by screeching chairs (or maybe just concerned about the floor scratching), give them these chair socks. The set comes with four adorable cat paws that can fit on the legs of most chairs and desks. (If your favorite educator isn't into cutesy animals, there are also other more subtle designs available.)
Find it: Amazon
9. CORK GLOBE; $44
Lots of teachers have regular globes in their room, but your favorite teacher could use something a little more creative. This special globe is made from cork and comes with its own special set of red markers that can be used to show where they have traveled or what country their students are currently learning about.
Find it: Amazon
10. Stanley Ceramivac Bottle; $26
Teachers may not have coffee pots or microwaves in their classrooms, meaning they may be stuck drinking cold coffee (or worse, no coffee at all) throughout the day. So don't give them a punny mug this year; give them the gift of vacuum insulation. Stanley's Ceramivac bottles are designed to keep beverages hot for nine hours and cold for 14, and the ceramic finish is a much-needed upgrade to the stainless steel bottle, making it a more natural drinking feel. It has a spill-proof lid and a lifetime guarantee, and it comes in a number of sizes and colors. The 24-ounce size would be a good bet, but if you know your favorite teacher is a coffee addict, upgrade to the 36-ounce version. And while the standard bottle's screw-top lid is excellent for preventing spills and keeping beverages hot for longer (and can be poured into that punny teacher-themed mug), there's also a Ceramivac sip-through tumbler.
Find it: Amazon
11. Modern Moose Wall Clock; $48 to $48
Both teachers and students spend a significant amount of the day glancing at the time, so make looking at the clock more fun. Modern Moose's whimsical pendulum clocks come in a fox or a shark design, while the table/wall clocks also come in the shape of a robot, a moose, a sock monkey, or an owl, as well as a cutesy take on the standard cuckoo clock.
Find it: The Grommet
12. Rocketbook Everlast Smart Reusable Notebook; $30
Teachers go through a lot of paper each day, but taking notes doesn't have to add to their carbon footprint. The Rocketbook Everlast notebook works with any Pilot FriXion pen or highlighter and can be used to beam notes to cloud services like Google Drive and Evernote. Once the pages are filled up, the notebook can be wiped clean with a damp cloth and used again.
Find it: Amazon
13. Cleaning Supplies and Wipes
Classrooms full of children can be a germaphobe's nightmare. Help your favorite teacher and their students stay clean and germ-free by helping them stock up on wet wipes, hand sanitizer (Touchland's pocket-sized sprays would look great in a gift bag), screen cleaner (this dual-sided gadget would do the trick, as would this spray), and surface cleaning wipes and sprays.
14. Amazon Prime; $39-$119
Yes, Amazon offers gift memberships to Amazon Prime. Give your favorite teacher access to free shipping, thousands of music playlists, a ton of free e-books, and other Prime perks that would be useful both inside and outside the classroom. All you have to do is enter your favorite teacher's email address. If the recipient already has a Prime membership, your gift doesn't go to waste, either—it converts to a regular Amazon gift card. You can gift a three-month membership for $39 or a full year for $119.
Find it: Amazon
15. Scratch-off book poster; $26
Perfect for literature lovers, Amy and Umy's 100 scratch-off poster of the top 100 must-read books of all time includes staples of classroom reading, like Pride & Prejudice, A Tale of Two Cities, Slaughterhouse Five, and Catch 22. Your favorite teacher could use it to track their own reading list or incorporate it into their English curriculum—after the class finishes a book, they can scratch away the silver foil to reveal a design inspired by the book.
Find it: Amazon
A version of this post first ran in 2016. It has been updated to reflect current availability as of May 2019.
Mental Floss has affiliate relationships with certain retailers and may receive a small percentage of any sale. But we choose all products independently and only get commission on items you buy and don't return, so we're only happy if you're happy. Thanks for helping us pay the bills!