How Much Money an Hour You Need to Make to Afford Rent in Each State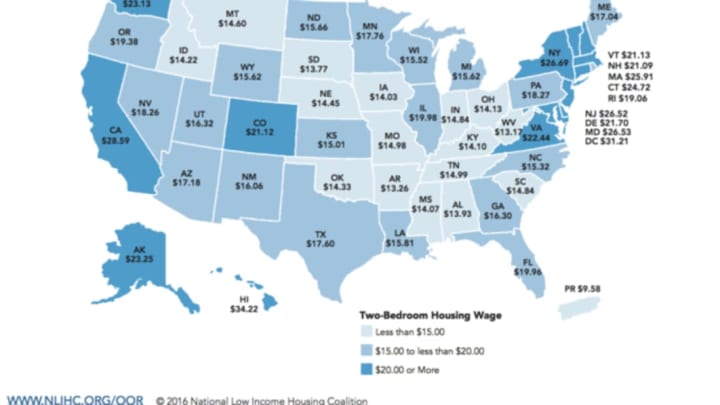 NLIHC.org / NLIHC.org
It's no secret that minimum wage is far too low for modern workers in the United States. At the moment, the lowest hourly rate in each state teeters between about seven and ten dollars. While we're making steps to give people fair wages, we still have a long way to go, as illustrated by this map. The National Low Income Housing Coalition released a report called "Out of Reach," that illustrates the divide between minimum wage and housing prices. It looks at how much a full-time employee would have to make an hour to afford a fair market, two-bedroom apartment using only 30 percent of his or her income. 
As expected, the results don't look good. No state currently offers a minimum wage that could allow a worker to afford an apartment. This comes as no surprise for more expensive metro areas like New York City, where most citizens are expected to use up to half their earnings to pay rent, but the problem extends to even the most inexpensive areas like in South Dakota. The national average to afford an apartment is $20.30 hourly ($42,240 annually) but the federal minimum wage is only $7.25. A person would have to work 112 hours a week to be able to afford the average rent. 
The Afternoon Map is a semi-regular feature in which we post maps and infographics. In the afternoon. Semi-regularly.