6 Weird Things That Happened Because of Pokémon Go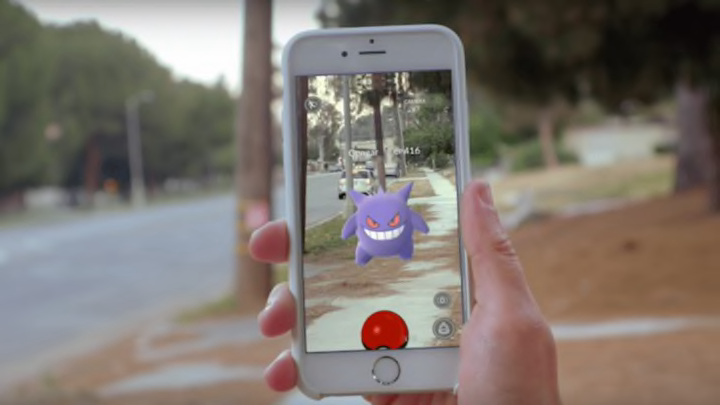 YouTube / YouTube
Pokémon Go took over the planet this past weekend and inspired millions of people to get out and be active (while still staring at their mobile phone screens). The augmented reality app, which allows players to find and catch Pokémon in the real world, launched in the United States, Australia, New Zealand, and a few other countries, with several more on the horizon. But the launch was far from perfect: Gizmodo described Pokémon Go as "mostly-broken"; there is a fake version going around that is reportedly infecting Android devices; and the headlines associated with the game have been weirder and more shocking than its meteoric rise. Here's some of what you missed while you were out catching Butterfrees and Krabbys.
1. A TEENAGER DISCOVERED A DEAD BODY.
On July 8, 19-year-old Shayla Wiggins was trying to find a water Pokémon in a location that sounds like the perfect place for them: near a river in Riverton, Wyoming. While scanning the area, Wiggins discovered what turned out to be a body floating in the water and called 911. Wiggins told Kotaku that because she quit playing to dial 911, she never did find the Pokémon she was looking for.
2. PEOPLE HAVE ALLEGEDLY USED THE GAME'S SOCIAL COMPONENT TO PLAN ROBBERIES.
Pokémon Go encourages people to meet in designated areas with other players so that they can catch wild Pokémon together. According to an O'Fallon, Missouri police report [PDF], four teenagers used the geolocation feature just before 2 a.m. on July 10 to "anticipate the location and level of seclusion of unwitting victims." The suspects were arrested after allegedly robbing one pedestrian, but the police report says that there had been "similar armed robberies in St. Louis City, County, and St. Charles County, Missouri over the last couple of days with a similar vehicle being described by other victims."
3. THE GAME IS SENDING PEOPLE TO PRETTY WEIRD LOCATIONS.
Pokémon Go players all over the internet have been claiming that the app is sending them to the strangest places. In addition to the Australian police station that issued a statement asking players (a.k.a. trainers) not to come inside, there have been reports of Pokestops (locations where players can find free items that enhance gameplay) and gyms (places where trainers battle and form alliances) inside graveyards, behind strip clubs, at London's MI5 security agency headquarters, in toilets, and inside places of worship. One user discovered that his home was listed as a gym, and noticed several people parking outside of his gate.
According to Gizmodo, Niantic—the team that collaborated with Nintendo to create the app—used locations from an earlier game called Ingress to fill the Pokémon Go world.
4. SOLDIERS CAN "CATCH 'EM ALL" IN ISIS TERRITORY.
An ex-U.S. Marine currently fighting ISIS outside of Mosul, Iraq shared a screenshot of his Pokémon next to a really big gun and challenged the opposition to battle. It's unclear why Squirtle, a water-type Pokémon, would be hanging out in the dry desert, but at least the soldiers have something to do during their downtime.
5. THE GAME IS MORE POPULAR THAN TINDER.
In the span of a few days and with several countries patiently waiting for their launch date, Pokémon Go was downloaded more times than Tinder on Android devices and was very close to matching and potentially passing Twitter's active user percentage, despite the many-years head starts that both apps have over the hot new game. SimilarWeb reports that 60 percent of the people who downloaded the app in the United States use it daily, and the average time spent playing is around 43 minutes, compared to Instagram's 25 minutes and Snapchat's 23 minutes.
6. IT'S FREE, BUT STILL MADE MONEY FOR NINTENDO.
Google Finance
Pokémon Go is free to download, but the app is already paying off for Nintendo. According to Forbes, the company's stock price began to climb in the days following the game's launch, and it climbed another 25 percent on July 11, adding $7 billion to the company's market value.