12 Fascinating Facts About Tron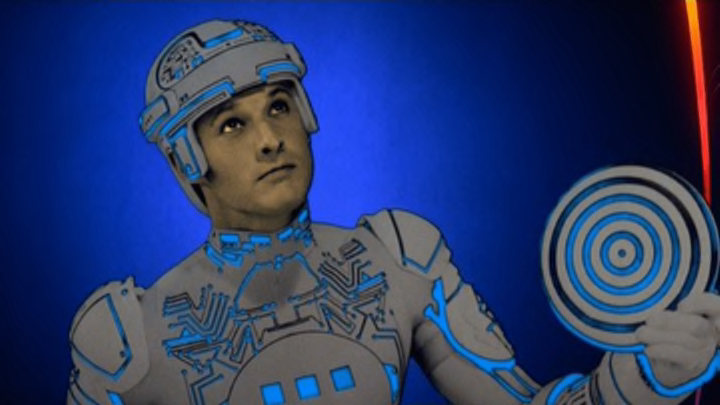 Disney / Disney
Despite receiving only mixed reviews and inviting modest box office business when it was released in 1982, Tron garnered a lot of attention for being unlike any other film that had ever been made. A mix of early computer effects, animation, and live-action, the movie—about a programmer (Jeff Bridges) sucked into a virtual terrain—developed a cult following. Check out some facts and trivia notes about the project that helped usher in the digital age of cinema.
1. IT WAS INSPIRED BY PONG.
In 1976, independent animator Steven Lisberger came across a demonstration reel compiled by MAGI, a computer firm that was at the forefront of experimenting with graphics software to create optical effects. Lisberger was intrigued by the idea—traditional cell animation is a time-intensive process—but it wasn't until he saw the early Atari video game Pong that he was convinced a movie set inside a computer-generated world was viable.
2. IT WAS ORIGINALLY GOING TO BE A CARTOON.
At the time Lisberger and his co-producer, Donald Kushner, started working on Tron (which is taken from the word "electronic"), the two had planned to use their considerable experience in animation to make it as a feature-length cartoon framed by just two live-action sequences. After being turned down by MGM and Columbia, the partners pitched Disney, who invested in a test reel (which you can see above) for first-time director Lisberger that combined animation with live-action performers. When that was met with executive approval, Lisberger got the greenlight for the $17 million feature.
3. SOME DISNEY ANIMATORS REFUSED TO WORK ON IT.
Not everyone at Disney was enthusiastic about a computer-generated project. Disney's traditional animators were said to have felt threatened by the potential for computers to force their craft into obsolescence and openly refused to assist Lisberger in any way. Instead, the director used Syd Mead and renowned French artist Jean "Moebius" Giraud to design the costumes and storyboard the film.
4. THE EFFECTS USED JUST TWO MEGABYTES OF MEMORY.
Disney
The work it took to achieve the distinct visual style of Tron was a multi-layered process. CGI was used for backgrounds and the light cycle races; traditional animation techniques hand-painted the vibrant costumes. The actors (Jeff Bridges and David Warner) performed against a black screen so virtual sets could be dropped in during post-production. To realize the computer-generated images, Lisberger needed a computer that used just two megabytes of memory and 330 megabytes of hard drive storage space.
5. THE DISCS WERE PART OF LISBERGER'S NO-GUNS POLICY.
In the hardware grid of Tron, war is waged with flying discs. The latter was an intentional choice on the part of Lisberger, who wanted the film to distance itself from any violent imagery that kids might consider emulating at home. If they decided to recreate the fights they saw onscreen, he figured the worst they could do was bean themselves in the head with a Frisbee. 
6. PAC-MAN HAS A CAMEO.
In a nod to Lisberger's video game inspirations for the movie, viewers can catch a glimpse of Pac-Man in the scene where villain Sark (David Warner) is lecturing his troops. You can even hear the game's wacka-wacka cue on the soundtrack. Lisberger and his team inserted a few other early Easter eggs: the Recognizer surveillance machines were modeled after the hunched-over appearance of Donkey Kong; a digitally-rendered lake seen in a fleeting shot takes on the distinctive shape of Mickey Mouse's head.
7. THE ACADEMY AWARDS SNUBBED THE MOVIE FOR CHEATING.
When it came time to announce the nominees for Best Visual Effects for the 1983 Academy Awards ceremony, Tron seemed like a sure thing. Instead, it got snubbed. Why? According to Lisberger, it was because the industry considered computer effects a shortcut. "The Academy thought we cheated by using computers," he told the San Francisco Gate in 2002.
8. ITS RELEASE DATE WAS SCHEDULED OUT OF SPITE.
Tron was originally scheduled for the Christmas 1982 season, which would have made for some intriguing counter-programming against the serious dramas studios release in time for Oscar consideration. But the plan was scrapped when Disney found out that animator Don Bluth, who had defected from the company in 1979 and had publicly chastised it as being "stale," was set to release his Secret of NIMH in July; Tron was moved up to a July 9 release in the hopes it would crush Bluth's project. NIMH made $14 million; Tron delivered $33 million, but neither was considered a runaway hit.
9. PLAYBOY WANTED TO DO A TIE-IN PHOTO SPREAD.
While movie marketing has become a near-exact science, Disney publicists weren't quite sure at the time who the target audience for Tron would be. Computer users? Video game players? Teens? While they were strategizing, Playboy made an offer: they'd photograph models with circuit boards strategically positioned to preserve their modesty. Disney declined.
10. ELIJAH WOOD STARRED IN A SEQUEL.
Disney XD
After the mixed response to the belated Tron: Legacy sequel in 2010, Disney decided to continue the franchise in a more financially modest way with Tron: Uprising, an animated series for their Disney XD channel. Elijah Wood voiced Beck, a mechanic thrust into the world of digital stakes. Debuting to poor ratings in 2012, the series lasted only one season.
11. IT INSPIRED PIXAR.
Pixar animation specialist John Lasseter (Toy Story) was a young storyboard artist at Disney when Tron was in development. After catching a glimpse of the production, he convinced the studio to let him film a 30-second test reel featuring CGI backgrounds. The company liked it, but at the time, they were more interested in saving money than nourishing a new wave of technology.
But Lasseter wasn't discouraged. "It absolutely blew me away," he told Animation World in 2012. "A little door in my mind opened up. I looked at it and said, "This is it! This is the future."
12. TRON GUY WAS BANNED FROM SEEING THE SEQUEL.
Tron megafan Jay Maynard became an internet meme after photos of his decidedly low-tech, tight-fitting replica costume made headlines back in 2004. When Disney released Tron: Legacy in 2010, people were clamoring for his opinion. The problem? He was booted out of the theater. According to TIME, Maynard went to a screening in Minnesota but was ushered out when management decided his illuminated wardrobe would be too distracting for other guests. When he finally got a chance to see it, he said the sequel was so good it nearly drove him to tears.