15 Record-Breaking Rollercoasters You Can Visit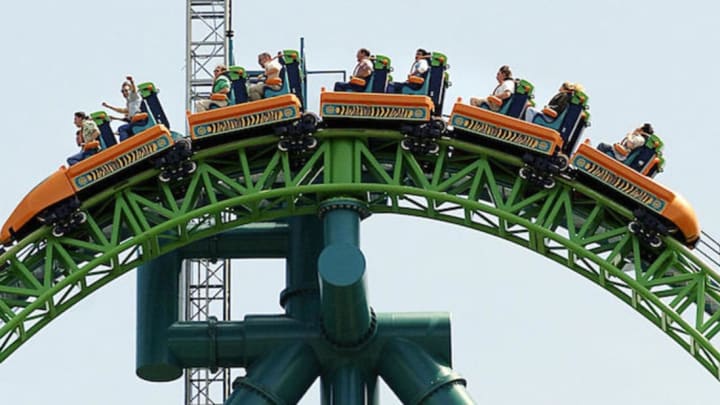 STAN HONDA/AFP/Getty Images / STAN HONDA/AFP/Getty Images
They're exhilarating, stomach churning, and often touted as record-breaking. It seems each time an amusement park unveils a new, seemingly physics-defying piece of machinery, they claim that their coaster is taller, faster, and more thrilling than ones that came before. (Coming next in 2018: the SkyScraper—an inversion-filled ride that winds up and around a 570-foot tower at Orlando's SkyPlex.) In honor of National Roller Coaster Day on August 16, we've rounded up other record-crushers. Enjoy the ride!
1. TALLEST COASTER: KINGDA KA // SIX FLAGS GREAT ADVENTURE, JACKSON, NEW JERSEY
Reaching 128 miles per hour in just 3.5 seconds, this hydraulic launch rocket coaster wows out of the gate. The first drop—a staggering 418-foot peak at a 90-degree angle—is thrilling, but not without its drawbacks. If the coaster fails to hit top speed during the launch, it may not reach the top of the hill, causing the cars to reverse back down (a sign explains this is a "normal occurrence" and the cars will safely roll back to get launched again). And the hazards of being so high in the air (think: lightning strikes and even potential bird collisions!) means the ride is shut down at the first hint of inclement weather.
2. STEEPEST COASTER: TAKABISHA // FUJI-Q HIGHLAND, YAMANASHI, JAPAN
YOSHIKAZU TSUNO/AFP/Getty Images
Nestled at the base of Mount Fuji, this 3281-foot ride (developed for $37 million in 2011) begins with a 141-foot drop at a dizzying 121-degree angle. (Yes, that's even "steeper" than plunging straight down.) Alongside the free fall, riders get their nearly $10 worth with seven inversions over the course of 112 seconds.
3. FASTEST COASTER: FORMULA ROSSA // FERRARI WORLD, ABU DHABI, UNITED ARAB EMIRATES
This speedster is so fast that riders are required to wear a set of sky diving goggles to protect them from bugs, dust, and other particles that could zoom into their eyes. In just two seconds, the ride, designed to mimic Formula One auto racing, hits 62 miles per hour. Over the course of 1.3 miles it eventually tops out at about 150 miles per hour and exerts 1.7gs of force on the adrenaline-loving passengers.
4. LONGEST COASTER: STEEL DRAGON 2000 // NAGASHIMA SPA LAND, KUWANA, MIE PREFECTURE, JAPAN
TORU YAMANAKA/AFP/Getty Images
Appropriately released in 2000—the year of the dragon—this four-minute experience includes a 30-story drop, figure eights and massive hills along its 8133 feet of track. The price tag was also over-the-top. As the ride was built in Japan, it required more steel than other coasters to protect against potential earthquakes. Costs eventually climbed over $50 million.
5. TALLEST LOOP: FULL THROTTLE // SIX FLAGS MAGIC MOUNTAIN, VALENCIA, CALIFORNIA
When this steel launch-style roller coaster opened in 2013 it booted another Six Flags ride (Texas' Superman: Krypton Coaster) from the record books. Riders start out going forward, halfway through are shot backwards, and then switch back to a forward direction mid loop. Its chart-topping vertical loop stands tall at 160 feet.
6. MOST INVERSIONS: THE SMILER // ALTON TOWERS, STAFFORDSHIRE, UK
Christopher Furlong/Getty Images
Even threat of injury can't keep fans away from this British attraction that features 14 upside-down loops and a series of optical illusions. The ride was shuttered for nine months after two teen riders needed leg amputations and 14 others were injured in a horrifying June 2015 crash. But when it reopened the following March—after extensive safety reviews—hundreds lined up to hop on.
7. TALLEST WOOD COASTER: COLOSSOS // HEIDE-PARK SOLTAU, LOWER SAXONY, GERMANY
YanCoasterman, Wikimedia Commons // CC BY-SA 3.0
Though it's some 260 feet shorter than Kingda Ka at 196.8 feet, this European ride earns the record of the highest coaster made of wood. When it was built in 2001, it picked up another distinction: the first wooden coaster to use a prefabricated track. The beams were laser cut in a factory, making the pieces more precise and able to snap together like LEGO pieces. The so-called "plug and play" design meant it could be built faster and require less labor.
8. OLDEST CONTINUOUSLY OPERATING COASTER: THE GREAT SCENIC RAILWAY // LUNA PARK, MELBOURNE, AUSTRALIA
Featuring dips, turns, and views of Port Phillip Bay, this Australian attraction has been in business since 1912. It's also one of the few coasters in the world that has an operator ride along to slow and stop the train.
9. WORLD'S SLOWEST COASTER: TIGER & TURTLE // MAGIC MOUNTAIN, DUISBURG, GERMANY
PATRIK STOLLARZ/AFP/Getty Images
Visitors to this attraction—built atop a hill made of toxic zinc slag in 2011—only speed along as fast as their feet can carry them. Artists Heike Mutter and Ulrich Genth, who crafted the 69-foot structure, says the piece, "subtly and ironically plays with the dialectic of promise and disappointment, mobility and standstill. The thing only looks fast from far away, but then it is a struggle to climb it with one's own feet." (In case you're wondering, the loop is closed off.)
10. FASTEST WOOD COASTER: LIGHTNING ROD // DOLLYWOOD, PIGEON FORGE, TENNESSEE
Rollercoaster-shy Dolly Parton doesn't set foot on the rides at her eponymous park. ("I've got too much to lose—like my hair!" she explained to USA Today. "Lord knows what else could fall out of me. I can think of a lot of other things I'd rather do than be scared to death.") She's steered clear of this 2016 release. It uses electro-magnetic propulsion instead of a chain lift to launch riders up to 73 miles per hour, and then drops them 165 feet.
11. LONGEST WOOD COASTER: BEAST // KINGS ISLAND, MASON, OHIO
Chris Hagerman, Wikimedia Commons // CC BY-SA 3.0
The 7359 feet of this ride, built in 1979, wind through 35 acres of woods in Southern Ohio. Over the course of four minutes, participants shoot past the tops of tress and alongside ravines and sail through three sets of underground tunnels.
12. TALLEST AND FASTEST DIVE COASTER: VALRAVN // CEDAR POINT, SANDUSKY, OHIO
Gregory Varnum, Wikimedia Commons // CC BY-SA 4.0
When it opened in May 2016, this behemoth shattered 10 records—becoming the tallest, fastest and longest dive coaster in the world. (A quick coaster primer: On a dive coaster, riders roll up a hill, pause, then are released into a 90-degree vertical drop.) The 223-foot high, 3415-foot long experience also boasts the longest drop (214 feet), highest inversion (165 feet) and most inversions (three) among dive coasters. Its release also gave Cedar Point—dubbed the roller coaster capital of the world—the title of most rides at one amusement park, most roller coasters taller than 200 feet, most steel roller coaster track, and most track overall.
13. LONGEST INVERTED ROLLER COASTER: BANSHEE // KINGS ISLAND, MASON, OHIO
When it opened in 2014, Ohio's Banshee became the world's longest inverted roller coaster (an inverted coaster is when the vehicle is hanging below the track as opposed to sitting on top). On it, riders journey through 4124 feet of track at up to 68 miles per hour.
14. THE FIRST FOURTH DIMENSION COASTER: X2 // SIX FLAGS MAGIC MOUNTAIN, VALENCIA, CALIFORNIA
Jeremy Thompson, Flickr // CC BY 2.0
Originally unveiled in 2001 as X, it's the first coaster with cars that rotate independently on their own axis. (At the top of the first, 215-foot drop the cars pivot so riders are facing straight down.) In 2008, it underwent a six-month, $10 million renovation that included installing new, lighter trains, using 1500 gallons of paint to transform the hue from hot pink to red and charcoal, and adding two flame throwers to the track for a fiery effect.
15. TALLEST WATER COASTER: MASSIV // SCHLITTERBAHN GALVESTON ISLAND WATER PARK, GALVESTON, TEXAS
To earn the title of a water coaster, a ride must have multiple uphill sections, use a boat, tube or raft, and have other elements such as spirals or water screens. This 81-foot behemoth (sliders have to climb 123 steps to the top) delivers with four uphill blasts and multiple drops over the course of 926 feet. (That's the length of two-and-a-half football fields.) Named after the German word for massive, the attraction was built to mark the park's 2016 anniversary. As their website reads, "Our park is turning 10 this year and we decided we needed a really big present!"