The Other Gettysburg Address You Probably Haven't Heard Of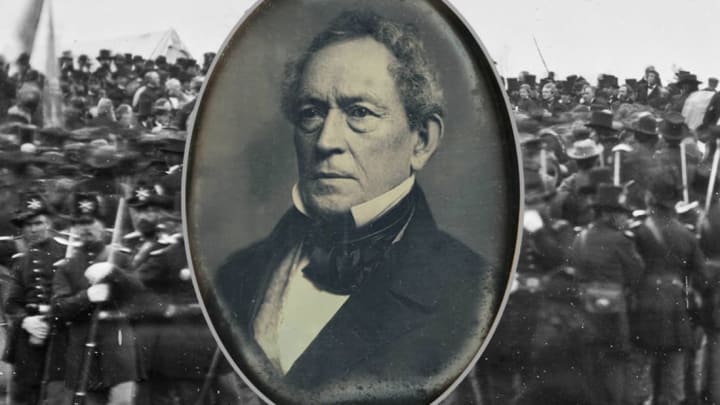 The greatest speech in American history had a tough act to follow.
On November 19, 1863, Abraham Lincoln delivered an address at the dedication of a new National Cemetery in Gettysburg, Pennsylvania. As the president offered some brief remarks before a war-weary crowd of around 15,000 people, he modestly said, "the world will little note, nor long remember what we say here."
Lincoln was only half right about that. Despite his humble prediction, the president's Gettysburg Address has shown remarkable staying power over the past 155 years. The unifying oration has been engraved onto monuments, memorized by countless schoolchildren, and painstakingly dissected by every Civil War historian under the sun. It has even achieved international fame: Across the Atlantic, language from the speech was woven into the current constitution of France.
But at that gathering in Gettysburg, President Lincoln wasn't the primary speaker. His immortal words were merely the follow-up to another speech—one that was meticulously researched and, at least by some accounts, brilliantly delivered. It was a professional triumph for a scholar and statesman named Edward Everett who had been hailed as the finest orator in America. Yet history has all but forgotten it.
DISTINGUISHED IN ACADEMIA—AND POLITICS
Everett was born in Massachusetts on April 11, 1794, and he was exceptional even as a young man. The son of a minister, Everett was admitted to Harvard University at 13 and graduated at 17. After studying to be a minister himself, and briefly serving as one, Everett's alma mater offered him a spot on its faculty. The position allowed time abroad in Europe, and Everett spent some of those years studying at the University of Göttingen in modern Germany, where he became the first American to earn a Ph.D. (U.S. schools didn't offer that type of degree at the time). When he returned from Europe, Everett took up his post at Harvard.
For many people, landing a spot on Harvard's payroll would be the achievement of a lifetime. But after Everett started teaching in 1819, he quickly found himself longing for a career change. In 1825, he ran for a seat in the U.S. House of Representatives. Elected as a conservative Whig, he served for a full decade before setting his sights on state politics. In 1835, Everett won the first of four one-year terms as the governor of Massachusetts. As governor, he revolutionized New England schools by spearheading the establishment of his state's first board of education.
Like most politicians, Everett suffered his fair share of defeats. Due largely to his support of a controversial measure that limited alcohol sales, he was voted out of the governor's mansion in 1839 (he lost by just one vote). But he soon got another shot at public service: In 1841, the John Tyler administration appointed Everett as the U.S. ambassador to Great Britain, a job that enabled him to play a major role in settling a Maine-New Brunswick border dispute that had created a great deal of tension between the two countries.
Academia beckoned once again in 1846, when Everett—after some coaxing—agreed to become the president of Harvard. Following his resignation in 1849, President Millard Fillmore appointed him Secretary of State. Everett subsequently bolstered his political resume with a one-year tenure in the U.S. Senate, resigning in 1854 after failing health caused him to miss a vote on the Kansas-Nebraska Act.
In the election of 1860, Everett found himself pitted against future president Abraham Lincoln. Without Everett's consent, the Constitutional Union Party—which favored ignoring the slavery issue to prevent a civil war—nominated him as its vice presidential candidate. The ex-Governor reluctantly accepted the nomination, believing that doing otherwise would cause too much damage to the ticket—but he flatly refused to campaign. Privately, he believed that the party had no chance, writing to a friend that June that his nomination was "of no great consequence; a mere ripple on the great wave of affairs."
"A VOICE OF SUCH RICH TONES, SUCH PRECISE AND PERFECT UTTERANCE"
Something that was of great consequence, however, was Everett's growing reputation as a first-rate public speaker. He'd taught Ralph Waldo Emerson at Harvard; in the budding philosopher's words, Everett had "a voice of such rich tones, such precise and perfect utterance, that, although slightly nasal, it was the most mellow and beautiful, and correct of all the instruments of the time." Everett's other celebrity fans included Thomas Jefferson, who praised a speech that Everett gave at Harvard on behalf of the visiting Marquis de Lafayette.
The American people grew well-acquainted with Everett's oratory skills after he left the Senate. Once the war broke out, he started touring the northern states, making pro-Union speeches wherever he went. So when a Pennsylvania-led commission finished assembling a burial ground for the soldiers who'd fallen at Gettysburg, they naturally asked Edward Everett if he'd speak at the cemetery's formal dedication in October 1863.
Everett received their official invite on September 23. His response was an enthusiastic yes, although he did request that the consecration date be pushed back to November 19 so he'd have time to research and gather his thoughts. The request was granted, and Everett got to work.
He began by going over every available account of the battle. From Union general George G. Meade's staff, Everett received an official report on what had transpired. And when Robert E. Lee submitted his own account to the Richmond Inquirer, Everett went through it with a fine-toothed comb.
By November 11, Everett's speech had begun to take shape. As a courtesy, he submitted an advance copy to another man who'd been asked to say a few words at Gettysburg: President Lincoln. The plan all along was for Everett to deliver a lengthy oration which would be followed by what one pamphlet described as "a few dedicatory remarks by the President of the United States." Nobody expected the Commander-in-Chief to turn many heads with his brief comments. It was to be Everett's show; Lincoln was an afterthought.
Everett traveled to Gettysburg on November 16, still constantly revising his notes. Since a large chunk of his speech would be dedicated to recounting the historic battle, he decided to familiarize himself with the terrain on which it was fought. Professor Michael Jacobs of Gettysburg College, an eyewitness to the battle, guided Everett through the hills and fields that surround the Pennsylvania town. Dead horses and soldiers still lay rotting where they'd fallen that summer. The whole town was polluted with their stench.
Lincoln arrived one night before he was to deliver his speech; both the president and Mr. Everett were given lodging at the home of event organizer David Wills. The next morning, the honored guests made their way towards the cemetery.
THE OTHER GETTYSBURG ADDRESS
The dedication began with some music, followed by a prayer that Reverend Thomas H. Stockton, a prominent anti-slavery cleric, delivered with trademark zeal. And then, Everett—his speech memorized in full—took the stage. Because the New Englander had weak kidneys, a tent had been placed behind the podium so that he might take a break and relieve himself during the speech if necessary.
"Standing beneath this serene sky," he began, "overlooking these broad fields now reposing from the labors of the waning year, the mighty Alleghenies dimly towering before us, the graves of our brethren beneath our feet, it is with hesitation that I raise my poor voice to break the eloquent silence of God and nature."
From there, Everett drew parallels between the cemetery's consecration at Gettysburg and the reverence with which the ancient Athenians buried their fallen soldiers. His speech was loaded with historical references: As the address unfolded, Everett mentioned everything from the War of Roses to the fall of ancient Rome. He also quoted such great thinkers as Pericles and David Hume. He provided a detailed, point-by-point retelling of the battle at Gettysburg, denouncing the Confederacy, condemning the continued practice of slavery, and urging the north to strengthen its resolve. Still, Everett held firm to the belief that reconciliation between the two sides might still be possible. "There is no bitterness on the part of the masses," he proclaimed. "The bonds that unite us as one people … are of perennial force and energy, while the causes of alienation are imaginary, factitious, and transient. The heart of the people, north and south, is for the Union."
When Everett's address came to a close, he had spoken more than 13,000 words over the course of two hours. B.B. French, a musician who'd penned a hymn for the occasion, later wrote, "Mr. Everett was listened to with breathless silence by all that immense crowd, and he had his audience in tears many times during his masterly effort." The Philadelphia Age offered a more lukewarm review, stating "He gave us plenty of words, but no heart." President Lincoln, however, loved the speech. In Everett's diary, the orator remarks that when he stepped down, the president shook his hand "with great fervor and said, 'I am more than gratified, I am grateful to you.'"
Those who remained in the audience were then treated to French's hymn, as performed by the Baltimore Glee Club. And then, the president rose. Within three minutes, his speech of around 270 words (there's some debate over its exact phrasing) was over and done with. According to one witness, "The extreme brevity of the address together with its abrupt close had so astonished the hearers that they stood transfixed. Had not Lincoln turned and moved towards his chair, the audience would very likely have remained voiceless for several moments more. Finally, there came applause."
Everett knew a good speech when he heard one. One day after the consecration, he wrote to the president and asked for a copy of the little address. "I should be glad," Everett wrote, "if I could flatter myself that I came as near to the central idea of the occasion in two hours as you did in two minutes." James Speed, Attorney General from 1864 to 1866, would later recall that Lincoln treasured Everett's kind words and said "he had never received a compliment he prized more highly."
Lincoln was more than happy to offer up a copy of the speech—and to return the kind sentiments. "In our respective parts … you could not have been excused to make a short address, nor I a long one," Lincoln told Everett. "I am pleased to know that, in your judgment, the little I did say was not entirely a failure.
"Of course," he added, "I knew Mr. Everett would not fail."