The Time Ann Hodges Was Hit by a Meteorite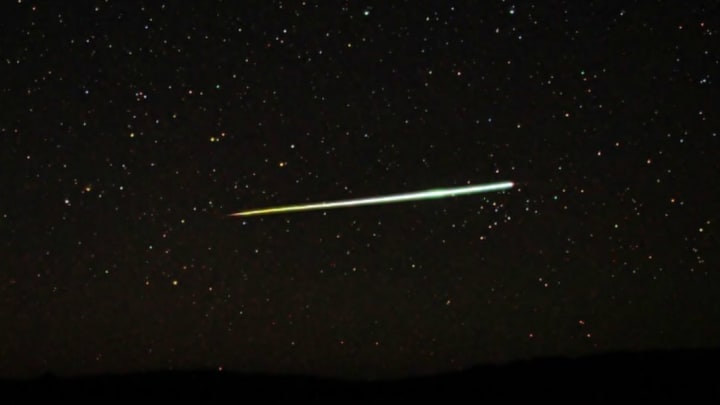 C M Handler via Wikimedia Commons // CC BY-SA 3.0 / C M Handler via Wikimedia Commons // CC BY-SA 3.0
If you think construction noise is a nap-destroying nuisance, you should check out the space rock that hit a sleeping woman in 1954.
Ann Hodges had settled onto the couch that afternoon with no awareness of the agent of chaos tearing through the heavens above her house. A larger-than-average meteorite was zipping toward our planet, crumbling as it fell. The fireball produced by the meteorite's disintegration was so bright it could be seen by humans below in three different states. Most of the rock's bulk was vaporized as it entered Earth's atmosphere, but one bowling-ball-sized chunk survived and continued on its improbable course.
The scorching-hot rock crashed through the roof of Hodges's home in Sylacauga, Alabama, then through her ceiling into her living room, bouncing off a large radio before slamming into her unconscious body. Astonishingly, 34-year-old Hodges survived the incident with minor injuries, including a heinous bruise on her waist. But the meteorite's violent arrival was just the start.
Everyone wanted a piece of the space-struck housewife—Hodges made appearances in newspapers, LIFE magazine, and on TV game shows—but they also wanted a piece of the rock that struck her. Air Force intelligence seized the rock to make sure it wasn't some sort of spy equipment. Geologists at the Smithsonian wanted to keep it for further study. Ann's husband Hewlett saw the meteorite as a gold mine and decided to sell it.
Unfortunately, their landlord Bertie Guy had the same idea. The two took it to court, where Guy argued that any celestial object that fell on her property automatically belonged to her. The case became a battle of endurance. Eventually, the landlord lost, but not before the drawn-out legal process drove down the meteorite's value. By the time the rock reverted to Ann and Hewlett's possession, nobody wanted to buy it. Ann began using it as a doorstop, and eventually donated it to the Alabama Museum of Natural History.
The trauma of the incident, legal battles, and overwhelming media attention left their scars on Hodges long after her bruise had healed. She and her husband separated, citing the strain caused by the meteorite and saying they wished it had never happened. Ann fell ill and died just eight years later at the age of 52.
Hodges's brush with space was, oddly enough, not the beginning nor the end of her home state's relationship with meteorites. The jazz standard "Stars Fell on Alabama" was penned 20 years earlier in praise of an especially spectacular meteor shower. Six decades later, another meteorite rained debris not too far from the couple's old home. If this story has a moral, it's for Alabama residents: Please keep an eye on the sky.