7 Très Interesting Facts about Canadian French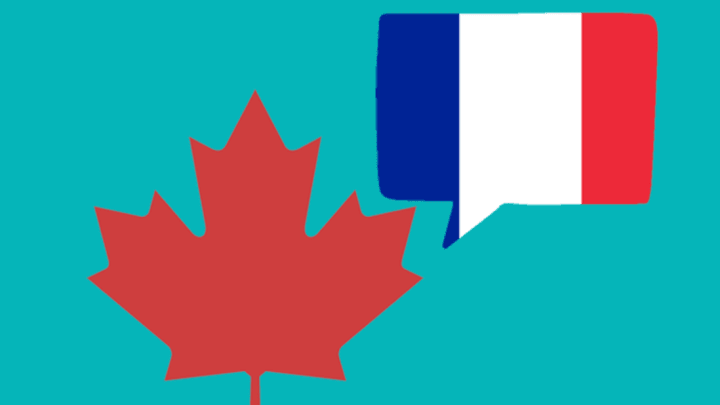 iStock / iStock
Most Americans don't need to fly across an ocean to immerse themselves in the French language. There are millions of French speakers just to our north in Canada.
1. CANADA IS OFFICIALLY BILINGUAL (AND THE ONLY NAFTA COUNTRY WITH ANY OFFICIAL LANGUAGE AT ALL).
Not every country in North America has an official language, but Canada has two. The U.S. and Mexico don't have official languages, meaning that while everyone realizes that English and Spanish, respectively, are the de facto languages of the countries, there are no government edicts declaring any particular language official. Canada has declared both English and French official, which does not mean that all citizens must speak English and French, but official government documents and services must be available in both English and French.
2. CANADIAN OFFICIAL BILINGUALISM IS WHY COMPUTER TRANSLATION OF FRENCH IS SO GOOD.
Automatic translation tools like Google Translate perform much better on some pairs of languages than others. For example, translations between Chinese and Spanish are less smooth and accurate than those between French and English. Part of the reason for this is that the algorithms that support automatic translation are created by training on large collections of already translated texts. One of the biggest such collections is the Hansard French/English Corpus. It contains over 1 million matched French/English pairs of text passages from Canadian parliament records.
3. THE WORST POSSIBLE SWEARS IN CANADIAN FRENCH ARE INNOCENT-SEEMING RELIGIOUS WORDS.
The most offensive swear words in languages are usually drawn from the domains of sex and bodily excretions. Swears from the domain of religion, like hell and damn, once had stronger force, but are now considered pretty mild. Not so in Canadian French, where the most offensively profane words are tabarnack (tabernacle), calvaire (Calvary), and calisse (chalice). Use with caution.
4. THERE ARE TWO DIFFERENT MAIN DIALECTS OF CANADIAN FRENCH.
When you think of French in Canada you probably think of Quebec, and most of the French speakers in Canada do live there and speak what is known as Quebecois. But there is another dialect, Acadian French, which is largely spoken in New Brunswick, Nova Scotia, and Prince Edward Island. The two varieties differ in accent and certain words and phrases. Acadian French uses more terms derived from seafaring, and a number of old words now obsolete in France. The two varieties developed differently as the languages of separate 17th century French colonies (Canada and Acadia) with separate administrations.
5. CANADIAN FRENCH IS LESS ACCEPTING OF ENGLISH BORROWING THAN FRANCE FRENCH.
Both France and Quebec have institutions dedicated to encouraging the use of French words instead of borrowed English expressions. For example, instead of du snowboard, the Académie Française recommends de la planche de neige. Instead of le binge drinking, the Office Quebecois de la Langue Française recommends l'hyperalcoolisation rapide. According to a study by Olivia Walsh, the French versions are much more likely to be actually adopted by French speakers in Quebec than they are in France. Language purism is stronger in Quebec than it is in France—so much so that, while in France stop signs say STOP, in much of Quebec they say ARRÊT.
6. THERE ARE STRONG PROTECTIONS FOR FRENCH IN QUEBEC THAT SOMETIMES GO OVERBOARD.
While all federal proceedings are mandated to be bilingual in Canada, provinces can set their own language rules. The official language of Quebec is French, and the Office Quebecois de la Langue Française can enforce the use of French in public institutions and businesses. In 2013, the OQLF warned an Italian restaurant in Montréal that their menu contained too many non-French words, such as … pasta. The restaurant owner posted the warning letter on social media, initiating a backlash of eye rolling, joking, and genuine frustration at overzealous language policing. The president of the OQLF was forced to resign, and pasta stayed on the menu.
7. FRENCH SPEAKERS IN NEW BRUNSWICK ARE CREATING A NEW FRENCH/ENGLISH HYBRID.
While there is a lot of English resistance in Quebec, some of the Acadian French speakers of New Brunswick mix English words into French syntax in a dialect known as Chiac. The dialect is looked down upon as bad French, but younger generations have begun to take pride in it, claiming it as a mark of a unique Acadian identity. See some of the musicians and artists working with dialect in their expression of this identity in this piece from Public Radio International.