These 6 Under-the-Radar Amazon Pages Can Help You Score the Best Deals Online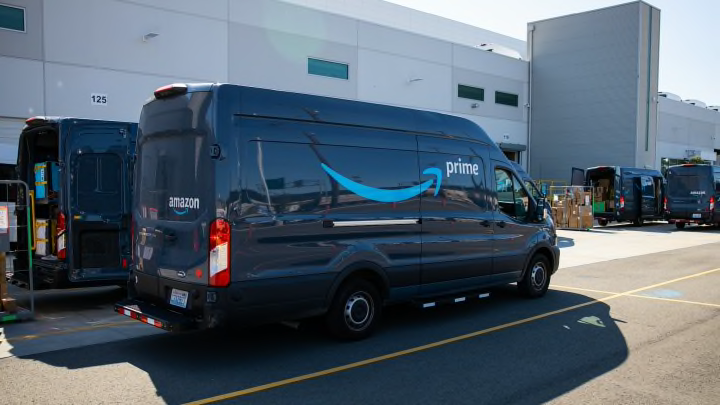 You can find a ton of discounts on Amazon every day, if you know where to look. / Amazon
This article contains affiliate links to products selected by our editors. Mental Floss may receive a commission for purchases made through these links.
As one of the biggest online retailers, Amazon is usually the first place people turn to when they're trying to find a great deal—but with so many items available, it can be hard to sift through everything and find the best sale prices. Fortunately, there are a variety of under-the-radar Amazon pages that can help you get what you want for less.
Below are six hubs to bookmark in your browser so that the next time you're in the mood for a shopping spree, you can indulge while still staying within your budget.
1.

Amazon Lightning Deals

One of the first destinations people go to on Amazon when looking for a discount is the Deals page. However, the Lightning Deals page is a subsection where you can find special discounts for a limited time. To access it, go to the left side of the Deals page, scroll down until you see "Deal Type," and then click the hyperlink that says, "Lightning Deal." Each product in this hub will have a countdown timer underneath the product name and price, showing you when the sale ends, as well as a status bar indicating how much stock is left. Because the deals for these items expire quickly, it can be hard to predict what will be included in this section. But in the past, top-selling items like ECOVACS robot vacuums and LifeAround2Angels bath bomb sets have been available as Lightning Deals. 

Shop Amazon Lightning Deals
2.

Amazon Coupons

Instead of clipping actual coupons, you can use virtual ones on Amazon. The brand's coupon page offers a variety of markdowns on everything from these fan-favorite Beckham Hotel Collection pillows to Cascade dishwasher pods, and more. Oftentimes, these are stackable, meaning if the item is already on sale, you can use Amazon's on-page coupon for additional discounts. All you have to do is click the "Clip Coupon" button for an item. Then, when you navigate to the product page, a little green checkmark will appear to show that the discount you've selected will be applied at checkout. You can also clip them from the item landing pages themselves by clicking the check box under the price. 

Shop Amazon Coupons
3.

Amazon Warehouse

It's very common for people to return a product after buying it even if it's still in good working order. You can benefit from this by getting returned and pre-owned items for a fraction of the cost via the Amazon Warehouse page. Through this hub, you can find everything from kitchen gadgets like Ninja blenders to outdoorsy finds like Coleman camping chairs in like-new condition.

Shop Amazon Warehouse
4.

Amazon Outlet

While the Warehouse page focuses on returned and pre-owned items, the Amazon Outlet page offers markdowns on overstocked products. Essentially, these surpluses happen when companies have too much inventory on a specific product, but when these extras end up on the Outlet page, it's your chance to get them at significantly discounted rates. You can shop for all kinds of good stuff on this hub, including GoWISE USA air fryers (currently reduced by 43 percent) and the Greenworks 12-amp electric corded lawn mower, now 21 percent off.

Shop Amazon Outlet
5.

Amazon Renewed

Similar to Amazon's Warehouse page, the Renewed page is all about pre-owned products. What sets this hub apart is that suppliers have inspected and tested these items to make sure they work and look like brand new. And if there's an issue with anything, you can receive a full refund or replacement within within 90 days of your purchase (or up to one year on Renewed Premium products) thanks to the Amazon Renewed Guarantee. In addition, many things on this page have coupons and are from top-quality tech brands; for example, you could get a renewed iRobot Roomba i4 robot vacuum for $20 off the usual price.

Shop Amazon Renewed
6.

Woot!

When Woot! started in 2004, it offered customers one product per day until it was sold out. Then when Amazon bought the company in 2010, the brand suddenly had a massive increase in sales each day. Now, people can use this page to find daily deals and special discounts across multiple categories, including electronics, computers, tools, and more. In addition, because it's an Amazon company, Prime members get free shipping. But with Woot!, keep in mind that these products tend to sell out quickly, so if you find something you like, your best bet is to grab it ASAP.  

Shop Woot!