Rhyming Is Encouraged in the New Dr. Seuss Edition of 'Scrabble'
'Scrabble: Dr. Seuss' from The Op stretches its vocabulary beyond the standard dictionary to include famous Seussisms.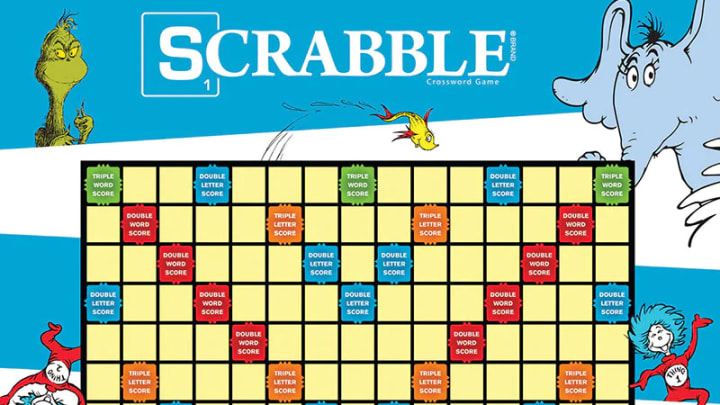 The Op
This article contains affiliate links to products selected by our editors. Mental Floss may receive a commission for purchases made through these links.
Theodor Geisel—a.k.a. Dr. Seuss—didn't adhere to the constraints of the English language. His picture books are famous for Seussisms like Blumf, Grinch, and Ga-fluppted. Some of his word inventions, including nerd, have even have made their way into the mainstream vernacular. Playing Scrabble with the children's author likely would have been a challenge, and now a new version of the game brings that experience to life.
The Dr. Seuss edition of Scrabble is now available from The Op. The whimsical twist on the classic board game expands its scope beyond the official Scrabble dictionary. In addition to conventional English words, players can use their letter tiles to spell bonus words pulled from the writer's body of work. Special Seuss cards list select vocabulary from his most popular titles, combining "real" terms with his original creations. The card for If I Ran the Circus, for example, lists the words Mcgurkus, Jorn, Showman, Sheelock, and Sharp.
It's fun for the whole family. / The Op
Of course, it wouldn't be a Dr. Seuss word game if rhyming wasn't involved. Rhyming a new word with one that's already on the board scores the player bonus points. The "Seuss'd up" features add a new layer of fun to the gameplay, but players can also use the special-edition board to play the traditional way. The colorful squares and illustrations of Horton, The Grinch, and The Cat in the Hat along the borders highlight the Seussian theme, even if the words in play are standard English. 
Rhyming a new word with one that's already on the board scores the player bonus points. / The Op
You can purchase Scrabble: Dr. Seuss for $35 from The Op's website. If you're looking to level up your performance before your next game night, check out these 11 words that will win you any game of Scrabble (Seussisms not included).