A Limited-Edition, Halloween-Themed Snoopy Bobblehead Just Dropped from FOCO
FOCO's hand-painted Count Snoopy bobblehead is currently available for pre-order. Only 150 units of the product were made, so Peanuts fans have limited time to snatch up the collector's item.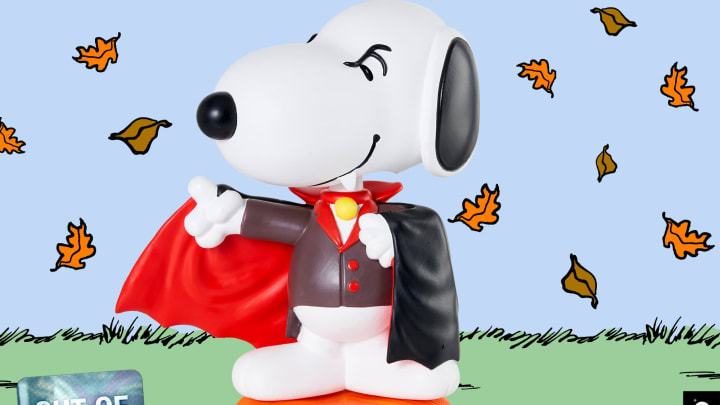 FOCO
This article contains affiliate links to products selected by our editors. Mental Floss may receive a commission for purchases made through these links.
For people whose Halloween media consumption skews more cozy than scary, It's the Great Pumpkin, Charlie Brown is essential viewing. Since premiering in 1966, the Peanuts special has aired on TV (almost) every year in October. If you want the vibe of the program to be present in your home year-round, you can now purchase a Halloween Snoopy bobblehead from FOCO.
The limited-edition collector's item features Charlie Brown's pet beagle decked out as Count Snoopy for Halloween. A cape, fangs, gold medallion, and devilish grin make up the spooky-ish look. He's not wearing his classic Red Baron costume that is also featured in It's the Great Pumpkin, Charlie Brown, but the seasonal special is referenced in other ways. The base of the bobblehead is the top of a large pumpkin emblazoned with the word "PEANUTS." From top to bottom, the hand-painted figure stands 8 inches tall.
FOCO
Like the Halloween season, the chance to purchase this nostalgic collectible won't last forever. The entertainment merchandiser FOCO manufactured 150 units of the product for purchase worldwide. The Count Snoopy bobblehead doll is currently available to pre-order for $45, but it likely won't arrive by October 31. FOCO's website says the product will ship no later than Friday, March 1, 2024, so customers will definitely have it in time for Halloween next year. 
While A Charlie Brown Christmas was the first animated special to feature the Peanuts, It's the Great Pumpkin, Charlie Brown was what solidified the tradition of spending holidays watching Snoopy and the gang. Here are more facts about the beloved piece of Halloween programming.