Something Borrowed: The New York Public Library's Most Checked-Out Books of 2022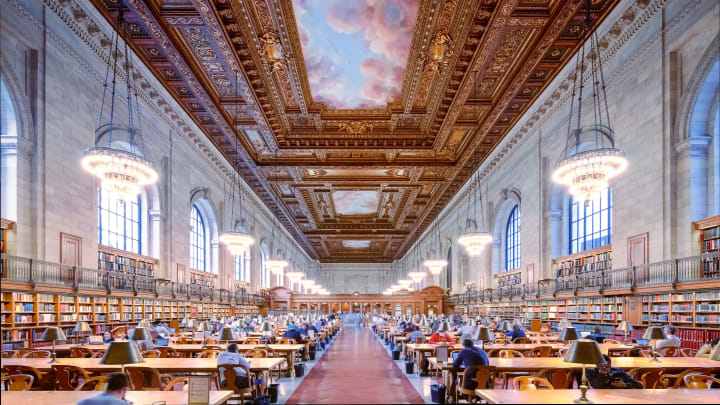 The Rose Main Reading Room at the New York Public Library. / Sascha Kilmer/Moment/Getty Images
If you're a bibliophile, you know the New York Public Library is an omnipresent nexus for the written word. With 92 locations across the city, the NYPL system serves 16 million readers annually.
With that kind of traffic, it's always interesting to see what sorts of books patrons are picking up. The library recently released a list of its top checkouts of 2022, which follows their rundown of 2021 and their 2020 list of the top books in their history. Here's what readers were grabbing this year at their Bronx, Manhattan, and Staten Island branches:
1. The Midnight Library // Matt Haig (2020)
The NYPL's most popular tome was this tale of Nora Seed, a woman whose attempt to die by suicide finds her in a kind of purgatory inside a mystical library.
2. Lessons in Chemistry // Bonnie Garmus (2022)
Garmus's debut novel centers on Elizabeth Zott, who finds her love of chemistry diluted by the chauvinism of the 1960s and eventually finds success on a subversive cooking show. Brie Larson is slated to star in an Apple TV+ adaptation.
3. The Lincoln Highway // Amor Towles (2021)
Towles authors a road trip for three young men and one 8-year-old in 1954 Nebraska over the course of 10 eventful days.
4. Malibu Rising // Taylor Jenkins Reid (2021)
Reid (Daisy Jones and the Six) takes readers into the lives of rock star Mick Riva and his offspring, who deal with their father's eccentricities on their own terms.
5. People We Meet on Vacation // Emily Henry (2021)
Courtship takes time for Poppy and Alex, two college students who meet (and meet, and meet) over the course of a decade's worth of summer vacations.
6. This Time Tomorrow // Emma Straub (2022)
A time travel yarn, This Time Tomorrow sees Alice Stern finding herself back in her 16-year-old body—time enough to alter the course of her unrewarding trajectory and warn her father of the bad habits that will eventually take his life.
7. The Seven Husbands of Evelyn Hugo // Taylor Jenkins Reid
Marquee movie star Evelyn Hugo is ready to tell all about her glamour-filled old Hollywood experience, a dream assignment for journalist Monique Grant.  As Hugo talks, Grant discovers there's far more to her story than meets the eye.
8. Book Lovers // Emily Henry (2022)
Nora and Charlie are two font-crossed lovers toiling in the publishing word in this romance from Henry, who scores two spots on the list.
9. Verity // Colleen Hoover (2018)
Hoover's thriller has ambitious-but-struggling writer Lowen Ashleigh getting a plum assignment: finishing books for injured author Verity Crawford. But one manuscript has family secrets that threaten both Lowen and the Crawford household 
10. It Ends With Us // Colleen Hoover (2016)
Hoover's romance struck a chord with readers: Entrepreneur Lily falls for surgeon Ryle, but their relationship is complicated by the reemergence of Lily's former love, Atlas. The author released a sequel, It Starts With Us, in 2022.