10 Top-Rated Bedding Products That Hot Sleepers Swear By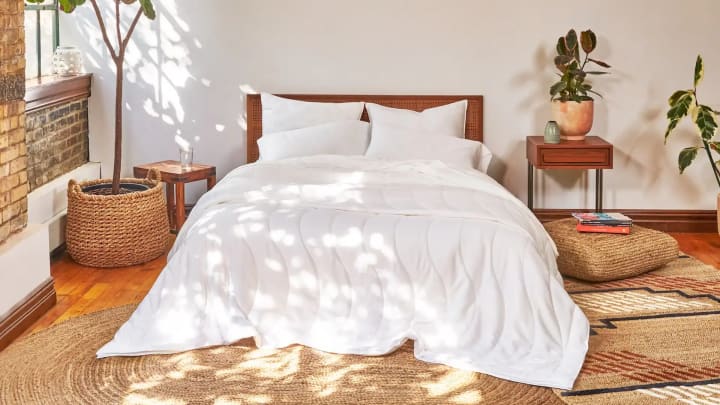 When it comes to sleeping well during the summertime, don't sweat the small stuff. / Buffy
This article contains affiliate links to products selected by our editors. Mental Floss may receive a commission for purchases made through these links.
Always tossing and turning on hot summer nights? The problem might be that you're a hot sleeper, which is a term often used to describe folks who sweat a lot while they snooze. Studies have shown that night sweats can impact anywhere from 10 to 40 percent of all sleepers, and the most common reason why it happens is shockingly simple: It's because your mattress and bedding are most likely retaining too much heat.
Changing your sleeping environment could provide some much-needed relief. From cooling mattress pads to moisture-wicking sheets, investing in top-rated bedding and other useful products may lead to a better night's rest. Read on to discover all the must-haves that hot sleepers swear by, and that will help you bid farewell to sweat-filled slumbers once and for all.
1.

Comfort Spaces Coolmax Moisture Wicking Sheet Set; From $20
Comfort Spaces Coolmax Moisture Wicking Sheet Set / Comfort Spaces/Amazon
Featuring a combination of polyester and cooling, moisture-wicking microfiber, this wallet-friendly sheet set (which has 17,000-plus Amazon ratings) is especially ideal for hot sleepers. The proprietary microfiber blend will help keep you cool, even if you're prone to night sweats. This machine-washable set includes one flat sheet, one fitted sheet, and one pillowcase.

Buy it: Amazon
2.

The Buffy Breeze Comforter; From $169
The Buffy Breeze Comforter / Buffy
This breezy comforter from Buffy—aptly called The Breeze—was specifically designed with hot sleepers in mind. That's because it's made with temperature-regulating materials like soothing eucalyptus fiber and stretchy TENCEL fabric that will help absorb moisture in ways cotton- and polyester-based comforters won't. The weaved stitching pattern ensures the filling stays evenly distributed, too. Available in three sizes.

Buy it: Buffy
3.

WEEKENDER Ventilated Gel Memory Foam Pillow; From $38
WEEKENDER Ventilated Gel Memory Foam Pillow / WEEKENDER/Amazon
The WEEKENDER is an Amazon fan-favorite, with over 28,000 reviews and a 4.4-star rating on the site. The plush memory foam fabric is infused with temperature-regulating gel to ensure you can always enjoy the cool side of the pillow. Another thing that makes it worth grabbing is the ventilated design, which offers extra breathability, too. 

Buy it: Amazon
4.

Bedsure Cooling Summer Blanket; From $33
Bedsure Cooling Summer Blanket / Bedsure/Amazon
Beat the summer heat with this cooling blanket from Bedsure that's been constructed to absorb excess body heat. It features a reversible design: One side offers a blend of nylon and polyester, while the other side is cozy cotton, so you could bundle up with this during the warmer months of the year and still stay comfortable. While this blanket probably won't wick away sweat as efficiently as the Buffy Breeze, multiple reviewers say it feels cool to the touch (probably due to the nylon fabric woven into this blend). Choose from two sizes.

Buy it: Amazon
5.

Bearaby Tree Napper Weighted Blanket; $269
Bearaby Tree Napper Weighted Blanket / Bearaby
Using a weighted blanket during the summertime probably seems like a bad idea, but for the up-and-coming brand Bearaby, it was a challenge worth squashing. The Tree Napper is a machine-washable weighted blanket that's made with eucalyptus, which is known for its silky-soft, cool feel. It's also believed to be good for wicking away moisture. Unlike most popular weighted blankets, this one doesn't look like a thick comforter—instead, it has a knit-like look to it, allowing for better air flow. The weight is also evenly spread across the chunky knots on this throw, so you'll still get that feeling of being cradled, which many weighted blanket lovers look for. Sounds wild, we know, but if you were wondering if there was a hot weather-friendly alternative to these popular blankets, this could be a good one. Choose from eight colors, including a dark gray, light purple, and forest green, and three weights (15, 20, and 25 pounds). 

Buy it: Bearaby
6.

IMAK Compression Pain Relief Mask and Eye Pillow; $15
IMAK Compression Pain Relief Mask and Eye Pillow / IMAK/Amazon
This weighted mask from IMAK is like a soothing pillow for your eyes, and boasts an impressive 4.5-star rating as well as over 18,000 reviews on Amazon. Made from breathable cotton, it's designed to block excess light while also helping to alleviate pressure and eye strain thanks to its innovative stitching. Just pop it in the freezer, and you'll be good to go.

Buy it: Amazon
7.

SLEEP ZONE Cooling Mattress Pad; From $28
SLEEP ZONE Cooling Queen Mattress Pad / SLEEP ZONE/Amazon
While memory foam mattresses are comfortable, they are also known traps for heat. Even if you don't have a bed that's made from memory foam, your current one might still be retaining more warmth than you'd like it to. Replacing your mattress could set you back several hundreds of dollars, though. Instead of doing that, consider grabbing a cooling mattress pad like this one from SLEEP ZONE. Made with fast-drying, moisture-wicking materials, this soft, ultra-fluffy pick could keep you cool and comfortable during the next heat wave. Its ergonomic design offers support and durability, too. As a bonus, it's designed to fit most mattresses up to 21 inches deep, and 15,000-plus Amazon reviewers have tried it, with several claiming you'll feel the difference almost immediately.

Buy it: Amazon
8.

Elegear Cooling Pillow Cases, Pack of 2; From $19
Elegear Cooling Pillow Cases / Elegear/Amazon
These Elegear pillowcases, which come in packs of two, feature a clever double-sided design. One side offers a silky-smooth cooling nylon fabric, while the other is made from soft cotton. The hidden zipper adds a nice touch, too. When it comes time to clean them, simply throw them in the wash and you'll be good to go.

Buy it: Amazon
9.

BedJet 3 Climate Comfort Cooling Fan; $449
BedJet 3 Climate Comfort Cooling Fan / BedJet LLC/Amazon
Want something a little more heavy-duty than a mattress pad, but still want to avoid replacing your bed altogether? You can stop night sweats in their tracks with the BedJet 3 Climate Comfort cooling fan, which can be used on any sized mattress. Although it's a pricey piece of tech, the remote control-operated fan works fast and powerfully to absorb heat and moisture from your bed. You can also control the fan via the corresponding smartphone app. 

Buy it: Amazon
10.

Pure Enrichment MistAire Ultrasonic Cool Mist Humidifier; $39
Pure Enrichment MistAire Ultrasonic Cool Mist Humidifier / Pure Enrichment/Amazon
While not technically a bedding item, this ultrasonic, cool mist humidifier from Pure Enrichment could help you breathe a little easier each night while you're trying to get some shut-eye. With more than 81,000 reviews and counting (including 57,200-plus perfect ratings), this humidifier is an affordable investment off Amazon that many shoppers have enjoyed. The humidifier is good for up to 25 hours of continuous use. Other features include high and low-speed settings, automatic shut-off, and a built-in night light. 

Buy it: Amazon