11 Patriotic Products to Celebrate the Fourth of July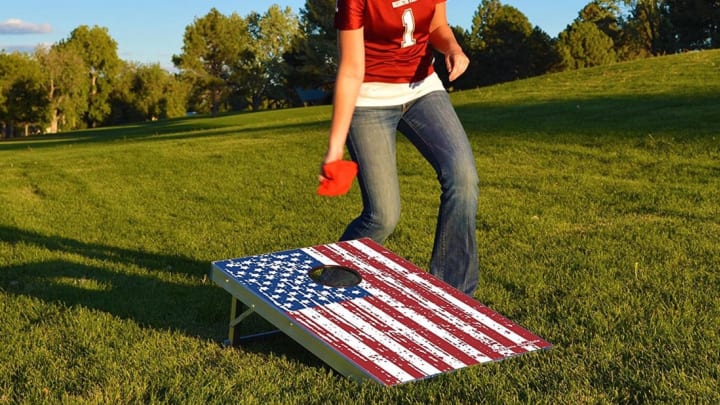 Amazon / Amazon
This article contains affiliate links to products selected by our editors. Mental Floss may receive a commission for purchases made through these links.
Whether you'll be lounging by the beach or grilling in your backyard this Independence Day, don't forget to show off your all-American spirit with a little swag. Here are 11 products to help you celebrate Fourth of July—all of which would pair nicely with your collection of presidential bobbleheads.
1. Declaration Of Independence Signatures Mug; $15
The names of the 56 signers of the Declaration of Independence are on display on this ceramic coffee mug. Studying the signatures each morning might inspire you to perfect your own John Hancock.
Find it: Amazon
2. Stars And Stripes Cufflinks; $55
Brighten up your wardrobe with a splash of American pride. One half of this cufflinks set is striped red and white and the other is blue and spangled with stars. Together they make a patriotic accent piece.
Find it: Nordstrom
3. Fireworks Light Show Projector; $41
If you want a low-hazard Fourth of July that still delivers thrills, consider getting a light show projector. When it's pointed at a wall, the device displays vibrant fireworks animations accompanied by realistic sound effects. And it works indoors, so you can count on your Independence Day party ending with a light show no matter the weather forecast. (There's also a Disney version available for just $20.)
Find it: Amazon
4. Inflatable Cooler; $14
When preparing for a picnic or barbecue this Fourth of July, don't bother breaking out your tiny roll-away cooler. This 54-by-28-inch inflatable trough holds enough bottles and cans to keep your party going well past sunset. Once the cooler has been drained and deflated, it folds neatly for easy storage.
Find it: Amazon
5. American Trivia Cards; $15
Even players who paid attention in American history class might find this game challenging. Each box comes with 150 cards of United States trivia. Some questions—like what was the first state to grant women the right to vote—highlight important moments in our nation's history. Others—like how many columns the Lincoln Memorial features—are a little more random.
Find it: UncommonGoods
6. U.S. Navy Blanket; $200
The U.S. military has been going to Faribault Woolen Mill Co. for its blankets for over 100 years. This one is crafted from 100 percent wool and weighs 3.5 pounds. The design is inspired by the blankets supplied on Navy ships—and if it's tough enough for the Navy, you can bet it will withstand a Fourth of July picnic. We like the gray version, but it comes in several different styles and colors.
Find it: Faribault Woolen Mill Co.
7. American Flag Cornhole; $90
Baseball faces some stiff competition from cornhole for the title of No. 1 American pastime. This lawn set includes four blue bean bags, four red bean bags, and two boards decorated to resemble the American flag.
Find it: Amazon
8. U.S. Map Cutting Board; $20
This 100 percent bamboo board eschews the traditional rectangle shape in favor of the outline of the American mainland. You can either keep it in the kitchen and use it as a cutting board or bring it out to the party as a serving platter for fruits, cheeses, and other hors d'oeuvres.
Find it: Amazon
9. Boston Tea Party Tea Sampler; $15
A sip of one of the teas in this sampler will put you in touch with your inner revolutionary. Each of the six loose-leaf varieties—bohea black tea, oolong, congou black tea, souchong, singlo, and hyson—was among those tossed over the sides of British ships during the Boston Party. Whether you drink the tea or chuck it into the nearest harbor is up to you. (If you're looking for something to put on display, UncommonGoods also sells a slightly pricier, more elegant option with five teas.)
Find it: Amazon
10. State Map Prints; $27 and Up
These unique prints by Bri Buckley highlight the beauty of each U.S. state in vibrant color. Each state map is available in both a modern and a vintage style, and like most Society6 art, the design is also available on tapestries, shirts, pillows, tote bags, and more.
Find it: Society6
11. Bald Eagle Pool Float; $15
Cool down the patriotic way this Fourth of July. This massive 8-foot-by-6-foot bald eagle pool float can fit up to two people comfortably, and will look great floating around your pool during your backyard barbecue.
Find it: Amazon
A version of this article first ran in 2017. It has been updated for 2019.
Mental Floss has affiliate relationships with certain retailers and may receive a small percentage of any sale. But we choose all products independently and only get commission on items you buy and don't return, so we're only happy if you're happy. Thanks for helping us pay the bills!