Take a Look at What Studio Ghibli's Theme Park Will Look Like When It Opens in 2022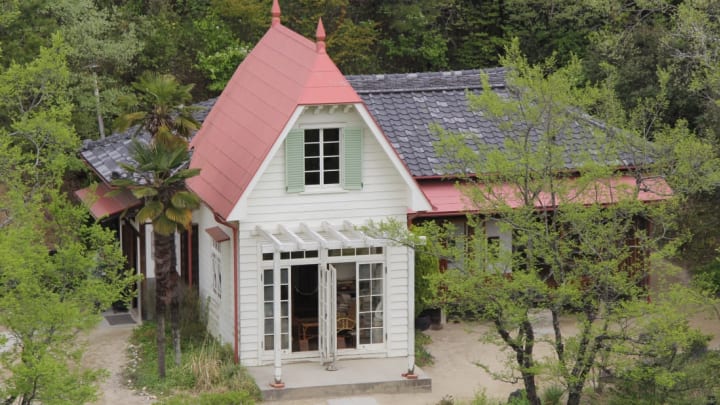 A recreation of the house in My Neighbor Totoro built for the 2005 World's Fair. / anthodomi, Flickr // CC BY-SA 2.0
Miyazaki mega-fans may want to start planning their next trip to Japan. The much-anticipated Studio Ghibli theme park is now set to open in 2022, The Japan Times reports. The animated film studio just released several new images that show what the park (originally projected to open in 2020) will look like.
Ghibli Park will be built on the site of the 2005 World's Fair in Nagakute, a city about 90 miles east of Kyoto in central Japan. The park's creators envision it as a place where the fantastical films of director Hayao Miyazaki, co-founder of Studio Ghibli, are brought to life. The mysterious forest in My Neighbor Totoro—one of Miyazaki's most iconic films—will be reimagined in an area of the park called Dondoko Forest. The park property already features a recreation of the house from that same film, originally built there for the World's Fair.
Other famous films by Studio Ghibli will be represented in the park as well. There will be a Princess Mononoke Village and antique shops modeled after the one in Whisper of the Heart. The main gate to the park will be built in a 19th-century style reminiscent of Howl's Moving Castle.
Witch Valley will feature attractions inspired by Howl's Moving Castle and Kiki's Delivery Service, and the Big Ghibli Warehouse will contain exhibition areas, a theater, and play spaces. The Japan Times reports that the park will also have giant installations of spiders and "boar-shaped spirits"—recurring motifs in Miyazaki's movies. And if the concept art is anything to go by, Ghibli Park will be filled with beautiful walking paths surrounded by lush greenery.
Miyazaki fans have more of the legendary director's work to look forward to in the next few years. He recently came out of retirement to make one last film, which will be released by 2020, Forbes reports. The 77-year-old filmmaker said he wanted to leave something for his grandson to remember him by after he dies.
[h/t The Japan Times]