New York City's Famed Katz's Delicatessen Has Launched a Monthly Meat Subscription Service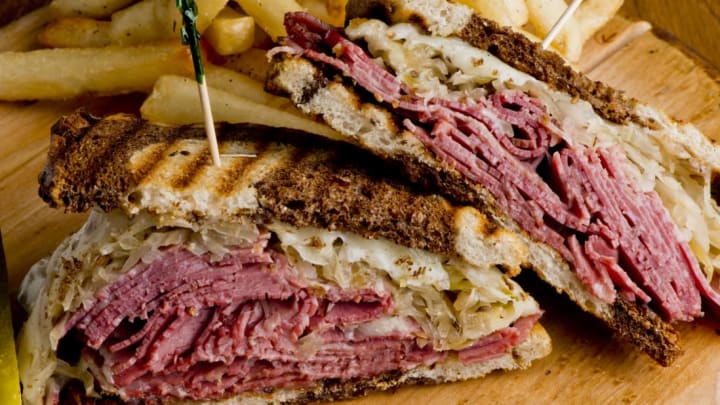 iStock / iStock
Katz's Delicatessen in New York City makes a legendary pastrami sandwich, with some even calling it the best the city has to offer. Now, you can whip up your own New York-style Reuben when you get the deli's signature meat (and accoutrements) delivered right to your door.
As spotted by Condé Nast Traveler, the deli is launching a monthly meat subscription service with nationwide deliveries. For $150 a month or $1500 a year, on the second Thursday of each month subscribers will receive a package with enough food to feed a family of (at least) six. June's "pastrami package," for instance, comes with a pound of sliced juicy pastrami, a medium whole pastrami (weighing between 4.1 and 4.7 pounds), a pound of deli mustard, a quart of pickles, and a loaf of rye bread.
To top it off, one or two pieces of merchandise will be thrown in each month, so if you want a pair of Katz's $16 camouflage-patterned "salami socks," now's your chance. (Katz's was founded in 1888, and the socks reference the deli's World War II-era slogan, "Send a salami to your boy in the Army.")
Each month features a different seasonal theme, including a griller package in July, a beach package in August, and a Halloween package in October, which comes with Jewish delicacies such as sliced tongue, kishka (stuffed intestine), chopped liver, and of course, more pastrami.
According to Katz's, their meat-curing process takes 30 days, which is significantly slower than other commercial delis that use a 36-hour curing method. That's because no chemicals or additives are injected into the meat to cure it faster.
Ready to sign up? You can place your order here, but keep in mind that you'll have to order in three-month increments if you're not selecting the year-long deal.
[h/t Condé Nast Traveler]