The Great American Road Trip Is Making a Comeback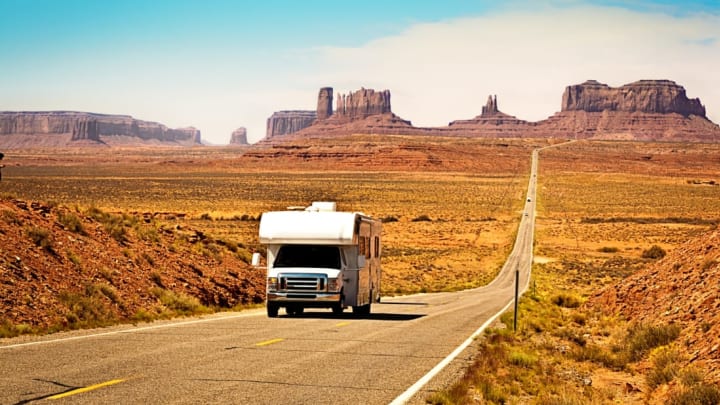 iStock / iStock
There's something special—and so quintessentially American—about a road trip. It's a concept that has been romanticized for decades by classic American writers like Jack Kerouac and John Steinbeck, and has been popularized in films such as Easy Rider and Thelma & Louise.
Road trips aren't just a relic of the 20th century, though. They're now making a comeback, according to the Chicago Tribune, which cited three surveys quantifying the trend. The first, MMGY Global's "2017-18 Portrait of American Travelers," showed that 39 percent of all vacations taken in 2016 were road trips, representing a 22 percent increase from the previous year. The ability to make stops while traveling was the main reason given for this preference, while other respondents cited the lower cost of driving instead of flying, the ability to take pets along for the ride, and the ease of making last-minute plans.
Steve Cohen, senior vice president of travel insights at MMGY Global, told the newspaper that Millennials are driving this trend. He believes nostalgia plays a key role, since Millennials are likely to recall road trips they took "when they were kids, which wasn't that long ago," he said.
Of the 88 million Americans planning to take vacations this year, 44 percent are Millennials, followed by 39 percent from Generation X, and 32 percent Baby Boomers, according to a survey by AAA. Of their respondents, 64 percent are planning a road trip—making it the most popular travel option, despite the fact that gas prices have risen. And half of those surveyed by Ford Motor Company said that road trips were more appealing because of the spontaneity that they allow. The company found that a new class of "road trippers" is primarily made up of families who prefer to drive instead of fly, "whirlwind travelers" who take short trips when they have the chance, and solo female travelers.
But not all road trips are created equal, and some states in the U.S. are more suited to long drives than others. A 2016 report by WalletHub found that Oregon was the best state for road trips, while Connecticut was the worst. Each state was ranked according to 21 criteria, from gas prices to road quality to attractions.
Ready to hit the road? You may want to check out the "ultimate U.S. road trip," an epic journey that covers some of the best attractions in all 48 continental states.
[h/t Chicago Tribune]