19 Things to Look for the Next Time You Watch Die Hard
20th Century Fox Home Entertainment
John McClane was just a New York City cop trying to visit his wife and kids for Christmas, and then it all went wrong. Since being released in theaters 30 years ago, director John McTiernan's Die Hard, starring Bruce Willis, has earned its spot among the best action movies of all time. But how well do you know McClane's gun-toting adventures through Nakatomi Plaza?
Say, "yippee ki-yay" cowboys, because here are some things you might not have noticed in the action classic.
1. JOHN MCCLANE'S TEDDY BEAR HAS BEEN AROUND.
20th Century Fox Home Entertainment
When off-duty NYPD officer John McClane (Bruce Willis) steps off the plane in Los Angeles to visit his kids and estranged wife, he's carrying a giant stuffed teddy bear as a Christmas gift. But the huge bear is more than just a present—the stuffed animal is a trademark of director John McTiernan, who later used the bear as a prop in his 1990 film The Hunt for Red October.
2. WHAT'S HOLLY MAIDEN NAME AGAIN?
20th Century Fox Home Entertainment
When McClane makes it to Nakatomi Plaza and signs in on the computer system with his wife Holly (Bonnie Bedelia), he's forced to check in using her maiden name. The touch-screen computer lists her surname as "Gennaro." But when he touches the name it switches to "Gennero." So much for wanting to be a McClane.
20th Century Fox Home Entertainment
3. THERE ARE SUBTLE DIGS AT A COUPLE OF BIG-NAME ACTION STARS.
Die Hard remains a classic due to the fact that its fallible lead character was unleashed on the world during a 1980s action movie landscape that featured indestructible on-screen heroes like Sylvester Stallone and Arnold Schwarzenegger. Both Stallone and Schwarzenegger turned down the role of John McClane, and the movie makes some inside baseball jokes at their expense for the snub.
Terrorist Hans Gruber (Alan Rickman) makes fun of McClane as a kind of one-man army out of a Stallone movie, and McClane also makes a sly dig by saying the explosives on the Nakatomi roof are "enough to orbit Arnold Schwarzenegger."
4. THE TERRORISTS GET AROUND WITH THE SAME COURIER SERVICE.
20th Century Fox Home Entertainment
Gruber's terrorist group arrives at Nakatomi Plaza in a green box truck that says "Pacific Courier" on the side. A similar truck that says "Atlantic Courier" on the side was used in the New York City-set Die Hard: With A Vengeance, which featured Hans Gruber's brother Simon as the villain. "Pacific Courier" also appears in Speed. All three movies featured the same production designer, Jackson De Govia.
5. NAKATOMI PLAZA WAS 20TH CENTURY FOX.
20th Century Fox Home Entertainment
The exteriors of the film's marquee location were shot at Fox Plaza, the real-life headquarters of 20th Century Fox, the film studio that made the film. The computer system Ellis hacks into sports the exact address of the actual building, and the (now defunct) emergency contact phone numbers were allegedly the actual numbers for the management of Fox Plaza. The building was under construction during filming, and the scenes that show it half-finished were filmed exactly as the building was at the time.
6. THE NAKATOMI ARCHITECTS MUST LOVE FRANK LLOYD WRIGHT.
The 34th floor of the Nakatomi building, where Holly's company Christmas party is being held, is supposed to be a recreation of the interior of Frank Lloyd Wright's Fallingwater.
7. JOSEPH TAKAGI HAS A LINK TO PEARL HARBOR.
20th Century Fox Home Entertainment
Joseph Takagi (James Shigeta) defends his homeland of Japan with a clap back at McClane's snark by telling him, "Pearl Harbor didn't work out, so we got you with tape decks." That's not the only Takagi family connection to December 7, 1941.
"Akagi" is the password that opens the Nakatomi Plaza's bank vault, and was also the name of one of the aircraft carriers that took part in the fateful attack.
8. THE POLICE CHIEF WAS RIGHT ABOUT BRUCE WILLIS'S OTHER JOBS.
Lovable police officer Al Powell (Reginald VelJohnson) tries to convince Deputy Police Chief Dwayne Robinson (Paul Gleason) that McClane is a cop by referencing his ability to spot a phony ID on the terrorists in the building. But Johnson doesn't believe him, saying, "He could be a f***ing bartender for all we know!" It's a funny quip, but also true: Willis used to be a bartender in New York before getting into the acting business.
9. WILLIS SUFFERED PERMANENT HEARING LOSS BECAUSE OF THE FILM.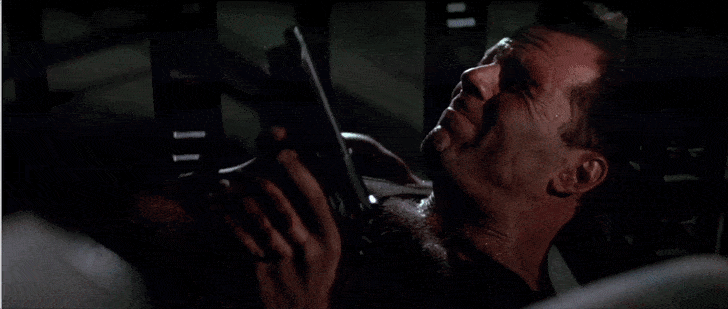 20th Century Fox Home Entertainment
McTiernan wanted to give the gunshots in the movie an overly realistic feel, so he had the production rig the blanks to be extra loud. Much to Willis's detriment, the move cost him parts of his hearing. In the scene where Willis shoots a terrorist through a table, the actor is holding the gun extremely close to his face. The resulting shots caused the actor permanent hearing loss.
In a 2007 interview with The Guardian, Willis recalled the scene, saying, "Due to an accident on the first Die Hard, I suffer two-thirds partial hearing loss in my left ear and have a tendency to say, 'Whaaa?'"
10. THERE ARE SOME REAL FALLS.
In the scene where McClane makes an epic jump into an elevator shaft, the stunt man was supposed to grab onto the first vent—but missed completely. The resulting footage shows the actor slipping further down the shaft. McTiernan and co-editor Frank Urioste kept it in the final cut because it made the scene more harrowing.
Similar trickery happened during the filming of Gruber's death scene stunt: McTiernan allegedly told Rickman—who did his own stunt for the scene—that he would be dropped 70-feet on a count of three. But to get a look of real terror on Rickman's face, McTiernan had him dropped on the count of two, hence Gruber's memorably terrified look before he plunges to his death.
11. THERE ARE LOTS OF VISIBLE STUNT PEOPLE.
20th Century Fox Home Entertainment
Willis attempted to do as many of his own stunts as he could, saying, "I think doing my own stunts whenever possible adds a lot to the production value of the film," and "John [McTiernan] can get the camera close, because he doesn't need to disguise the stuntman." But the production hired as many as 37 stuntmen to pull off McClane's death defying stunts—and a lot of them are visible. Be on the lookout for Non-Bruce Willises in most fight and explosion scenes.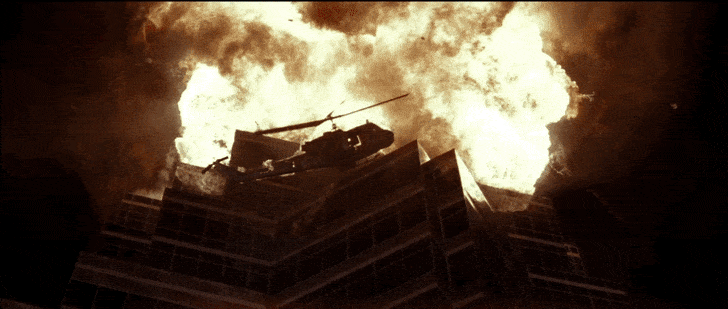 20th Century Fox Home Entertainment
12. HANS GRUBER AND HIS GOONS DON'T ACTUALLY SPEAK GERMAN.
Americans might think the German language that Gruber and his goons speak to one another sounds legit, but it's actually gibberish. The grammar, diction, and pronunciation don't actually match up. In the German release of the movie, Gruber's group were described as being from "Europe" instead of Germany.
Weirdly enough Willis was actually born in West Germany to an American father and a German mother.
13. GRUBER'S GOONS ARE CLUMSY.
In the shot where some of Gruber's men enter Nakatomi Plaza, the terrorist on the left as they walk through a doorway almost runs into the door frame. The camera cuts away before he actually does, but the gaffe doesn't bode well for Gruber or his men for the rest of the movie.
14. THE TERRORISTS ARE ALSO REDUNDANT.
The rocket launcher Gruber's men use to stop the LAPD's armored vehicle breaks the same window in two different scenes.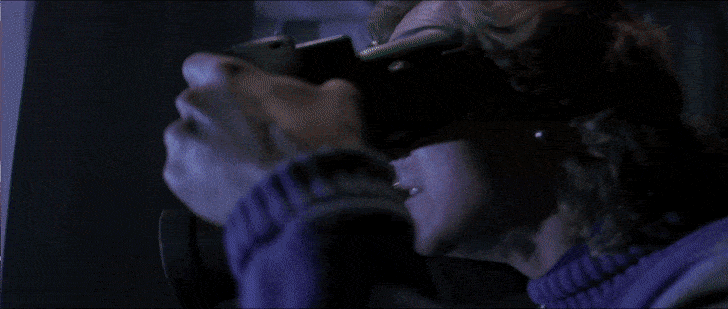 20th Century Fox Home Entertainment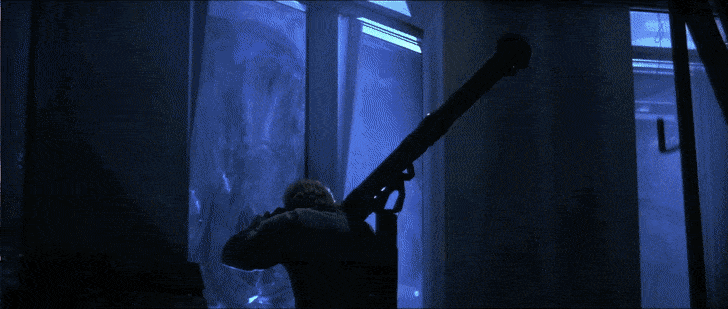 20th Century Fox Home Entertainment
15. MCCLANE ISN'T ALWAYS BAREFOOT.
20th Century Fox Home Entertainment
McClane spends much of the movie running through broken glass with bare feet, which must have been terrible for Willis—except it wasn't. The actor was given a pair of specially made rubber feet as a safety precaution. The fake appendages can be seen in the scene when McClane jumps off the ledge as the FBI shoots at him from the helicopter.
16. NAKATOMI PLAZA STANDS ALONE.
20th Century Fox Home Entertainment
The scene where McClane glances out of the window of Nakatomi Plaza to see a woman couldn't actually happen. Shots of the Nakatomi building in the movie show that there are no buildings close by or buildings of comparable height that close for McClane to see.
20th Century Fox Home Entertainment
17. THE HO-HO-HO TERRORIST MIGHT STILL BE ALIVE.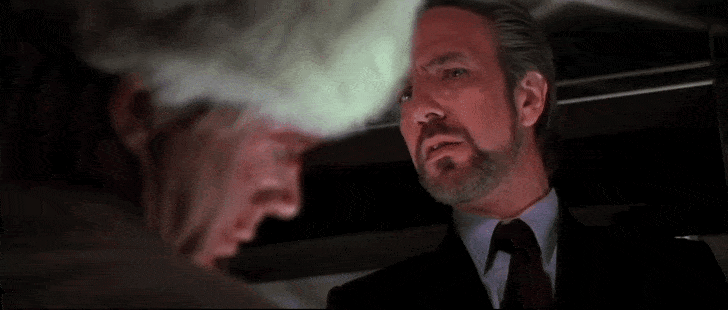 20th Century Fox Home Entertainment
When McClane fights and kills the grey-sweatshirt-wearing terrorist and leaves his famous "Now I Have a Machine Gun—Ho, Ho Ho" line written on him for Hans to find, the terrorist might not be as dead as we realized. When Hans goes to move the terrorist's head, the actor playing him blinks.
18. THE INCREDIBLE DISAPPEARING AND APPEARING AMBULANCE.
20th Century Fox Home Entertainment
When Gruber's terrorists enter the Nakatomi building, they leave out of the Pacific Courier box truck with nothing else inside. Later in the movie, Ellis attempts to carry out their getaway plan by driving an ambulance out of the back of the same truck, even though the extra vehicle—which would be hard to miss—wasn't there earlier in the movie.
In a behind-the-scenes twist, Gruber's planned getaway vehicle was actually a last-minute decision on the set, which explains the incongruity.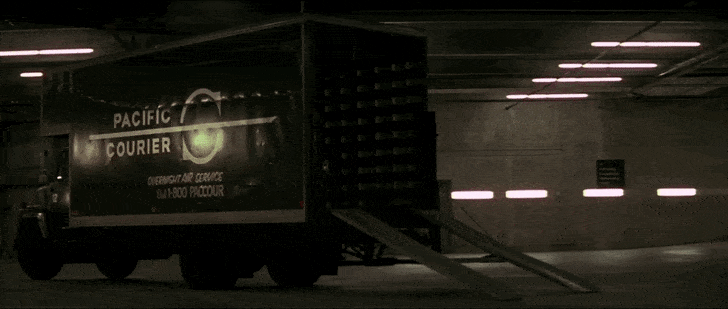 20th Century Fox Home Entertainment
19. HOW DID MCCLANE KNOW GRUBER WAS A BAD GUY?
In the scene where McClane unwittingly stumbles on Gruber—who identifies himself as Bill Clay and puts on a convincing American accent—it's never made 100 percent clear how McClane realizes that Clay isn't who he says he is. We see McClane glance up at a directory of the building's occupants, but don't get a large enough view to see whether a "Clay" is or is not listed (one would think Gruber would be smart enough to see that himself and choose a fake name accordingly). Though one might assume that that's the moment our hero knows he's not dealing with a straight-shooter, it's actually Gruber's timepiece that tips him off—a tiny plot hole that can all be explained by a deleted scene.
McClane takes notice of Gruber's watch before he hands the terrorist an empty gun, but nothing about the watch is introduced in the actual movie. There was supposed to be a scene where Hans Gruber and his team synchronize the exact same watch they all wear, and, according to screenwriter Steven E. De Souza, "When Bruce offers the cigarette to Alan Rickman, Bruce sees the watch. You see his eyes look at the watch. That's how he knows that he is one of the terrorists."