10 Surprising Facts About Alan Rickman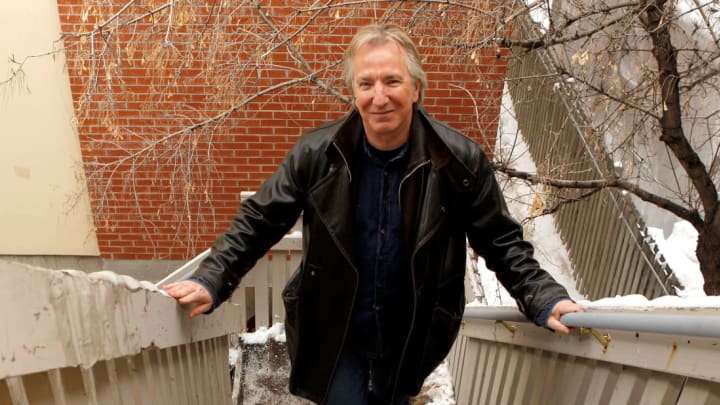 Marsaili McGrath, Getty Images for KC Events / Marsaili McGrath, Getty Images for KC Events
On January 14, 2016, the world lost one of its most enigmatic actors when Alan Rickman passed away following a brief battle with pancreatic cancer. On what would have been his 73rd birthday, we're looking back at 10 surprising facts about the beloved actor.
1. His first career was in graphic design.
Though he dabbled in drama as a teenager, Alan Rickman's first career was as an artist. After studying graphic design at Chelsea College of Art and Design, followed by graduate classes at the Royal College of Art, he and a few friends launched their own graphic design business, Graphitti. "It all seems like a 1970s fantasy now," Rickman told Design Observer when asked about his first career. "A top floor studio in Berwick Street, shared with a photographer, whitewashed brick walls and a vaulted glass ceiling … My job also included hiking around a huge and heavy portfolio to all the art directors. Again, this was BC: Before Computers. We worked on magazine layouts and illustrations, book jackets, album sleeves, and advertising. And learned quickly that we had to pay our bills immediately, but that the same rule did not apply to our clients. A constant financial tightrope. It came to a natural finish when I started to work in fringe theater and then went to RADA, and the others merged with Alan Aldridge at Ink Studios. Happy endings."
2. He came to acting later in life.
VINCE BUCCI, AFP/Getty Images
Though he found success in the graphic design world, Rickman admitted that, "theater was always lurking in the background." So, while still working as a graphic designer, he sent a letter to the Royal Academy of Dramatic Art to request an audition. "I was getting older and I thought if you really want to do this you've got to get on with it," he told GQ in 1992. He was 26 years old when he auditioned with a speech from Richard III and was awarded a scholarship to the prestigious acting academy. "My body finally sighed with relief at being in the right place," he said. "I had really come home at last."
3. He auditioned for Return of the Jedi.
In The Making of Return of the Jedi, author J.W. Rinzler revealed that Rickman auditioned for the role of Admiral Moff Jerjerrod, who oversaw the construction of the second Death Star. The role ultimately went to Michael Pennington.
4. He rose to fame in America on the stage.
Rickman's big break didn't come in the movies, but on the stage, where he played Vicomte de Valmont in the Royal Shakespeare Company's production of Les Liaisons Dangereuses in 1985. When the play made the move to Broadway in 1987, Rickman came with it and received both Tony and Drama Desk Award nominations for the role.
5. Die Hard marked his feature film debut.
Rickman owed a debt of gratitude to Sam Neill, who was approached to play Hans Gruber in Die Hard but turned the role down. Then, in the spring of 1987, the film's casting director saw Rickman playing the dastardly Valmont on Broadway and immediately wanted him for Hans. Though Rickman may have played the part as cool as the other side of the pillow, it was actually his first role in a feature film.
6. He almost turned down the role of Hans Gruber.
Though Die Hard turned Rickman into a hot commodity in Hollywood, he later admitted that he almost turned down the role. "I didn't know anything about L.A. I didn't know anything about the film business … I'd never made a film before, but I was extremely cheap," Rickman said of the casting process for Die Hard—and when he read the script he thought, "What the hell is this? I'm not doing an action movie." Fortunately, upon closer consideration, he realized that the film was "quite revolutionary, and quietly so."
7. He was supposed to star in Four Weddings and a Funeral.
If Rickman has Sam Neill to thank for his Hollywood stardom, Hugh Grant should be thanking Alan Rickman. Grant was not the first choice to play Charles in his breakthrough film, Four Weddings and a Funeral; screenwriter Richard Curtis thought Grant was "too handsome" for the part. At one point, it was supposed to star Alan Rickman and Marisa Tomei. Fortunately for Grant, that changed.
8. Rickman has the "perfect" male voice, according to science.
In 2008, a pair of researchers—linguist Andrew Linn and sound engineer Shannon Harris—were tasked with analyzing voice samples from more than 50 people to determine what makes the perfect human voice. For men, it turns out that it's a combination of Rickman and Jeremy Irons.
"As humans we instinctively know which voices send shivers down our spine and which make us shudder with disgust," Linn explained. "The emotional responses panelists had to the voices were surprising and go some way to explaining how voiceover artists or radio DJs are selected, or why particular celebrity voices appeal."
Helen Mirren seemed to confirm this when she spoke about Rickman following his death, saying: "Alan was a towering person, physically, mentally and as an artist. He was utterly distinctive, with a voice that could suggest honey or a hidden stiletto blade, and the profile of a Roman Emperor."
9. J.K. Rowling gave him some confidential Harry Potter intel.
Moviegoers of a specific generation know Rickman best for his role as Severus Snape in the Harry Potter series. When the actor took on the role, the book series was only four installments in, so there was still much to learn about what made Snape tick. In order to help Rickman play the character all the way through to the end, the author shared some information about Snape that wouldn't be revealed until much later.
According to Rickman, it was "one tiny, little, left of field piece of information," but it "helped me think that he was more complicated and that the story was not going to be as straight down the line as everybody thought. If you remember when I did the first film she'd only written three or four books, so nobody knew where it was really going except her. And it was important for her that I know something, but she only gave me a tiny piece of information which helped me think it was a more ambiguous route."
10. He met his longtime partner when he was just a teenager.
Tristan Fewings, Getty Images for Qatar Goodwood Festival
In 1965, while a student at Chelsea College of Art and Design, Rickman—then 19 years old—met his first love, 18-year-old Rima Horton, who served as a Labour Party councilor on the Kensington and Chelsea London Borough Council from 1986 to 2006. She has also worked as an economics lecturer at Kingston University. Though it would take until 2012 for the couple to tie the knot in a private ceremony in New York, they remained a devoted couple for more than 50 years, until his passing. "She's tolerant," Rickman once said of Horton. "She's incredibly tolerant. Possibly a candidate for sainthood."