25 of the New Words Merriam-Webster Is Adding to the Dictionary in 2018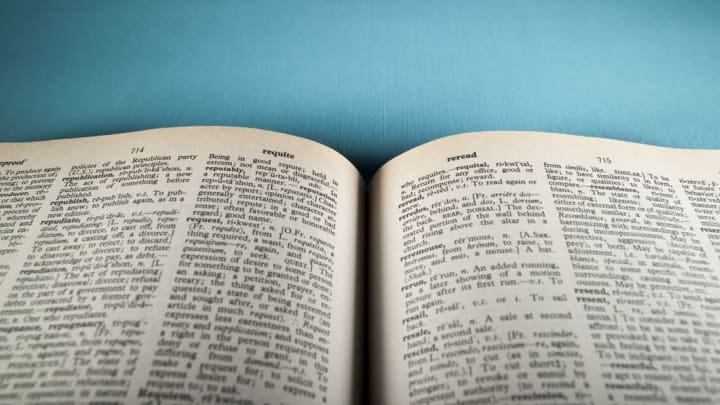 iStock / iStock
If you don't spend most of your time on the internet, it can be hard to keep up with the evolving lingo of the digital age. Luckily, the editors at Merriam-Webster have done the hard work of keeping track of the most important new terms to know: The American institution has added over 840 new words to its dictionary, many of which didn't exist a couple of decades ago.
Readers fluent in internet-speak will be familiar with many of the entries on the list, and there are also plenty of new words that are specific to the tech world. Not every word that's new to the dictionary is necessarily new to language; Merriam-Webster now includes some culinary terms that have been around for a while, and the new list also features abbreviations of common words. Check out a sample of the new entries below.
Short for bourgeois, this term means "Marked by a concern for wealth, possessions, and respectability."
2. TL;DR (ABBREV.)
"Too long; didn't read—used to say that something would require too much time to read."
"Having multiple episodes or parts that can be watched in rapid succession."
As in predictive text: "Of, relating to, or usable or valuable for prediction."
"The use of electronically or mechanically generated movement that a user experiences through the sense of touch as part of an interface (such as on a gaming console or smartphone)."
"To force (an unresponsive computer program) to shut down (as by using a series of preset keystrokes)."
"An operating mode for an electronic device (such as a mobile phone) in which the device does not connect to wireless networks and cannot send or receive communications (such as calls or text messages) or access the Internet but remains usable for other functions."
"To post (a picture) to the Instagram photo-sharing service."
"Biological experimentation (as by gene editing or the use of drugs or implants) done to improve the qualities or capabilities of living organisms especially by individuals and groups outside of a traditional medical or scientific research environment."
"Products and companies that employ newly developed digital and online technologies in the banking and financial services industries."
11. MARG (N.)
A margarita. According to Merriam-Webster, the first known usage occurred in 1990.
12. FAVE (N.)
Favorite. This word is older than it looks: It dates back to 1938. ("Lester Harding, heavy fave here, clicks with pop songs," was the first usage, according to the Oxford English Dictionary.)
"Extremely charming or appealing : adorable."
According to Merriam-Webster, this "often disparaging" slang means "A random person: a person who is not known or recognizable or whose appearance (as in a conversation or narrative) seems unprompted or unwelcome."
15. GUAC (N.)
Guacamole.
"A meal taken by Muslims at sundown to break the daily fast during Ramadan."
A spicy paste used in Korean cuisine that is made from red chili peppers, glutinous rice, and fermented soybeans.
"A culinary process in which ingredients are prepared and organized (as in a restaurant kitchen) before cooking."
Originally a slang word for a drug addict dating back to 1883, this word these days means "A beer enthusiast."
"A long, thin strip of zucchini that resembles a string or narrow ribbon of pasta."
"Irritable or angry because of hunger." People have been hangry (or at least using the word) since 1956.
"A usually iced drink made with any of various ingredients (such as juice, herbs, and soda water) but without alcohol: a nonalcoholic cocktail."
"Of, relating to, or marked by Latin American heritage—used as a gender-neutral alternative to Latino or Latina."
The generation of people born in the late 1990s and early 2000s.
"A collection of many tents set up in an area to provide usually temporary shelter (as for displaced or homeless people)."