7 Animal Myths You Shouldn't Believe
Chances are, some of the "fun facts" you know about the animal kingdom aren't actually facts at all. There are plenty of pervasive myths about animals that have little basis in reality, but still get passed off as common knowledge around schoolyards, cocktail parties, and internet lists. We've previously debunked popular myths about animals like pandas, penguins, and vultures. Now, a new book, True or Poo?: The Definitive Field Guide to Filthy Animal Facts and Falsehoods, aims to debunk even more of these misconceptions. From the authors of Does It Fart? the illustrated volume is designed to give you the true scoop on the wonders of the animal world. Here are seven myths you may have heard before that, according to True or Poo? authors Nick Caruso and Dani Rabaiotti, don't pass the smell test.
1. ANTEATERS VACUUM UP ANTS WITH THEIR NOSES.
None of the four species of anteater go around hoovering up ants through their long snouts, despite what cartoons may have led you to believe. They have incredibly long tongues (the giant anteater's can measure almost 2 feet) that they use to lap up their prey. They can flick their tongues—which are covered in spiny hooks and sticky saliva to trap ants—up to 160 times a minute, eating up to 20,000 insects a day.
2. CHAMELEONS CHANGE COLOR TO BLEND IN WITH THEIR ENVIRONMENT.
Chameleons are known for blending in with their surroundings, but that's not actually why they change colors. Instead, their skin changes its pigmentation based on temperature and arousal state. It's all based on the arrangement of nanocrystal within reflective cells in their outermost layer of skin. When the nanocrystals are farther apart, they reflect longer wavelengths of light, like orange and red, and when they're closer together, they reflect shorter wavelengths (blue, for example). This can help them communicate with other chameleons—like rival males—or adapt to different temperatures, turning a lighter color stay cool in the sun, for instance.
3. STANDING STILL COULD SAVE YOU FROM A T. REX.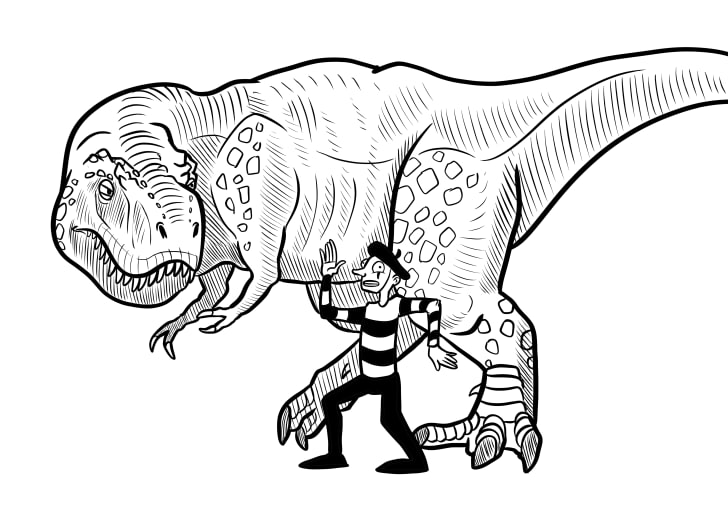 Sorry, Jurassic Park lied to you. Staying very, very still would be no defense against a raging Tyrannosaurus rex, should you happen to encounter one. The giant dinosaurs' vision may have been even better than modern-day raptors, in fact. Even if they weren't eagle-eyed, though, their excellent sense of smell would easily allow them to locate you no matter how still you were standing.
4. BABY SNAKES ARE EVEN MORE DANGEROUS THAN ADULTS.
People walking around in areas where they have to be mindful of snakes are often warned to be even more wary of young snakes than their adult counterparts, because they haven't yet learned to control the amount of venom they inject when they strike you. But that's not true at all. For one thing, scientists aren't sure if any snake can control its venom output, and for another, in some species, a snake's venom actually gets more potent as they get older. In general, a bite from a smaller snake will likely contain less venom than one from a larger one, no matter what their age.
5. WE ALL EAT SPIDERS IN OUR SLEEP.
Good news: You probably haven't chowed down on any spiders during your sleep. While many spiders are nocturnal hunters, the chances that one of them would decide to go on a hunting trip in your mouth is pretty far-fetched. We can't totally guarantee that you've never chowed down on an arachnid during nap time, but climbing up on a snoring, breathing human and diving into their mouth wouldn't be an appealing activity for most spiders. Hopefully this will help to snooze more soundly tonight.
6. TOADS CAN GIVE YOU WARTS.
Though some of them may be bumpy, toads aren't covered in warts, and you certainly can't get warts from touching them. The bumps we see on the skin of some toad species are glands that produce defensive toxins to ward off predators. So, you still shouldn't touch them—but they won't infect you with the human papillomavirus (also known as HPV), which is what causes warts on people's skin.
7. EARWIGS LAY EGGS IN PEOPLE'S EARS.
Despite the name, earwigs have very little interest in your ears. While they have a reputation for burrowing into people's ear canals to lay their eggs, there's no evidence that they do so, or that they end up in people's ears any more than any bug does. Earwigs prefer to hang out in moist, dark places like in soil or under tree bark. The rumor of their love of ear canals can be traced back to the Roman naturalist Pliny the Elder, who also suggested that placing goat dung on an open wound could cure rabies, among other questionable ideas.
Can't get enough animal myths? You can get a copy of True or Poo on Amazon for $11.