The Most-Googled Thanksgiving Recipe in Each State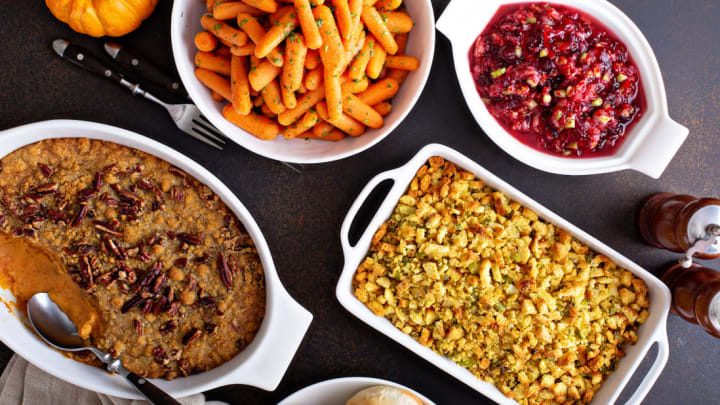 iStock.com/VeselovaElena / iStock.com/VeselovaElena
Each year when November rolls around, novice cooks start frantically searching for answers to all their turkey-related questions. When should it be thawed? Is an oven or deep fryer better? What's the best recipe? Hotlines like Butterball's Turkey Talk-Line get flooded with hundreds of thousands of calls each holiday season.
So it's no surprise that turkey was the most-Googled Thanksgiving dish across America last November, according to Satelliteinternet.com's new analysis of food-related Google searches. But not every cook was looking for turkey advice last Thanksgiving. There was plenty of regional variation in the recipes people were searching for, as the map below shows.
Green bean and corn casseroles were the next most-searched items after turkey last year, having amassed a particularly large fan base in the Midwest. Other searches are more unique. Vermonters seem to love ambrosia salad, while Louisianans can be expected to serve up a lot of cornbread dressing. Meanwhile, residents of Maryland, Virginia, Mississippi, and Illinois wanted to know how to make a copycat version of Popeyes Cajun turkey. (If you happen to be one of them, you can view a recipe here.)
Satelliteinternet.com
Meanwhile, in Idaho and Utah, Jell-O is apparently a very popular dish in the month of November. Perhaps people were whipping up something like Allrecipe.com's Thanksgiving Jell-O Salad, which is made from crushed pineapple, cottage cheese, lime Jell-O, and whipped topping.
Previous analyses have found even more variation in what Americans eat on Thanksgiving. Back in 2014, The New York Times looked into the most uniquely popular Thanksgiving dish in each state, excluding common dishes like turkey. Deer jerky, sweet potato dumplings, asparagus casserole, turkey enchiladas, and something called frog eye salad were a few of the top search results.
Those dishes aren't nearly as weird as some of the Thanksgiving dishes that were served up several decades ago, though. Creamed onions, cranberry salad with mayonnaise, and jellied turkey-vegetable salad are among some of the more off-putting vintage recipes we've dug up.