The Most Popular Condiment in Each State, Mapped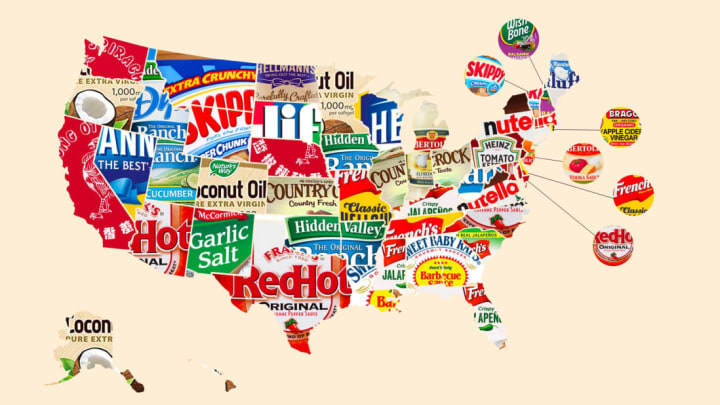 Courtesy of Influenster / Courtesy of Influenster
You can tell a lot about a person by the condiments they put on their tacos, hot dog, or toast. Picky eaters might pair ketchup with steak, many Millennials will avoid mayo at all costs, and fans of sriracha and other spicy toppings are more likely to be thrill seekers. Pay close enough attention to a person's food preferences and you might even be able to guess which state they're from, as a new map spotted by Thrillist suggests.
The map, created by product ratings platform Influenster, shows the most popular condiment from one state to the next. Influenster analyzed more than 50,000 reviews on its site to identify the most-mentioned condiments, and both the number of reviews and overall ratings were taken into account.
The fact that Hidden Valley Ranch Dressing is the top choice in five states probably won't come as a shock, but would you peg Nature's Way Extra Virgin Coconut Oil as the fan favorite in an equal number of states? And in Michigan and Indiana, the top pick is Bertolli Alfredo with Aged Parmesan Cheese Sauce. There has been some debate over whether these ingredients can be classified as condiments, but Influenster seems to be following a broad definition. Merriam-Webster calls a condiment "something used to enhance the flavor of food," which could really be anything.
Semantics aside, it's clear where Americans' taste buds stand. Frank's RedHot and Nutella are the next most popular condiments, having been identified as the favorite in four states apiece. For some, though, condiments are not only a matter of taste, but also a source of home-state pride. The Asian-style Sriracha chili sauce is actually made in California, where it's the top condiment. Likewise, for Pennsylvanians, Heinz ketchup is the only ketchup. The Heinz company was founded in Pittsburgh, although many of its products are now made elsewhere.
Check out the full list below to see which condiment your fellow residents will be serving with dinner tonight.
Alabama: Sweet Baby Ray's BBQ Sauce
Alaska: Nature's Way Extra Virgin Coconut Oil
Arizona: Frank's RedHot Original Cayenne Pepper Sauce
Arkansas: Hidden Valley Ranch Dressing
California: Sriracha Chili Sauce
Colorado: Nature's Way Extra Virgin Coconut Oil
Connecticut: Nutella
Delaware: French's Classic Yellow Mustard
Florida: French's Crunchy Toppers Crispy Jalapenos
Georgia: Sweet Baby Ray's BBQ Sauce
Hawaii: Nature's Way Extra Virgin Coconut Oil
Idaho: Hidden Valley Dips Mix Original Ranch
Illinois: Country Crock
Indiana: Bertolli Alfredo with Aged Parmesan Cheese Sauce
Iowa: Hidden Valley Original Ranch Dressing Buttermilk
Kansas: Country Crock
Kentucky: French's Crunchy Toppers Crispy Jalapenos
Louisiana: Sweet Baby Ray's BBQ Sauce
Maine: Marshmallow Fluff
Maryland: Frank's RedHot Original Cayenne Pepper Sauce
Massachusetts: Nutella
Michigan: Bertolli Alfredo with Aged Parmesan Cheese Sauce
Minnesota: Nature's Way Extra Virgin Coconut Oil
Mississippi: French's Crunchy Toppers Crispy Jalapenos
Missouri: French's Classic Yellow Mustard
Montana: Skippy Super Chunky Peanut Butter
Nebraska: Sriracha Chili Sauce
Nevada: Hellmann's Real Mayonnaise
New Hampshire: Wish-Bone Balsamic Italian Vinaigrette
New Jersey: Bertolli Vodka Sauce
New Mexico: McCormick Garlic Salt
New York: Nutella
North Carolina: Frank's RedHot Original Cayenne Pepper Sauce
North Dakota: Hellmann's Carefully Crafted Dressing and Sandwich Spread
Ohio: Country Crock Calcium Plus Vitamin D
Oklahoma: Hidden Valley The Original Ranch Dressing Buttermilk
Oregon: Nature's Way Extra Virgin Coconut Oil
Pennsylvania: Heinz Ketchup
Rhode Island: Bragg Organic Apple Cider Vinegar
South Carolina: French's Crunchy Toppers Crispy Jalapenos
South Dakota: JIF Peanut Butter
Tennessee: French's Classic Yellow Mustard
Texas: Frank's RedHot Original Cayenne Pepper Sauce
Utah: Hidden Valley Cucumber Ranch Dressing
Vermont: Skippy Creamy Peanut Butter
Virginia: Nutella
Washington: Sriracha Chili Sauce
West Virginia: Hidden Valley The Original Ranch Dressing Buttermilk
Wisconsin: Hellmann's Real Mayonnaise
Wyoming: Skippy Super Chunky Peanut Butter
[h/t Thrillist]