10 Products to Help You Keep Your New Year's Resolutions
We're one month into 2019, so it might be a good time to take stock of how your New Year's resolutions are coming along. Even if you struggle to find motivation or have already strayed from your original plan, there's still plenty of time to get back on track and finish out the year strong. Whether you want to focus on your health, save money, or become a "new you" in a variety of other ways, here are 10 products that can help you achieve your goals.
Mental Floss has affiliate relationships with certain retailers and may receive a small percentage of any sale. But we only get commission on items you buy and don't return, so we're only happy if you're happy. Thanks for helping us pay the bills!
Hate cleaning? You're far from the only one, but it doesn't have to be such a chore. Neato's newest robotic vacuum, the D7, will do the work for you. It uses lasers to create a detailed floor plan of your home, moving in straight lines to suck up dirt and dust bunnies. You can program it so that it avoids certain places—like rooms you haven't gotten around to decluttering yet—while turning its attention to problem areas instead. The battery lasts 120 minutes, but if it's low on juice, it will tell you exactly how much power it needs to get the job done.
Get it on Amazon for $699 or at these other retailers:
2. If You Pledged To Put Down Your Phone And Talk More IRL: Game of Phones
We understand that it can be tough to put your phone down, even if all of your closest friends happen to be in the room with you. Game of Phones offers a compromise. In this fun party game for three or more people, players use their smartphones to complete a task or find something online. One card might instruct players to read aloud the funniest text they received this week, while another might ask them to find the weirdest real news story from that day. Much like Apples to Apples and Cards Against Humanity, each round has a judge who picks the best response.
Get it on Amazon for $25 or Uncommon Goods for $20.
3. If You Pledged To Hit The Gym More Often: Aaptiv
Gym memberships don't come cheap, but fortunately, it's easier than ever to get a good workout at home. Aaptiv is a virtual personal training app that comes with more than 2500 audio-based workouts to choose from. Certified personal trainers (like Ackeem Emmons, who spoke to Mental Floss for our "Secrets of Personal Trainers" feature) will be right in your ear guiding you through structured programs like yoga, boxing, outdoor running, strength training, and even meditation. In addition to the extra coaching, you'll also get a motivational boost courtesy of playlists that are perfectly timed to match the tempo of your workout. Whether you're hoping to lose weight, gain muscle, or train for a 5K, there's something for everyone.
Sign up on Aaptiv for $15 per month or $100 per year.
Our bodies lose 2 to 3 liters of water per day, and staying hydrated helps keep our joints, brain, and spinal cord in tip-top shape. If you need some friendly reminders to hit up the water cooler instead of the soda machine, there are now a variety of smart bottles and accessories to help. Hidrate's smart bottle, for example, tracks how much water you've consumed and starts glowing when it's time for you to drink more. It also syncs up with fitness trackers like the Fitbit and Apple Watch so you can easily monitor your progress.
Get it on Amazon for $45 or at the retailers below. For a budget pick, you can also try the $28 Ulla Hydration reminder bottle attachment.
5. If You Pledged to Reduce Your Plastic Waste: Stasher Silicone Bags
Plastic Ziplock bags are wasteful, but it can be a hassle finding the right lid for your Tupperware™ container. The solution? Zippable, reusable containers. Stasher's reusable silicone bags come in three sizes (snack, sandwich, and storage) and they're dishwasher- and microwave-safe. (If you're willing to wait until May, we also love Finell's Zip Top containers, which are designed to stand up and stay open while you load them with food. They're currently available for pre-order on Kickstarter, starting from $28 for a set of three.)
Get Stasher bags now on Amazon for $9-$22.
6. If You Pledged to Stop Buying Starbucks: Keep Cup
Tackle two goals at once by saving money and reducing waste. Keep Cup calls its product "the world's first barista standard reusable cup," and there's something for every type of coffee or tea drinker. The cups come in your choice of material—plastic or glass cups with silicone or cork sleeves—and a variety of sizes and styles. And if you accidentally lose a lid or plug, you can simply order a replacement part instead of buying a whole new cup.
Get it at Keep Cup for $9 to $36 or at these other retailers:
Getting organized is the key to sticking with any diet or meal plan. Here to help is the Duo Lunch Box—a food container with extra space built into the lid so you don't have to lug multiple containers to your office. Place your salad, salmon fillet, or sandwich in the main compartment, then stick any extras (like sauces, squishable ingredients like tomatoes, or utensils) in the lid. It also comes with a mini container for your dressings, which can be tucked away inside the lid, too. The base is microwave-safe, and the whole lunch box is safe for the freezer and dishwasher.
Get it at these retailers:
8. If You Pledged to Meditate More: Headspace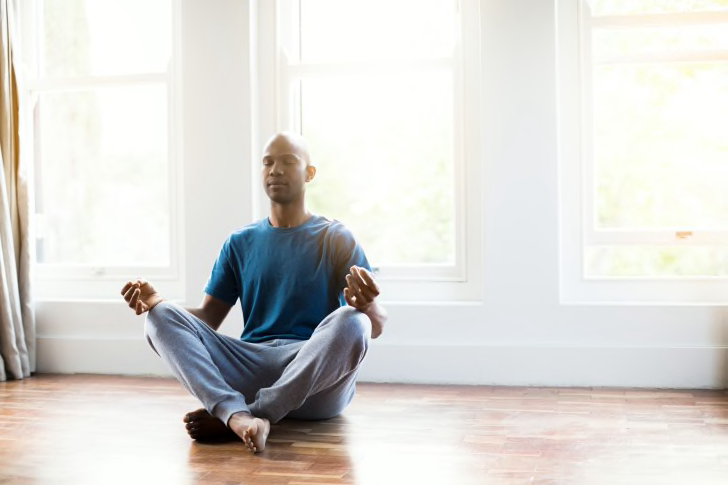 iStock.com/Stígur Már Karlsson /Heimsmyndir
Just a few minutes of meditation can help reduce stress, anxiety, depression, and pain, according to a study from last year. If you're ready to start reaping the benefits of mindfulness, the Headspace app is a good resource. Members have access to hundreds of guided meditations that cover everything from reducing stress to improving sleep to boosting confidence. Don't know how to meditate? No problem—it's also suitable for beginners. Headspace is currently offering a 40 percent discount for new members.
Sign up on Headspace for $58 a year.
9. If You Pledged to Be Better With Money: You Need a Budget
The secret to saving money is monitoring your spending and setting budgets for different items and bills. But if the mere thought of keeping track of all those lists and numbers makes you anxious, let You Need a Budget be your financial guide. The app lets you create spending categories (like rent, Internet, and groceries) and set dollar amounts for each. Connect it to your bank account and it will calculate how much money you have left in each mini-budget as you spend. You can also set goals for yourself—and according to the company, new users save an average of $600 in their first two months with the service.
Sign up on You Need a Budget's website for $84 per year following a 34-day free trial.
10. If You Pledged to Organize Your Desk: Rocketbook Everlast
If you have too many loose papers and notepads lying around your office, we have two words for you: reusable notebook. Perfect for pen and paper traditionalists, the Rocketbook Everlast lets you take notes or write to-do lists in the same way you would use a regular notebook, except anything you write can be sent to your iCloud, Google Drive, email, Dropbox, Evernote, Slack, and more. Once you've stored your notes digitally, just wipe the pages clean with a damp cloth. The executive size has 36 reusable pages and comes in four colors.
Get it on Amazon for $29 or at these other retailers: