The 13 Best Places to Eat and Drink in Washington, D.C.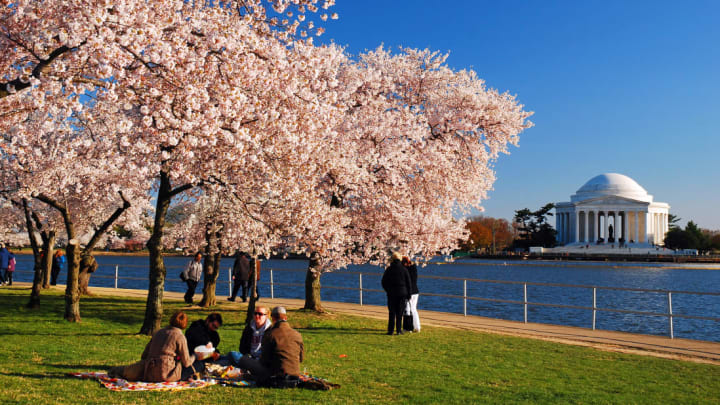 Kirkikis, iStock / Getty Images Plus / Kirkikis, iStock / Getty Images Plus
We've covered a lot of the best foods, destinations, and bookstores in all 50 states here at Mental Floss, but unfortunately, our historic and vibrant capital city doesn't get represented in those lists. In fact, Washington, D.C. has trouble getting represented at all. Today, we're correcting that wrong. Here are 13 places you won't want to miss if you need a meal in the District.
1. Best Chocolate Chip Cookie in Washington, D.C. // Baked & Wired
Georgetown's Baked & Wired might be known for their cupcakes, but they have more than a dozen cookie and other sweet treat options, including a soft chocolate chunk cookie with optional walnuts. The only problem? The shop's self-serve cookie bar with its clear-glass cookie jars can be tough for those who like to think with their sweet tooth.
Read our Best Chocolate Chip Cookie in All 50 States
2. Best Pie in Washington, D.C. // Pie Sisters
"Any time is pie time, morning noon or night." The three real-life sisters behind Pie Sisters live by that motto and treat their customers to a wide enough variety of pies that you truly could eat them at any time of the day. Their specialty Jumble Berry includes a mix of strawberries, blueberries, raspberries, and blackberries, but if you need a dinner option, the Country Tomato or Pulled Pork Barbecue savory pies would be a good lead-in to a Bourbon Chocolate Pecan dessert. Gluten and lactose-free options are also available by request.
Read our Best Pie in All 50 States
Need 24/7 access to the best steak and eggs dish around? Osman & Joe's has been open around the clock since 1993, and everyone from the locals to visiting dignitaries know to pop in for a breakfast platter or a kosher hot dog with an old-fashioned milkshake.
Read our Best Diner in All 50 States
4. Best Coffee Shop in Washington, D.C. // The Wydown Coffee Bar
Two coffee-obsessed brothers run the two Wydown locations—the 14th Street location focuses on the perfect pour-over to pair with their popular blackberry lavender scones, while the H Street location resembles a Viennese cafe, with its assortment of coffees, treats, and wine spritzes.
Read our Best Coffee Shop in All 50 States
5. Best Ramen in Washington, D.C. // Sakuramen
The brothers who own Sakuramen say they are committed to creating the best possible ramen "sourced from pure bone broth coupled with the freshest ingredients available." And while the menu is full of Japanese and Korean staples, there's also a more local tribute: the DC Miso mixes Berkshire pork belly chashu with bamboo shoots, naruto (fish cake), nori … and shredded Monterey Jack cheese.
Read our Best Ramen in All 50 States
Famous for serving wood-fired pies since 2014 at local farmers markets, Timber Pizza Company opened their first location in Petworth, D.C. during the summer of 2016. While they have various options for red, white, and green pizzas (try the Green Monster, which is covered in pesto, feta, zucchini, and kale), they also know how to cater to any number of unusual add-ons, like nectarines, sugar snap peas, or cilantro.
Read our Best Pizza in All 50 States
7. Best Grilled Cheese in Washington, D.C. // The Pursuit Wine Bar
The only thing that could make a well-curated wine bar better would be a selection of sweet and savory grilled cheese sandwiches—for pairing purposes of course. Pursuit offers five wildly different grilled cheese options, like the "Some Like It Hot II" (jalapeño cheddar, pepper jack, tomato, mixed greens) or the "Little Salty Sweet" (brie, honey, prosciutto, and dried dates on challah).
Read our Best Grilled Cheese in All 50 States
8. Best Burger in Washington, D.C. // Lucky Buns
Lucky Buns in Adams Morgan has been serving seasoned-to-order burgers covered in house-made pickles and sauces since 2016. Try the Alfie's Bun for a sweet combination of runny egg soaking into gouda and a pineapple slice, or the Hot Tiger Bun for a fiery mix of spicy fried chicken and Sichuan peppercorn paste.
Read our Best Burger in All 50 States
9. Best Chili in Washington, D.C. // Ben's Chili Bowl
Ben's Chili Bowl has been a U Street staple for more than 60 years. It's the kind of place with celebrity and presidential photos lining the walls (president-elect Barack Obama ate there just days before his first inauguration), and all-original booths, stools, and diner counter. But most important are the bowls of their thick, delicious chili con carne. Ben's is also famous for their half-smoke—a smoky hot dog with mustard and onions and covered in their spicy chili, which they've been serving since 1958.
Read our Best Chili in All 50 States
10. Best Food Truck in Washington, D.C. // Feelin' Crabby
In D.C., politicians and plebeians alike love seafood—especially when it's topped with a generous pinch of Old Bay. That's where Feelin' Crabby comes in: The punny food truck serves lobster and crab-based sandwiches, salads, and sliders, including the giant "Crabwich" sandwich, which contains 5 ounces of jumbo lump crab meat and 2 ounces of lobster claw and knuckle meat.
Read our Best Food Truck in All 50 States
11. Best Sandwich Shop in Washington, D.C. // SUNdeVICH
According to owner Ali Bagheri, the name SUNdeVICH alludes to the accented pronunciation of "sandwich" that he hears in the middle east, but the flavors on his menu are fully global. A quick trip to this converted garage along an alleyway can yield sammie-inspo from Athens (lamb, greens, tzatziki), Havana (roasted pork, gruyere, dijonnaise), Seoul (bulgogi beef, kimchi, garlic mayo), and Tehran (mortadella, feta, fresh herbs)—no passport needed.
Read our Best Sandwiches in All 50 States
Who needs dinner-and-a-movie when you could do dinner and a bookstore? A combination bookstore and restaurant, Kramerbooks & Afterwords Café in Dupont Circle gives patrons the oft-overlooked satisfaction of browsing the stacks and immediately sitting down with their new find over something as fancy as filet mignon or as comforting as fried chicken on cheddar waffles.
Read our Best Bookstores in All 50 States
13. Best Picnic Spot in Washington, D.C. // The Yards Park
Whether you want to take a nice stroll or have lunch with a view, this scenic park along the Anacostia River provides plenty of space and is free and open to the public. The Dancing Fountains at the entrance of the park are fun for kids (or adults!) to cool off in, and their annual Summer Fridays concert series invites people to indulge in some food while listening to live music.