10 Allegedly Cursed Objects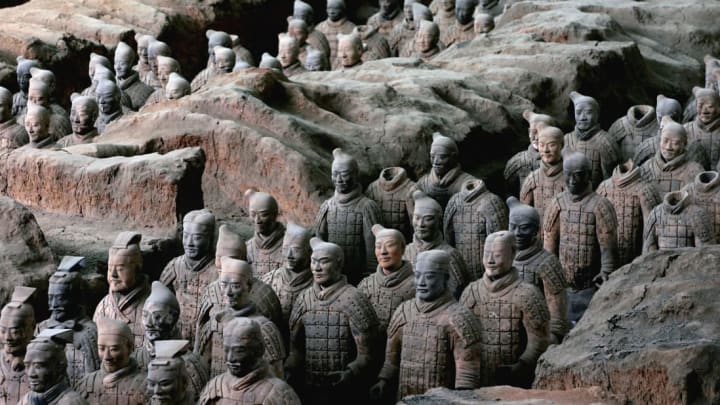 China Photos/Getty Images / China Photos/Getty Images
1. The Hope Diamond
Believed to have come to the surface 1.1 billion years ago, this gem is estimated to be worth $200-250 million. It has traveled the world but now resides in the Smithsonian Natural History Museum, and some believe it is cursed, with a whole mythology claiming that great misfortune and misery will befall any who dares to wear the 45.52 carat diamond. Rumored victims of the diamond have suffered disgrace, divorce, suicide, imprisonment, torture, financial ruin, lynching, or decapitation. One was even said to have been ripped apart by dogs, and another by a French mob. However, skeptics say this curse was a ploy to enhance the Hope Diamond's mystique and value.
2. The Busby Stoop Chair
English drunkard Thomas Busby sealed his fate when he murdered his father-in-law Daniel Auty in 1702. For his crimes, he was executed by hanging at a crossroads near a humble inn. But the story goes that this was not the end of Busby's killing. A chair that looked on to the site of his execution is believed to carry a curse—whoever sits upon it will supposedly die from a frightful accident. Still, the chair lingered in the inn until 1978, when the owner gifted it to the Thirsk Museum, where it now resides high on a wall, where no one need fear an accidental sitting.
3. The Crying Boy Painting
Another curse out of England comes from this popular 1950s reproduction of Bruno Amadio's "The Crying Boy" painting. The superstition goes that the pictures of this mournful child cause fires. Its source was an article in the tabloid The Sun from September 4th, 1985.  A couple's house burned down, but the fire didn't burn "The Crying Boy." A local firefighter then noted that there were other fires that left only an undamaged "Crying Boy" painting.
4. The Hands Resist Him Painting
Another tale of cursed art surrounds this painting of a young boy and a female doll standing before a window. Painted by California artist Bill Stoneham in 1972, "The Hands Resist Him" belonged to actor John Marley before ending up on eBay in 2000 with claims it was cursed. The anonymous sellers said it was found abandoned behind an old brewery. Soon after taking it home, their young daughter claimed the figures in the painting moved at night, and even stepped out of their frame to cause chaos in the home. They posted photos as proof. As may be the case with the Hope Diamond, the curse story drove up the bid to $1,025.00.
5. The Terracotta Army
China Photos/Getty Images
In 1974, seven peasant farmers in China were digging a well for their village when they accidentally uncovered the 2,200-year-old Terracotta Army, an astonishingly detailed series of 8,000 sculptures that had been long buried as part of a grand tomb. The find has been a great one for China, bringing academics and busloads of tourists. But those who found it gained only misery. The Chinese government claimed their lands and destroyed their homes to properly unearth this army, financially ruining not just these men, but most of their village. Painful deaths followed for three of the seven, because as one of the survivors points out, they could not afford health care. Some have blamed government callousness for these men's fates. Others believe that this is a curse similar to that of Tut's Tomb.
6. Tut's Tomb
Wikimedia Commons // Public Domain
Perhaps the most famous curse of all is the Tomb of Tutankhamun, the burial place of the 19-year-old pharaoh. All who enter—be they bandit or archaeologist—are said to be struck with bad luck, illness, or death because of the curse of the pharaohs. Belief in this curse predated the 1922 Howard Carter expedition to find Tut's tomb, but his discovery unleashed new life for this legend. The first to die was the canary that was rumored to have led Carter to the tomb's hidden location. Some say it was eaten by a cobra, a symbol of Egyptian royalty, while others insist it wasn't even killed, but rather given to a friend. Soon thereafter, Carter's financial backer Lord Carnavon died when a mosquito bite became infected. Twenty more deaths of people would get blamed on the curse by 1935. Still, skeptics suggest coincidence or a deadly fungus from the tomb are to blame.
7. Iceman
Another mummy believed to carry a terrible curse is Ötzi, also known as the Iceman. Discovered in September of 1991 in the Ötztal Alps in Italy, Ötzi is a mummy of a man who is believed to have lived around 3,300 BCE. A glacier surrounded him after he died of exposure, and preserved his body. But once unearthed, rumors of a curse surfaced too, and grew stronger as people linked to him began to die, often in violent accidents. All told, seven deaths have been tied to Ötzi's uprooting, including forensic pathologist Rainer Henn who was killed in a car accident en route to give a speech about the Iceman, mountaineer Kurt Fritz who died in an avalanche, and hiker Helmut Simon, who discovered the Iceman on a hike with his wife and later died after falling off a treacherous path.
8. James Dean's Little Bastard
"Little Bastard" was what Dean called his silver Porsche 550 Spyder, the car he died in following an accident in 1955. After that, the vehicle was purchased by hot rod designer George Barris, who planned to sell it for parts. The curse narrative was born when the car fell and crushed a mechanic's legs. As parts of the car sold, the curse is said to have spread. A doctor who bought the engine was killed in a car accident; another victim who bought the transmission was severely injured in a crash. The tires sold from Little Bastard blew out simultaneously, sending their buyer to the hospital. While the shell of the car was being transported, the truck carrying it crashed, and the driver was killed. From there, the shell was stolen and the curse of Little Bastard went quiet as its location became unknown.
9. The Phone Number +359 888 888 888
iStock
You might think a cursed phone number sounds like the plot to an uninspired horror flick, but anyone who had the number listed above since its first issuing in the early 2000s has died. That includes the CEO of a Bulgarian mobile phone company who died of cancer at 48, as well as two crooks—one a mafia boss and the other a cocaine-dealing estate agent, both of whom were "gunned down." All three died within four years of one another. Since then, the telephone number has been suspended, and the company that owns it refuses to comment as to why.
10. The Basano Vase
Legend has it that this silver vase made in the 15th century was given to a bride on the eve of her wedding near Napoli, Italy. Sadly, she'd never make it to the altar as she was murdered that very night with the vase in her hands. From there, it was passed down her family line, but anyone who took possession of it is said to have perished soon thereafter. After untold deaths, the family boxed the vase away. It resurfaced in 1988 with a note that is said to have read, "Beware…This vase brings death." However, when the Basano Vase was auctioned off for about $2,250, the note had been excluded from the item description. The pharmacist who bought it died within three months. Three more deaths of new owners followed until finally the curse seemed to go dormant when a desperate family demanded the police take it away. It has not been seen since.