AFTERNOON MAP
Get Excited for Fall With the 2021 Peak Foliage Map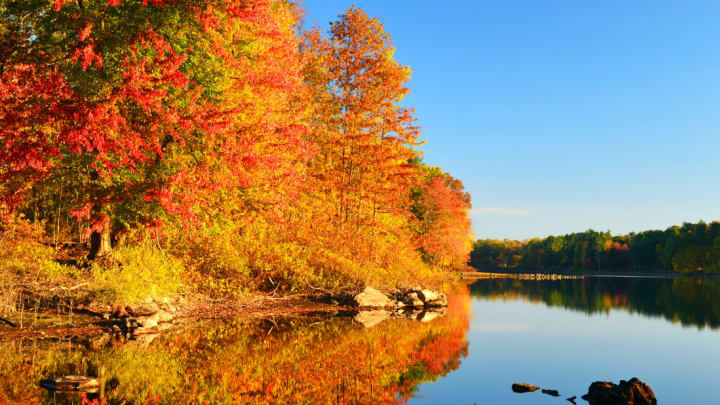 Kirkikis/iStock via Getty Images / Kirkikis/iStock via Getty Images
The season of scarves, sweaters, and pumpkin spice everything is almost upon us. No matter how you feel about the end of summer, it's hard not to appreciate the colorful foliage when it reaches its peak in autumn. Those red, orange, and gold leaves may be visible outside your window sooner than you think, and the interactive map below from SmokyMountains.com shows you exactly when to expect them.
Fall foliage normally peaks some time after the autumnal equinox, which falls on September 22 in 2021, but exactly when depends on variables like rainfall and temperature. Each year, the tourism website SmokyMountains.com looks at weather forecasts and historical trends from NOAA and puts together an interactive map showing when foliage is predicted to peak across the contiguous U.S.
Fall foliage typically arrives in America's northern states first. In 2021, northern New England, a place famous for its leaf-peeping, will see the brightest leaves by October 4. Peak foliage won't reach the southern-most parts of New England until October 18. Around October 25, parts of Pennsylvania, Ohio, Indiana, and Illinois will be treated to the most spectacular leaves of the season, and in southern states like South Carolina and Georgia, peak foliage shows up between October 25 and November 1. By November 15, the fall foliage will have passed its peak everywhere except the lower parts of Texas and Florida.
By sliding the scale beneath the map, you can see when foliage is expected to peak in your part of the country. You can also use the tool to plan trips around the changing leaves.
If you can't pick just one spot to take in the foliage this fall, you don't have to—here are the best spots around the world for watching the leaves change.
This story has been updated for 2021.