12 Thought-Provoking Gifts for History Buffs
This article contains affiliate links to products selected by our editors. Mental Floss may receive a commission for purchases made through these links.
If you're looking for a gift for the person who can't get enough history in their life, we think you'll find something on this list. From an atlas of the United States' National Parks to a book that will allow one to record their own family genealogy, these presents will both enlighten and entertain even the history buffs who already own every Theodore Roosevelt biography and Titanic exposé.
1. Atlas of the National Parks; $37
This stunning atlas from National Geographic invites armchair explorers into all 61 national parks, from Gates of the Arctic to Dry Tortugas, American Samoa to Acadia. Each entry features a brand-new map and information about the park's character, covering archaeology, geology, human history, wildlife, and more. All of which are illustrated with amazing photographs. You can order it now, and according to Amazon, the book will be in stock December 1.
Buy It: Amazon
2. Homesick Library Candle; $30
Remind your favorite history buff of that book project they've been working on for many years with a library scent that doesn't evoke mildewed paper and anxiety. Homesick's hand-poured soy wax candle features spicy notes of orange, nutmeg, sandalwood, and amber.
Buy It: UncommonGoods
3. Spectacular Women Ornaments; $22 Each
Your giftee will need to make some space on the Christmas tree for these ornaments depicting amazing women in history. Artist Gulnara Kydyrmyshova and her team of textile artisans in Kyrgyzstan make each ornament by hand from local wool. You can choose Florence Nightingale, Jane Austen, Harriet Tubman, Susan B. Anthony, or all four.
Buy It: UncommonGoods
4. Homemade Gin Kit; $50
Just in time for holiday parties, this DIY gin-making kit includes two elegant bottles, stoppers, a selection of dried herbs and spices, and mixing tools. The giftee supplies the vodka, which acts like a blank slate, to be flavored with juniper berries, coriander seeds, rosemary, rose hips, and more.
Buy It: UncommonGoods
5. Genealogy Organizer Book; $9
Here's a genealogy gift for the holidays that doesn't require handing over genetic data to private corporations! This handy book includes organizational charts for tracing one's family tree back five generations. Plus, there are fill-in family group pages and sheets to record personal memories.
Buy It: Amazon
6. Great Lakes 3D Wood Nautical Chart; $178
Up to eight layers of wood are used to demonstrate the depths of each of the five Great Lakes in this unusual topographical map, which also depicts the major rivers and towns of the region. If these lakes don't float your boat, 3D maps of the Boston Harbor, the Hawaiian Islands, Puget Sound, the San Francisco Bay, and other waterways are available.
Buy It: Amazon
7. Black Lives 1900: W.E.B. Du Bois at the Paris Exposition; $26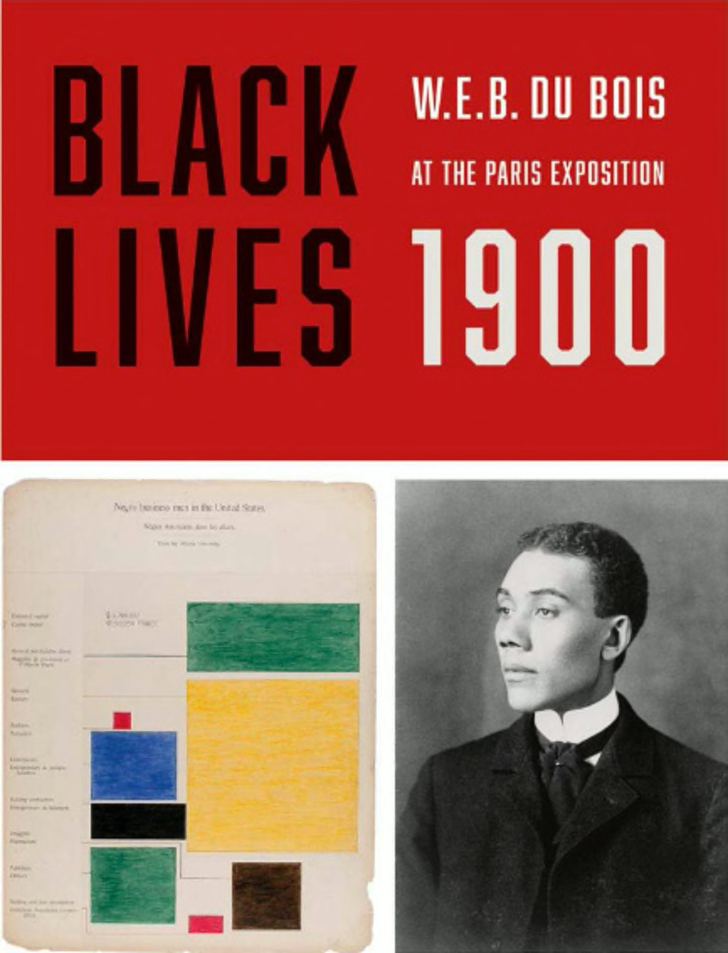 With colorful, hand-drawn infographics, civil rights leader W.E.B. Du Bois illustrated the progress and challenges of African Americans in the South at the beginning of the 20th century. This beautiful volume pairs his maps and charts, which were displayed at the 1900 Paris Exposition, with contemporary photographs of black people and communities.
Buy It: Amazon
8. Three Mini Notebooks; $14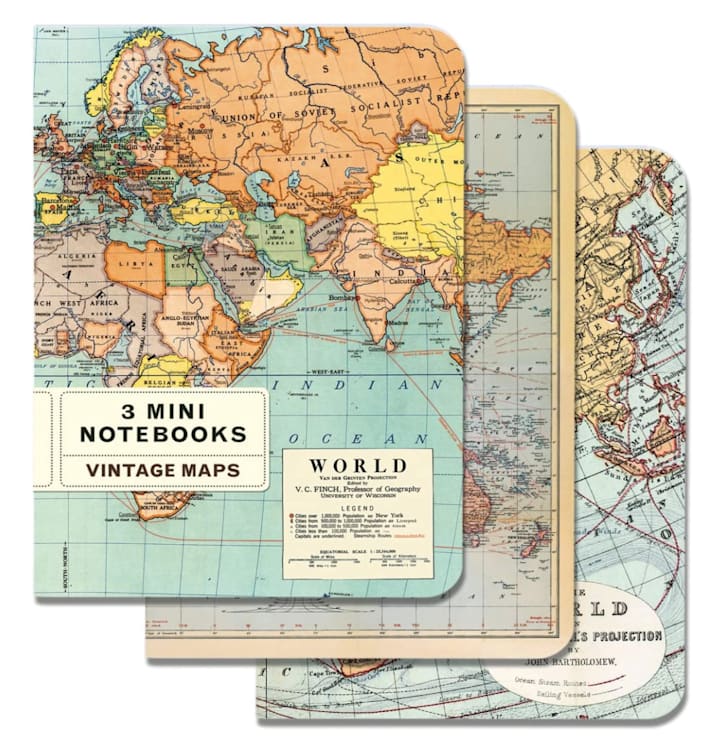 An explorer should always have a pen and paper at the ready. Make your giftee's travels memorable with this set of three pocket-sized notebooks, each bound with a vintage map design on the cover and blank, lined, or graph pages.
Buy It: Amazon
9. Penny-Farthing Watch; $40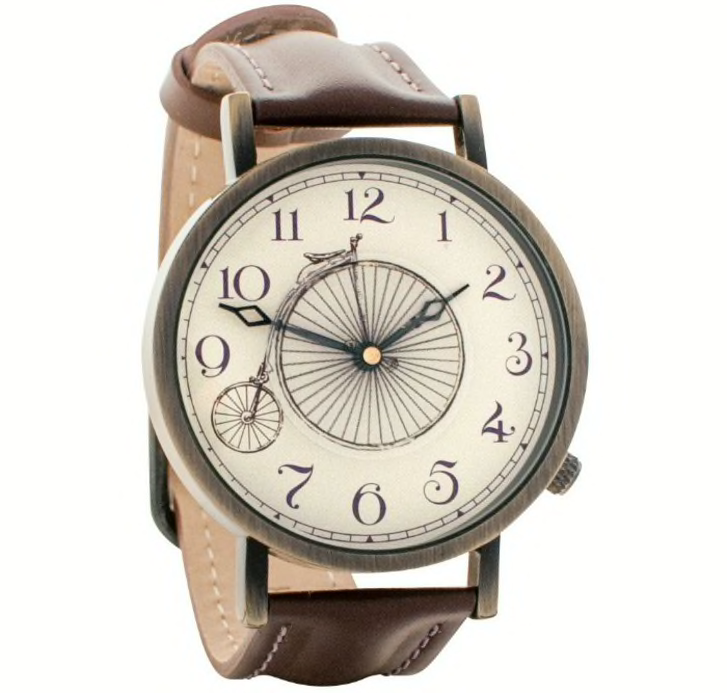 It's been said that bicycles kickstarted the women's equality movement by giving ladies the means to explore their world. Celebrate that history by giving your fave cycling enthusiast this cute watch, which depicts a penny-farthing, the Victorian precursor to modern bikes. The leather band and analog face complete the watch's old-timey look.
Buy It: Amazon
10. Shakespearean Insults Mug; $16
This 14-ounce ceramic mug includes 30 Elizabethan insults that you can feel free to use any morning pre-coffee—but you may need to reassure your gift recipient that you're not actually calling them a "canker-blossom" or a "lump of foul deformity" when they open the box.
Buy It: Amazon
11. LEGO White House; $190
This LEGO set is based on the White House design by James Hoban, which was selected by George Washington back on July 16, 1792. And now, with over 500 pieces, you can recreate your own version of this iconic building. And when you're done, the set also includes a booklet highlighting interesting facts about the White House.
Buy It: Amazon
12. A History of New York in 27 Buildings; $18
Stories behind such famous NYC icons as the Flatiron Building or the Empire State Building are well known. Those skyline staples appear in this book, but author Sam Roberts also dives deeper into other notable buildings that changed the course of the city's history—like the Tweed Courthouse, the Marble Palace, and the Coney Island Boardwalk. (For a similar approach to urban history, see the new book The Seine: The River That Made Paris).
Buy It: Amazon
Sign Up Today: Get exclusive deals, product news, reviews, and more with the Mental Floss Smart Shopping newsletter!