New Cross-Bred Cosmic Crisp Apples Can Stay Fresh for Up to a Year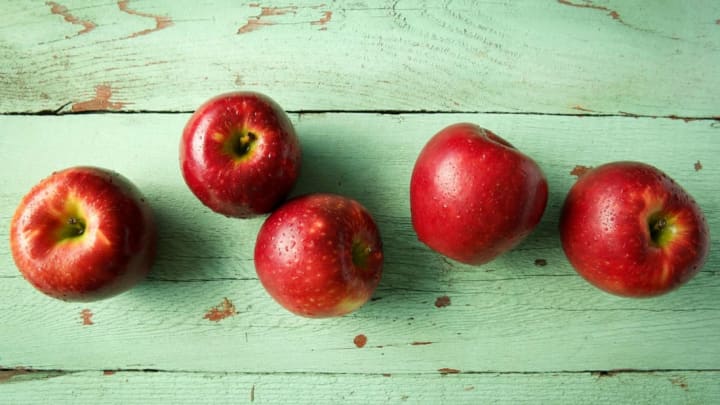 Cosmic Crisp / Cosmic Crisp
Healthy snackers know only too well the disappointment that comes with biting into what looks like a deliciously crisp apple and getting a mouthful of mealy mush instead. It's just one of the pome fruit's many potential issues—they also brown quickly, bruise easily, and don't last as long as whatever bag of chips you might be tempted to reach for instead.
Enter the Cosmic Crisp, a Washington-grown patented hybrid apple that could be the answer to all your apple-related complaints. According to New Atlas, researchers at Washington State University began breeding the new variety as a cross between Enterprise and Honeycrisp apples in 1997, and it's officially hitting stores now.
Cosmic Crisp
Not only does a Cosmic Crisp apple resist bruising and browning better than other kinds of apples, it also boasts an exceptionally long storage life. In a controlled atmosphere, it should stay fresh for a full year—meaning you'll soon be able to enjoy a crisp, satisfying snack in the middle of March, when out-of-season apples usually leave much to be desired. In your own refrigerator, Cosmic Crisp apples are good for about six months, and they'll even last for several weeks if you leave them out at room temperature. The long shelf life might cut down on the number of apples that you end up tossing in the trash because they went bad before you got around to eating them.
In a 2012 report published in the American Society for Horticultural Science journal HortScience, the Washington State University researchers found that a group of 114 consumers rated the Cosmic Crisp apple, or WA 38, higher than Fuji apples in sweetness, sourness, flavor intensity, crispness, firmness, juiciness, and overall acceptance. The apple's website even suggests that bakers can reduce the amount of added sugar in recipes that contain Cosmic Crisps.
The Cosmic part of its name comes from the whitish specks on the apple's skin, which reminded taste testers of a starry sky. In reality, those specks are lenticels—porous openings that allow the apple to exchange gases with its environment.
If you don't see Cosmic Crisp apples in your grocery store yet, here's a simple trick for keeping any apples fresh for longer.
[h/t New Atlas]