10 Great Kids Comics for Early Readers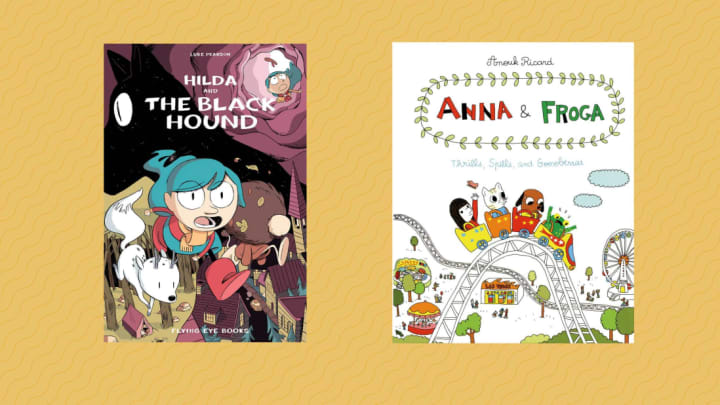 Drawn & Quarterly/Flying Eye Books/Amazon / Drawn & Quarterly/Flying Eye Books/Amazon
This article contains affiliate links to products selected by our editors. Mental Floss may receive a commission for purchases made through these links.
When a child is just learning to read, comic books can be a great supplement to help foster love and enjoyment for books. As detailed in this wonderful handout, "Raising a Reader," [PDF] from the Comic Book Legal Defense Fund, comics have a lot to offer young readers. For that crucial first stage of early reading (ages 5-8, grades K-2), though, it can be hard to find appropriate comic book reading material. Many parents will either disregard comic books as a reading option or assume that any old superhero comic will do. The appropriate range of choices for this specific age group and reading level is actually pretty narrow, but it contains some fabulous picks.
If you're looking to introduce your kids to the wide world of comics (or looking for gifts for comic book lovers), here are 10 great choices to consider giving your early reader—which keep both reading level and content appropriateness in mind. Also, it should be noted that 98 percent of today's superhero comics are written for a minimum age of at least 13. Both Marvel and DC publish a couple of choices for younger readers based off their animated TV shows, but even those tend to skew older than the reading level we're talking about here.
1. Toon Books
Toon Books/Amazon
Without a doubt, the best go-to option for parents looking for quality comics for early readers is the many graphic novels from Toon Books. Started in 2008 by comics power couple Françoise Mouly (art and comics editor for The New Yorker) and Art Spiegelman (creator of the literary comics masterpiece Maus), Toon Books is the only comics publisher that organizes its publications by reading level. For early readers, they have a number of great offerings spread across two levels: Brand-new readers (ages 3+, grades K-1) and Emerging Readers (ages 4+, grades 1-2). They also publish books for later stages like grades 2-3 and beyond.
The best part about Toon Books is the quality of the creative talent that Mouly and Spiegelman have tapped. There are books in these early levels by outstanding cartoonists such as Lilli Carré, Renee French, and Rutu Modan, and children's book award-winning contributions from Jeff Smith and Eleanor Davis. Most books come in both hardcover and softcover formats and are pretty readily available in bookstores, but you can browse them all on Toon-Books.com or head to Amazon to browse their selection.
Difficulty: The best part about Toon Books is they clearly label each book according to grade level beginning at K-1 up to Grade 3+.
Content: Think of these as a bridge between picture books and comics. The varied offerings include lots of books about cute, anthropomorphic animals learning moral and educational lessons.
Where to start: You can't go wrong with Eleanor Davis's award-winning Stinky, about a monster who is afraid of people but learns that, once you meet them, they're really not that scary. Certain volumes are also available on Amazon.
2. Owly
Top Shelf Productions/Amazon
For early readers who are still trying to gain their confidence with the written word, there are comics like Andy Runton's Owly that let the pictures do the talking. These cute, award-winning books are mostly wordless, sometimes using word balloons that contain pictures instead of words. This is a great way of getting new readers into the flow of reading—especially comics reading—without stumbling over word recognition. The stories usually center around friendship, loyalty, and nature and are charmingly innocent. While there may not be any words, Runton's illustrations will give you and your little reader a lot to look at and talk about.
Difficulty: Since there are no words, even pre-readers can pick these up.
Content: These are very innocent stories, completely devoid of violence or adult themes.
Where to start: You can learn about Owly on Runton's website (he even has a lot of free PDFs you can download to sample). There is a pretty big library of Owly books that are readily available in most comic shops, bookstores, or Amazon.
3. Tiny Titans
DC Comics/Amazon
Art Baltazar and Franco Aureliani have made a name for themselves by creating all-ages superhero comics in their very recognizable kid-friendly style. They've applied this style to everything from their own creations like Patrick the Wolf Boy to "Itty Bitty" versions of horror comic characters like Hellboy and Vampirella. The book that put them on the map, though, is Tiny Titans, which ran for 50 issues from 2008 until 2012, twice winning the comics industry's top award for Best Kids Series, and has been collected across eight volumes of trade paperbacks.
Difficulty: The books consist of short stories—mostly two to four pages in length—and the storytelling relies a lot on visual gags so the word count is pretty low and non-intimidating.
Content: The stories are focused on elementary-school versions of many DC Comics characters (primarily those associated with the Teen Titans like Robin, Cyborg, Beast Boy, and Aqualad) and it's more about being in school than fighting criminals. Some of the jokes may require some familiarity with the DC Universe and other pop culture for kids to fully "get" them, though.
Where to start: You may be able to find some random back issues at certain comic shops, but since the series has ended, your best bet will be the trade paperback collections like Tiny Titans Vol. 1: Welcome to the Treehouse.
4. Nursery Rhyme Comics and Fairy Tale Comics
First Second/Amazon
How can you go wrong with nursery rhymes and fairy tales? Especially when they're drawn by some of the best cartoonists in the business? First Second Books and editor Chris Duffy had the brilliant idea of putting together two separate large collections (there are 50 nursery rhymes in one book and 17 fairy tales in the other) by a dream lineup of primarily indie-comic stars like Roz Chast, Gene Luen Yang, Mike Mignola, Jaime and Gilbert Hernandez, Emily Carroll, Raina Telgemeier, David Mazzucchelli, Eleanor Davis, Stan Sakai, and others.
Difficulty: As you might be able to surmise, the Nursery Rhyme collection skews a little younger, but both are perfect choices for this reading level.
Content: Kids will recognize most of the stories here, but they do mix things up with a couple of obscure selections in each. The fairy tales are certainly no more disturbing than any Grimm fairy tale you read when you were young.
Where to Start: Both books should be pretty easy to find wherever books are sold.
5. Scooby-Doo Team-Up
DC Comics/Amazon
Unexpectedly, one of the most enjoyable kids comics to come out in recent years is Scooby-Doo Team-Up which, each month, has the Scooby-Doo gang meet various DC Comics heroes as well as characters from classic Hanna-Barbera cartoons like The Flintstones and The Jetsons. Parents reading along will appreciate writer Sholly Fisch's inside jokes in relation to these old shows.
Difficulty: The vocabulary should be within most early readers' ability. These are written a little more like a standard comic book than the previous entries on this list, with lots of word balloons and pages with many individual panels. This will pretty much be the case with the rest of the items on this list, but it's important to note because navigating the architecture of some comic pages can be intimidating for some readers.
Content: These are fun stories and actually a better kid-friendly introduction to superheroes like Batman, Superman, and Wonder Woman than you'll find in 95 percent of all other superhero comics today.
Where to start: This series is easy to find wherever books are sold.
6. Uncle Scrooge
Fantagraphics/Amazon
Why not start them with the classics? Carl Barks's Uncle Scrooge comics from the 1940s, '50s, and '60s are widely considered to be some of the greatest comics ever made. Unlike a lot of comics from that era, though, they hold up really well and will still get laughs out of kids today.
Difficulty: There is some complicated wordplay at times and the occasional old-fashioned joke that may go over some kids' heads.
Content: At a certain point, Barks—and later Don Rosa—began to tell stories with Scrooge McDuck and his nephews Donald, Huey, Dewey, and Louie, that took on a globe-trotting bent with archeological digs and explorations of far-off cultures. These would inspire the popular DuckTales animated series of the 1980s. Huey, Dewey, and Louie's adventures may inspire a yearning for knowledge in your own little Junior Woodchucks.
Where to start: Fantagraphics has put out many collected volumes of the classic Uncle Scrooge comics, which are available on Amazon. They generally run about $30 each but are beautifully put together. Most public libraries are bound to have an Uncle Scrooge book or two on their shelves, too, if you want to sample them that way.
7. Hilda
Flying Eye Books/Amazon
Luke Pearson's Hilda series of graphic novels follows a young elementary-school-age girl who lives in a village called Trolberg, which is populated by talking birds, giants, black hounds, and, of course, trolls. Otherwise, her world is not much different from our own and Hilda is not much different from any other girl her age. She's smart and sassy, lives alone with her mom, and loves animals. That realism amidst the fantasy world she exists in is what makes this series so enjoyable for kids (boys and girls alike). Pearson has a wonderful, European sensibility to his cartooning, which matches the vaguely Northern European setting of the stories and makes these books a delight to read.
Difficulty: The reading level shouldn't be a problem for grades 1 and up and the page lengths (the first two books are 44 pages and the third is 64) are long but achievable.
Content: Very kid-friendly stories with nice life lessons, but they're also thoughtful and sophisticated in a way that makes them rise above kiddie fare.
Where to start: The very first book, Hildafolk, is a 24-page comic, but Pearson has moved into a longer, more European-style graphic "album" format. He has released several book-length adventures so far, and you can probably find them wherever books are sold.
8. Ordinary People Can Change the World
Dial Books/Amazon
Brad Meltzer and Chris Eliopoulos's Ordinary People Can Change The World series of picture book/graphic novels about famous people who made a difference in history is an easy-to-read and fun way for a child to learn about important figures like Abraham Lincoln, Rosa Parks, Albert Einstein, and Lucille Ball. Both writer and artist are familiar names in the comics world. Meltzer is more famous as a novelist, but comic fans will know him as the writer of DC's Identity Crisis, while Eliopoulos has illustrated a number of comics for kids like Franklin Richards: Son of a Genius.
Difficulty: There are some lengthy picture book-style text pieces in addition to the comic book-style word balloons, but it's all written for a kindergarten-and-up audience.
Content: Some educators and sticklers for facts have questioned the validity of presenting biographies in this way, but it's certainly a great way to get young kids interested in history.
Where to start: There's a whole range of volumes to choose from, including I am Abraham Lincoln, I am Amelia Earhart, I am Rosa Parks, I am Albert Einstein, and I am Jackie Robinson. There are even more available on Amazon.
9. Abigail and the Snowman
kaBOOM!/Amazon
Abigail and the Snowman is published by Boom! Studios and written and drawn by Roger Langridge (most recently known for his spectacular run on The Muppet Show comics). It's a funny story about friendship in which a 9-year-old girl named Abigail moves to a new town with her single dad and struggles to make friends until she meets Claude, a Yeti who has escaped from a secret government lab and who only Abigail and the other kids at school can see. Kids of all ages will get a kick out of Abigail and Claude's friendship.
Difficulty: Langridge is masterful at character design and physical comedy and that really goes a long way in making this fun to read.
Content: There are some government agents chasing Claude but the danger here is not too scary.
Where to start: This is a four-issue limited series that you can find online.
10. Anna & Froga
Drawn and Quarterly/Amazon
For kids who enjoy an odd sense of humor, Anouk Ricard's delightfully weird graphic novel series Anna & Froga is an easy read that will earn some giggles. Each book contains a collection of short stories centered around a young girl named Anna and her animal friends—Froga the frog, Christopher the worm, Bubu the dog, and Ron the cat. Like any group of friends, they sometimes to bicker, but also embrace each other's idiosyncrasies. Ricard's drawing style is fun and childlike, but her understated, sometimes testy dialogue among the friends is what makes this so fun.
Difficulty: This can be easily read by most new readers, but the sense of humor—the books are translated from French—may be too subtle and low-key for some kids.
Content: The friends do fun, innocent stuff like go to an amusement park, make their own movie, and take a trip to the lake, but there's a healthy dose of sarcasm involved.
Where to Start: Drawn & Quarterly has published a bunch of Anna & Froga stories: Fore!; Thrills, Chills and Gooseberries; Want a Gumball?; and I Dunno, What Do You Want To Do? They all feature various self-contained stories so you can jump in anywhere.
This article was originally published in 2015; it has been updated for 2022.