You Can Stream Prince and the Revolution's 'Live 1985' Concert to Support Coronavirus Relief Efforts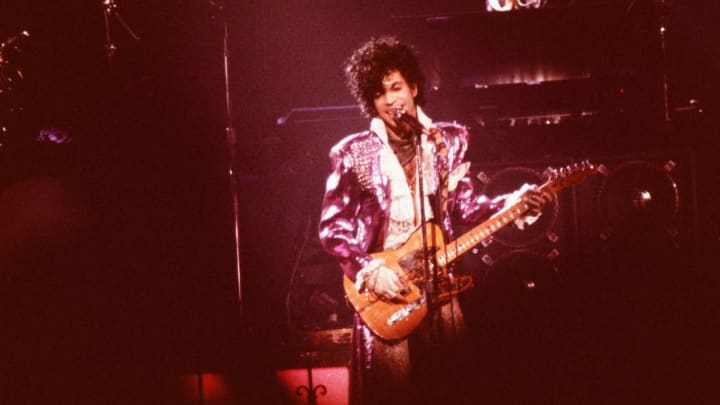 Prince performs during the Purple Rain tour in 1985. / David Tan/Shinko Music/Getty Images
On March 30, 1985, near the end of their famed Purple Rain tour, Prince and the Revolution performed a concert in Syracuse, New York, which was filmed and later released on VHS. Though the audio tracks were included on an expanded edition of Purple Rain Deluxe in 2017, the concert video itself hasn't exactly been easy to come by.
This weekend, however, you can stream it on YouTube. According to Variety, The Prince Estate teamed up with YouTube and Google to make the full two-hour concert available in order to raise money for the COVID-19 Solidarity Response Fund for the World Health Organization. It's technically free to watch, but there's also an option to donate to the fund below the video—and Google has pledged to match those donations, up to a total of $5 million.
The concert was posted on YouTube on Thursday night, May 14, and it will stay up until this Sunday, May 17, at 11:59 p.m. EST. If you never got a chance to see Prince perform live and haven't gotten around to mining the internet for footage, this is the perfect place to start. The concert features classics like "1999," "Little Red Corvette," "I Would Die 4 U," and, of course, "Purple Rain," and Prince exhibits so much rockstar flair that you'd think he'd been performing this particular set since infancy. Minnesota Public Radio's Andrea Swensson also hosted a Q&A with Revolution drummer Bobby Z., which you can watch here.
You can relive the magic of Prince's Purple Rain tour on audio, too—the concert album is now available on music streaming services.
[h/t Variety]