8 of Amazon's Bestselling Home Office Desks
If you've been working from home for the past six months (or longer), you're overdue for a high-quality office desk. And not just any old one, but a desk designed specifically for comfort and purpose, so you can organize everything you need for your 9-to-5 without having to worry about losing track of that important folder or planner.
The problem, though, is that there are so many options out there to choose from. That's why we've stepped in to make the process a bit easier for you by compiling a list of the bestselling home office desks from Amazon. Check them out below.
1. Furinno Simplistic A-Frame Computer Desk; $237
This Furinno A-Frame desk is Amazon's top home office desk at the moment. Though it may seem simple, sometimes that's all you need to make your space more efficient. The small desk hutch on top creates little cubbies for you to store papers, notebooks, or tools you may need throughout the day. There's even a bench on the bottom for you to put your feet up during the last few hours of the workday.
Buy it: Amazon
2. CubiCubi 40-inch Home Office Table; $95
For those looking for a sleek, modern desk that doesn't skimp on function, go for the CubiCubi. The metal frame, combined with the black wood surface, gives this table a sturdy, reliable feel. There's also a built-in side pocket to store all your papers out of eyesight but within arm's reach. And according to the company, the whole thing should only take 10 minutes to assemble.
Buy it: Amazon
3. Coleshome 31-inch Computer Desk; $84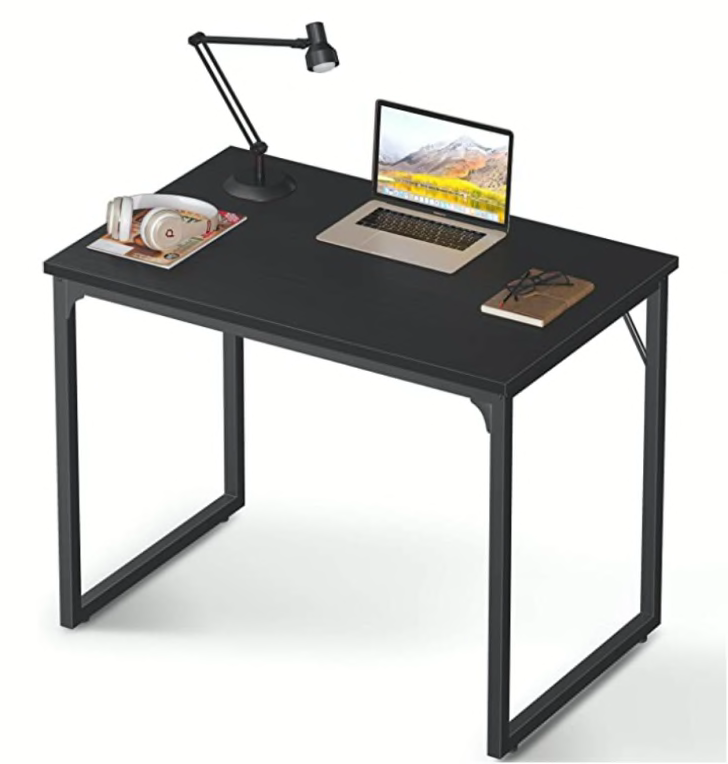 This 31-inch desk from Coleshome is the perfect option for a small home office. Complete with adjustable leg pads for added stability, this desk can fit in any nook and is designed with simplicity in mind.
Buy it: Amazon
4. Mr. Ironstone Black L-Shaped Desk; $130
This unique L-shaped desk is perfect for anyone looking to fit their workstation into the corner of a room. Measuring at 50.8 inches on both sides, you'll get the most out of your surface by adding multiple monitors, a printer, and books all around.
Buy it: Amazon
5. Furinno Efficient Home Desk with Side Shelves; $53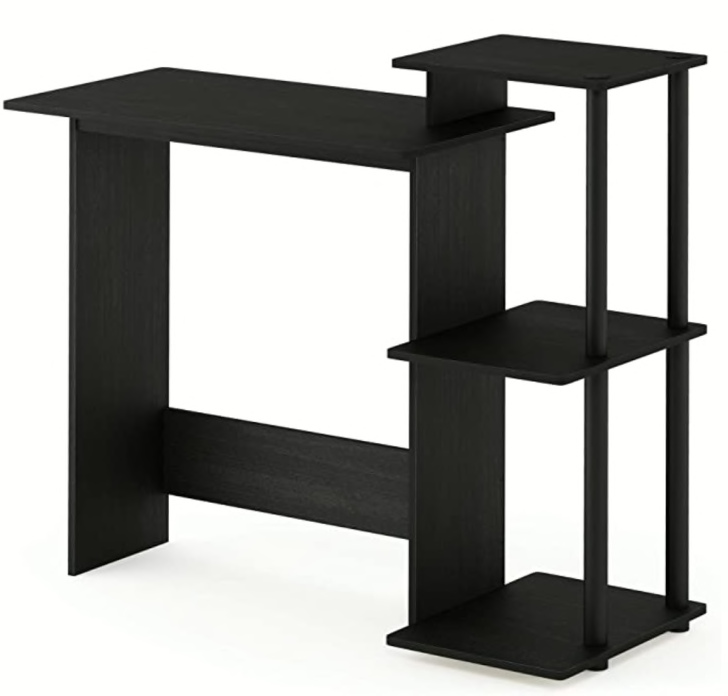 If you want to make your office feel more like a study, then you'll need somewhere to store all your tomes. This Furinno desk can help you make space to work and house all your favorite books nearby to grab whenever you need them. The multilevel shelves help make this desk feel more modern, while also creating plenty of storage space.
Buy it: Amazon
6. JOISCOPE 40-inch Computer Desk; $110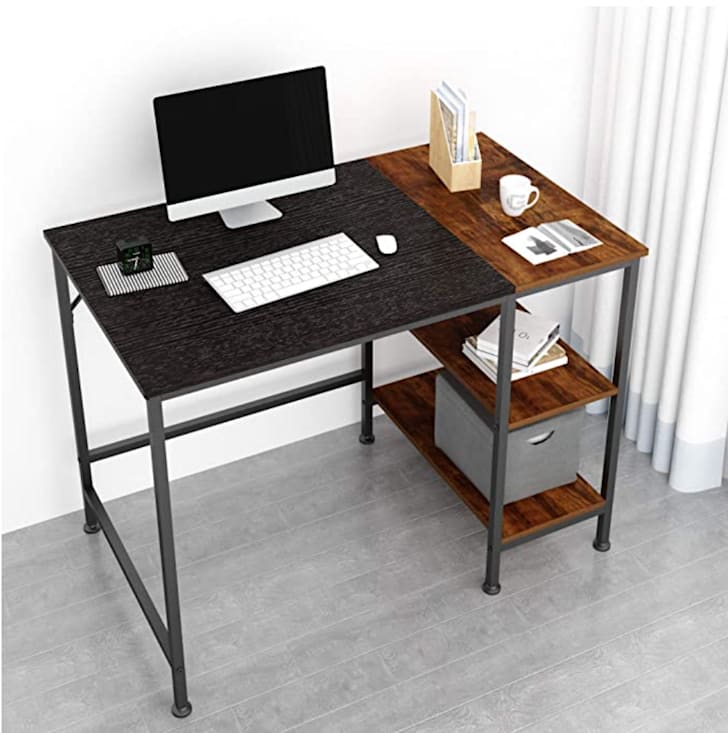 This desk comes packed with plenty of storage space for your things while also providing a large, sleek worktop for you to spread out all day long. The oak finish on top also adds a bit of sophistication to your workday, even if you spend your lunch break perusing the latest cat memes.
Buy it: Amazon
7. Seville Classics Ergonomic Mobile Desk Cart; $44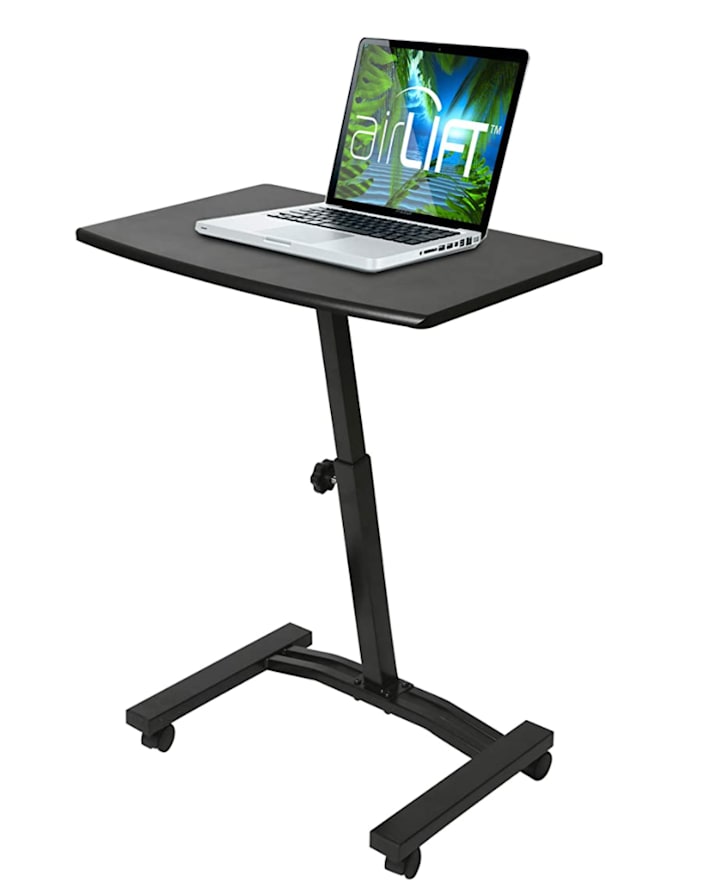 Standing desks have become more popular in recent years as people look for more ways to improve their posture and overall health. The Seville Ergonomic Mobile Desk can help you achieve your physical goals while assisting you with your work. The desk's height can be adjusted from 20.5 inches to 33 inches, and it has four swivel wheels, two of which lock in case you want to stay in one spot.
Buy it: Amazon
8. ComHoma Black Writing Computer Desk Office Folding Table; $100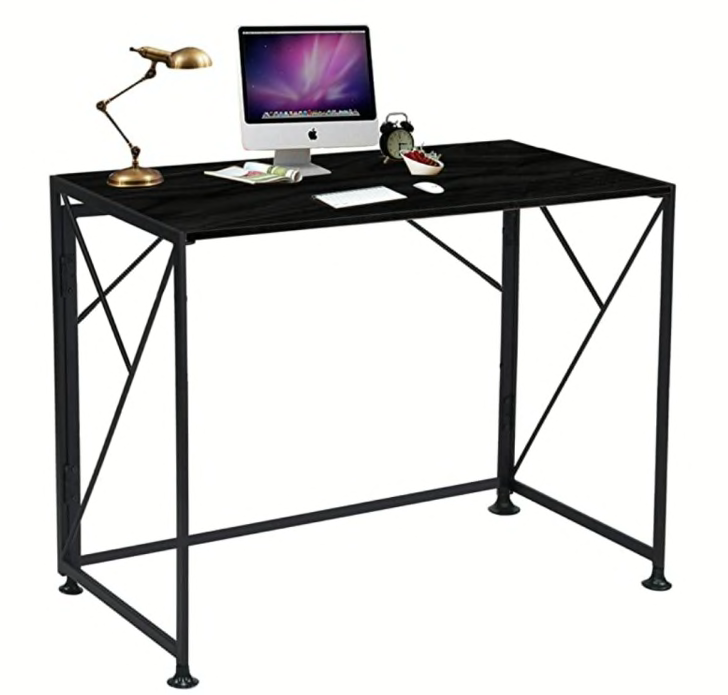 For a modern design, there's the ComHoma writing desk. The sleek metal bars on the sides and back of the desk add style, not clutter, and the 39-inch tabletop will give you ample space to work on whatever projects come your way.
Buy it: Amazon