8 Essential Cookbooks Everyone Needs in Their Kitchen
Cooking is a lifelong learning process, and no matter how talented you may be in the kitchen, chances are there's always one dish in your repertoire that could use a little work. That's why having a dependable cookbook on hand is so important. Below, we've compiled eight cookbooks that kitchen maestros of every level can appreciate, whether you're looking for a time-tested classic or something that offers a glimpse at new cultures and flavors.
1. New Complete Techniques by Jacques Pépin; $27
Jacques Pépin is the master of technique and method. Coincidentally, this book is a combination of two of his previous books, La Méthode and La Technique. The book demonstrates 600 techniques and 160 recipes with step-by-step photos featuring Pépin. The book contains cooking basics like how to sharpen a knife and how to properly debone a chicken, to more complex techniques like how to make decorative swans and flowers out of fruits and vegetables. New Complete Techniques is a great cookbook for anyone just starting out in the kitchen, but even seasoned cooks can learn a few things here.
Buy it: Amazon
2. Mastering the Art of French Cooking (Two-Volume Set) by Julia Child; $51
If you love to cook, it's impossible not to know who Julia Child is. The culinary icon (and shark repellent inventor) is best known for introducing French cuisine and techniques to an American audience. And this two-volume set of her perennially popular Mastering the Art of French Cooking contains more than 700 recipes with step-by-step instructions, including classics like Quiche Lorraine, beef Burgundy, and a trademark French baguette.
Buy it: Amazon
3. My Pantry: Homemade Ingredients That Make Simple Meals Your Own by Alice Waters; $22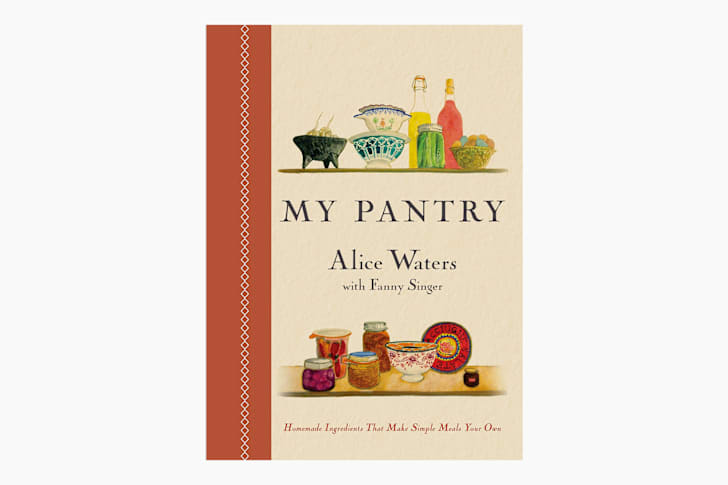 My Pantry is a great addition for home cooks as chef Alice Waters shares how she "shops, stores and prepares pantry staples and preserves that form the core of her daily meals." From homemade chicken stock to pickles and even cheese, Waters teaches how to pull various pantry ingredients together for a great, homemade, nutritious meal.
Buy it: Amazon
4. Salt, Fat, Acid, Heat by Samin Nosrat; $20
The book that inspired the eponymous Netflix series, Salt, Fat, Acid, Heat teaches everyone from novices to experienced pros how to put the basic elements of cooking together to create great flavors in every dish. The book contains 100 recipes, with dozens of variations, and features 150 illustrations and infographics by illustrator Wendy MacNaughton that help guide you through the process. It's simple, timeless, and more than worthy of a spot on anyone's shelf.
Buy it: Amazon
5. Small Victories by Julia Turshen; $22
A cookbook that may double as a motivational speech, Small Victories pushes readers to make great food with confidence. Julia Turshen, writer and recipe-developer, compiles her years of experience for a collection of simple and delicious recipes to encourage readers in their home cooking journey. This book contains more than 400 simple recipes and variations with fun and encouraging notes to help you through. At the end, there's even a list of seven things you can do with staples like chicken, pizza dough, and more, in order to get the most out of the basics.
Buy it: Amazon
6. How to Cook Everything: Simple Recipes for Great Food by Mark Bittman; $22
Maybe one of the best-known cooking reference books in recent memory, this updated 20th-anniversary version of Mark Bittman's How to Cook Everything showcases a broader palate with new ingredients. In addition to its simple recipes, the book features tips for grilling vegetables and roasting seafood, pointers for homemade condiments, guides for improvising soups and stir-fries, and more easy life hacks. For beginners, you'll learn how to make universal favorites like fried chicken, chili, and more from this James Beard Award-winning writer.
Buy it: Amazon
7. A Common Table by Cynthia Chen McTernan; $21
Lawyer and food blogger Cynthia Chen McTernan shares more than 80 recipes inspired by her unique background growing up in a Chinese family from the southern United States. That mix of cultures further blends with her husband's Korean-Irish background, leading to a cookbook that champions diversity in the pursuit of one-of-a-kind flavors (think wontons filled with collard greens and you'll get the idea). Best of all, McTernan's recipes are both approachable and personal, making it simple to add Asian flavors into your home.
Buy it: Amazon
8. In Pursuit of Flavor by Edna Lewis; $21
"The first lady of Southern cooking," Edna Lewis's In Pursuit of Flavor is a cornerstone of Southern cooking and was inducted into the James Beard Foundation Cookbook Hall of Fame. With memories of fresh ingredients from growing up in a farming community and generations of cooking knowledge under her belt, Lewis teaches readers how to use seasonal ingredients to maximize the flavor of any dish. In this book, you'll learn to make timeless Southern dishes like braised spare-ribs, raspberry pie, okra, and plenty more.
Buy it: Amazon
Sign Up Today: Get exclusive deals, product news, reviews, and more with the Mental Floss Smart Shopping newsletter!