How Did the Super Bowl's 'I'm Going to Disney World' Slogan Originate?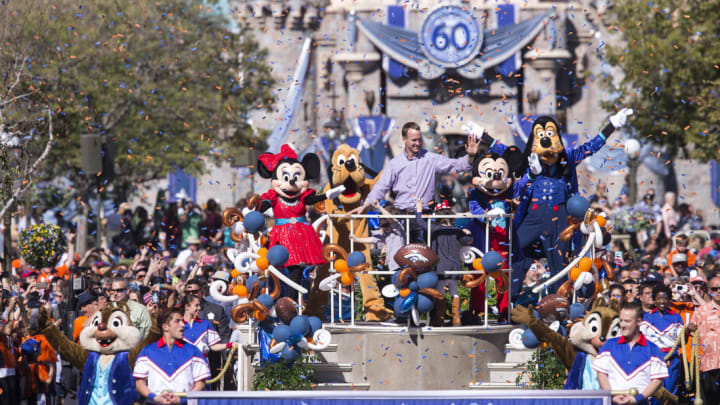 Paul Hiffmeyer, Disneyland Resort via Getty Images / Paul Hiffmeyer, Disneyland Resort via Getty Images
It's a Super Bowl tradition as recognizable as catchy commercials, lengthy halftime shows, and mounds of leftover guacamole, but how did the famous "I'm going to Disney World" and "I'm going to Disneyland" slogans make their way to (almost) every big game since 1987?
The idea for the slogan itself can be credited to Jane Eisner, the wife of former Disney CEO Michael Eisner. In 2015, he recounted the story behind the tagline to Sports Illustrated:
"In January 1987, we were launching Disneyland's Star Tours, an attraction based on Star Wars. After the ribbon-cutting ceremony, my wife, Jane, and I had dinner with George Lucas, as well as Dick Rutan and Jeana Yeager, who had just become the first people to fly around the world without stopping. It was late and the conversation hit a lull as we waited for our food. So I asked Dick and Jeana, 'Well, now that you've accomplished the pinnacle of your aspirations, what could you possibly do next?' Rutan responded, without hesitation, 'I'm going to Disneyland.' And of course I go, 'Wow, that's cool! You made the right choice.' But my wife interjects: 'You know, that's a good slogan.'"
Around this time, the NFL playoffs were well underway, with the New York Giants and Denver Broncos set to face each other at Super Bowl XXI. What better time to unveil this new marketing slogan than at the biggest TV event of the year? Once Eisner decided on a time and place to debut the phrase, the teams' two quarterbacks, Phil Simms and John Elway, both received identical offers: $75,000 for the winner to say "I'm going to Disney World" and "I'm going to Disneyland" to a Disney camera as they ran off the field after the game. This would then be used in a commercial with Disney World or Disneyland being shown depending on where it aired. (This is then oftentimes followed by an actual trip to a Disney park within the next few days, where the spokesperson takes part in a parade in his team's honor). 
Simms was hesitant at first, but once he heard Elway agreed to it, he was on board. The NFL also signed off on Disney's plan, so now it was up to the company to find a way to get their cameras on the field before all-out madness could erupt. Tom Elrod, Disney's president of marketing and entertainment in 1987, told Sports Illustrated:
"We wanted it to be authentic, but that meant being the first camera on the field, in the most frenetic environment you could possibly imagine. We'd be competing with broadcast crews and journalists and hangers-on and teammates, just to have some guy look into a camera and say, 'I'm going to Disney World.' It's wild if you think about it. That first year, I don't think anyone thought that was achievable."
It's a good thing the reluctant Simms changed his tune about Disney's offer, because his Giants beat Elway's Broncos 39-20. Not only was Simms awarded his first Super Bowl win and the game's MVP award, he also got a cool $75,000 for uttering two simple sentences (though he had to say both sentences three times each, just to be sure). 
The tradition has carried on ever since, except in 2005 for Super Bowl XXXIX and in 2016 for Super Bowl 50, when no commercials aired (though Super Bowl 50's winning quarterback, Peyton Manning, went to Disneyland anyway).
The slogan now extends beyond football, having been uttered by everyone from NBA players to Olympians and American Idol contestants. And even if they don't wind up in a commercial, chances are a championship team will still be greeted by a Disney park parade, like the one thrown for the Chicago Cubs in 2016. 
Have you got a Big Question you'd like us to answer? If so, let us know by emailing us at bigquestions@mentalfloss.com.