You Can Create Lasting Family Keepsakes With These Personalized Holiday Ornaments
Forget generic ornaments—this holiday season, you can sign your name to your tree with a snowflake.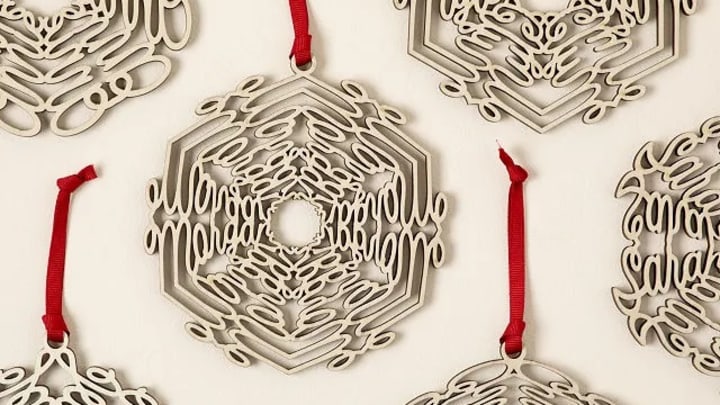 Jingle bells aren't the only ornament that'll make your Christmas celebrations special this time around. / Uncommon Goods
This article contains affiliate links to products selected by our editors. Mental Floss may receive a commission for purchases made through these links.
While families often have boxes full of generic Christmas ornaments, it's the ones that carry a story that tend to mean the most. Gifts, handmade baubles, and other specialized trinkets offer something unique that you can't find in any big-box store.
To that end, the personalized snowflake ornaments from Uncommon Goods ($35) can be a new signature decoration in your holiday collection. The 5-inch by 5-inch ornament is made to order and sports your first or last name (your call) within a laser-cut, wooden snowflake design.
Can you spot the name inside? / Uncommon Goods
Of course, it doesn't have to be a formal name. You can request your pet's name, your hometown, or any other word that creates a warm feeling of familiarity for you and your loved ones, too.
There are some caveats: The wood carving can't contain spaces, numbers, or special characters; it's limited to 12 letters; and it only appears in cursive.
If you want something that will make an even bigger statement, you can opt for a personalized tree topper ($75). This 7-inch by 12-inch design allows for the same customization and sports a stand for placement on top of your tree.
You can choose any kind of name or word—provided it's under 12 letters (and doesn't include spaces, numbers, or any special characters). / Uncommon Goods
The customized ornaments take three to four weeks to ship, so you'll want to order quickly if you'd like one in time for the holiday. You can find both the snowflake ornament ($35) and the tree topper ($75) at Uncommon Goods.