7 Underhanded Sports Tactics (Including how to knock out a deaf guy)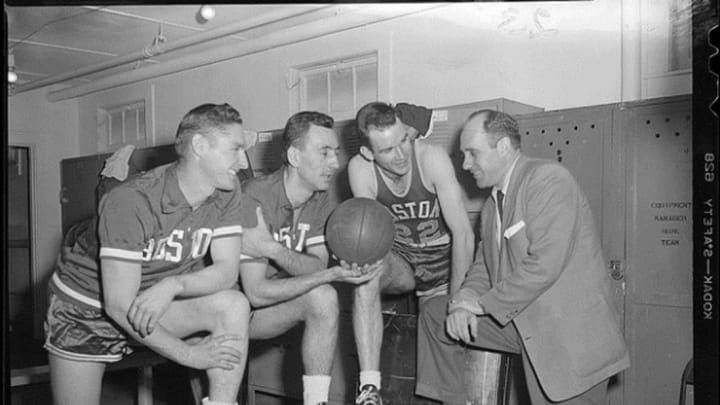 Getty Images / Getty Images
As Chris Connolly found out, cheating is unimaginative, brutish, and plain crass. Underhandedness, on the under hand, requires a certain moustache-twirling panache—a boldness that beguiles us, no matter what the rulebooks say! Here's to 7 of the Greatest Underhanded Sports Tacticians of All-Time.
1. The Real McCoy: Giving New Meaning to Hitting Below the Belt
Wikimedia Commons // Public Domain
Seeking to psych out challengers in the days leading up to big fights, Hall of Fame boxer Charles "Kid" McCoy frequently feigned illness or spread rumors of an injury. Then, when the bout came around, McCoy would show up in perfect form. (This supposedly prompted reporters to wonder whether they'd be seeing "the real McCoy" in the ring.) But McCoy's lowest blow? In 1893, when he fought a deaf mute. Toward the end of the fourth round, McCoy simply dropped his gloves and walked back to his corner as though the bell had sounded. When the deaf fighter turned to do the same, McCoy ran over and knocked him out.
2. Red Auerbach: The Host From Hell
Boston Public Library, Flickr // CC BY NC-ND-2.0
Coach Arnold "Red" Auerbach, the cigar-chomping mastermind behind the great Boston Celtics teams of the 1950s and 1960s, wasn't one to let any advantage go unused. Auerbach knew his home stadium inside and out and manipulated it to create one of the greatest home court advantages in the history of sport. To foster a feeling of alienation among opposing players, he would assign visiting teams a different locker room in the Boston Garden each time they came to town. To foster a feeling of nausea, he reportedly made sure at least one toilet in the visitor's quarters was stopped up and overflowing. And finally, to foster a feeling of "it's so hot I'm gonna die," he contrived to have the building's boilers stoked and steaming right before tip off and again at halftime.
3. The Spanish Paralympic Basketball Team: Playing Dumb
The grand champions of sport ethics obliteration have to be the members of the 2000 Spanish Paralympic basketball team. How low could they go? After the team snagged a gold medal, it was revealed that 10 of the 12 players had never been tested, and were, in fact, not mentally challenged.
4. Eddie Stanky and The Stanky Maneuver
One of the all-time greats at probing the limits of sports rulebooks was second baseman Eddie "The Brat" Stanky. The best evidence of Stanky's creative rule interpretations came in 1950, when baseball commissioner Ford Frick had to forbid Stanky from using what had become known as the "Stanky Maneuver," a dubious defensive tactic in which he took advantage of his position behind the pitcher by "jumping up and down while waving wildly in an attempt to distract opposing batters."
5. Jason Grimsley and The Ol' Bat-and-Switch
Getty Images
When suspicions arose that Cleveland Indians slugger Albert Belle had been corking his bat, it made for a cloak-and-dagger spy-fest. Tipped off about Belle's bat during a 1994 game against the White Sox, umpires confiscated it and took it to a locker room for later investigation. Knowing Belle's bat was doctored, and not wanting to lose their best offensive player to a suspension, the Indians dispatched pitcher Jason Grimsley to sneak into the room and switch out the bat for a legal model. Grimsley climbed through about 10 feet of ducts and a false ceiling to pull the switch. The plan might have worked, if only he hadn't replaced it with an autographed Paul Sorrento model. The caper was quickly discovered, and Belle soon found himself suspended.
6. Donald Crowhurst and Some Not-So-Smooth Sailing
Getty Images
When 36-year-old Donald Crowhurst entered the British Sunday Times Golden Globe round-the-world yacht race in 1968, all he had going for him were an experimental plywood sailboat, a little sailing experience, and a gift for underhanded improvisation.
Crowhurst set out with good intentions, but soon encountered problems with his ship. Dubious about his craft's chances in the brutal Southern Ocean near Antarctica, Crowhurst simply detoured across the Atlantic and holed up off the coast of South America at a position much farther along the course. As he waited for his competitors to catch up, Crowhurst sent out bogus radio reports claiming he was in second place. The scheme came to a tragic end, however, when he learned that Nigel Tetley, another racer, had capsized in an all-out attempt to catch him, or, at least, his reported position. Overcome with remorse, Crowhurst scratched out a confession, stepped off the side of his vessel, and committed suicide by drowning. We didn't include this story to depress you; we included it so that you couldn't accuse us of endorsing cheating.
7. Gene Bossard and the Field of Streams
For groundskeeper Gene Bossard, lending the Chicago White Sox an underhanded hand was the family business. Gene managed the turf at Comiskey Park from 1940 to 1983, and when he stepped down, his son Roger took over operations. Together, the Bossards were known for doctoring and dampening the diamond to give the Sox a true home field advantage. In fact, opposing teams took to calling the infield "Bossard's Swamp," because Gene kept it watered down to benefit the Sox's sinkerball pitchers and to slow opposing baserunners.
Bossard's most infamous trick, however, seems to be inventing the "frozen baseball." Perhaps Roger Bossard explained the phenomenon best: "In the bowels of the old stadium my dad had an old room where the humidifier was constantly going. By leaving the balls in that room for 10 to 14 days, they became a quarter- to a half-ounce heavier." The Sox manager during the frozen ball era in the late 1960s? Number 4 on this list, Eddie Stanky.
NOTE: This piece is excerpted from Chris Connolly's terrific 10 Underhanded Sports Tactics piece from Vol. 5, Issue 5 (available at the mental_floss store, here).